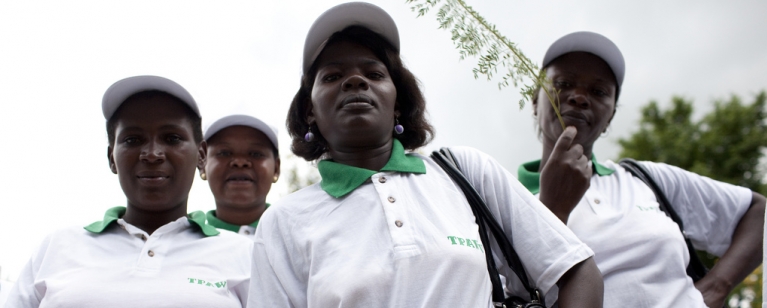 Governments are responsible for creating and enforcing laws that protect workers' rights. Collective lobbying can often influence government decisions in the interests of workers.
Lobbying the UK government on the draft Modern Slavery Bill
We have played a key role in convening business and key government players to discuss the content of the draft Modern Slavery Bill. Read our position statement on modern slavery here.
Lobbying the UK government to promote ethical procurement
At around £125 billion a year, UK public sector spending on goods procured from overseas dwarfs that of ETI members, yet government guidelines on ethical sourcing are unclear. In 2006 we lobbied it to create an enabling environment for ethical sourcing. We then worked with the British Medical Association (BMA) to create a comprehensive set of practical guidelines on ethical procurement, for rolling out across the entire health service.
Presenting the case for homeworkers in India
Homeworkers are a vital part of the supply chains of many retailers, yet among the most vulnerable workers in the world. In January 2007, representatives from Monsoon made a presentation to the Indian Government at a conference organised by the Self Employed Women's Association (SEWA). They highlighted the importance of homeworkers' skills to the Indian export economy and to retailers themselves, and advocated that they should receive the same legal protection as the formal workforce. Later in the year, the Government announced an extension of social security protection to homeworkers and other informal sector workers.
Compensating workers for industrial disasters
Since the collapse of the Spectrum factory in Bangladesh in 2005, killing 64 people and injuring 84 more, ETI members Inditex and the ITGLWF have led efforts to develop a worker compensation fund to provide fair compensation for the workers and their families who were directly affected. This has involved extensive lobbying of successive Bangladeshi governments to improve health and safety, increase statutory compensation for victims of industrial accidents, and to relax the rules that prevented the release of funds to the families of the deceased and injured.
The result has been the creation of a worker compensation fund with an improved voluntary pension scheme that can act as a replicable model for trade union-buyer co-operation in other contexts and countries.
Lobbying the Bangladeshi government on wages
Wages in the Bangladeshi garment industry are desperately low. We have supported our members on several occasions to lobby the government to increase the minimum wage. In 2006, after initial lobbying efforts, the government increased the minimum wage from 900 taka (£7) to 1,660 taka (£13). In 2010, it announced a decision to raise it further to 3,000 taka (£27). We believe this still falls short of credible estimates of a living wage and again have supported trade union calls to raise the minimum wage further.
Getting better piece rates for UK homeworkers
Up to a million homeworkers in the UK work help produce, package, assemble or process a diverse range of products, from clothes, shoes and electrical components to gifts and greetings cards.
Between 2002 and 2004, the UK Homeworker Group lobbied the then Department of Trade and Industry (DTI) to introduce a fairer system for piece rate workers, also urging that statutory employment rights be conferred on UK homeworkers.
In 2004, the DTI agreed to introduce an accredited work measurement system, which has strengthened the entitlements of homeworkers and other piece-rate workers to the UK minimum wage.
Joining calls to stop forced labour in Uzbekistan
The cotton industry is known to be one of the most exploitative in the world. In Uzbekistan's state-controlled industry, hundreds of thousands of children are forcibly removed from schools and ordered to pick cotton in squalid conditions and for pitifully low wages.
ETI has written twice to the Uzbek High Commission on behalf of all ETI members to call on the Uzbek government to implement a meaningful ban of child labour and forced labour. Leading ETI member companies have also instructed their suppliers not to source cotton from Uzbekistan, and many are investing in processes to map the integrity of cotton sourcing to monitor this policy.
However, despite reports in 2008 of a shift in the regime's willingness to adopt labour standards, campaigners have obtained new evidence of children being forced to pick cotton during subsequent harvests.