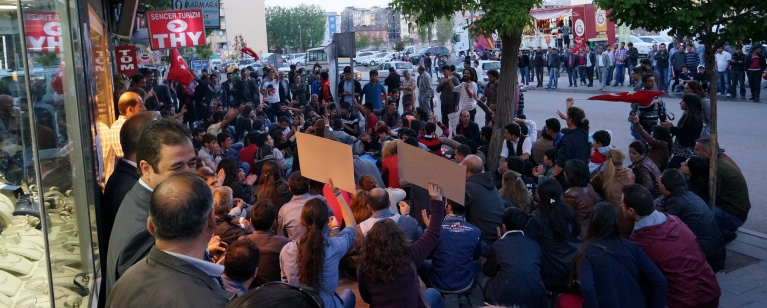 When ETI member companies are alerted to serious violations of workers' rights within their supply chain, it is vital that they respond swiftly and effectively.
We have galvanised our members to work together to resolve major crises for workers in Cambodia, Turkey, Bangladesh, and elsewhere.
Building a coalition to protect union rights in Cambodia
In November 2005, ETI was alerted to allegations of serious interference with trade union rights at this Cambodian factory. In response, we brought member companies sourcing from Fortune Garments to meet with workers, intermediary suppliers, factory management and ITGLWF affiliates to verify the allegations and to seek a solution to the crisis. In May 2006, months of hard work put in by our members, their intermediary suppliers and ITGLWF affiliates in Cambodia - not to mention the workers and management at Fortune Garments - resulted in an agreement by management to:
compensate two workers who had been unfairly dismissed
open its doors to the Coalition of Cambodian Democratic Apparel Workers' Union
train all managers in human resources
seek support from the International Labour Organisation and other expert bodies
accept all trade union demands over pay and conditions.
Supporting trade union rights in Turkey
Desa and Deri Is
We created a safe space for talks between the Turkish supplier company Desa and the Turkish leather workers' union Deri Is after 44 union members had been dismissed. After months of protracted and often stormy negotiations, in September 2009 Desa signed a protocol agreement with Deri Is, committing to reinstating a proportion of the dismissed workers and giving first priority in any new hiring opportunities to the remaining workers.
Paxar and Teksif
In April 2006, the Turkish union Teksif made an official complaint against the garment factory Paxar, claiming its members had been unfairly dismissed and had been prevented from joining the union. ETI, working in co-operation with its partners from the Joint Initiative on Corporate Accountability and Workers' Rights (JO-IN), took the lead in encouraging and observing negotiations. Issues concerning reinstatement and compensation of dismissed union members were resolved, but, with continuing mistrust between the union and employer, negotiations over a collective agreement broke down many times. Finally, in early 2007, both parties signed an agreement that Engin Sedat Kaya, Teskif union organiser, says would "confer significant benefits on Paxar workers".