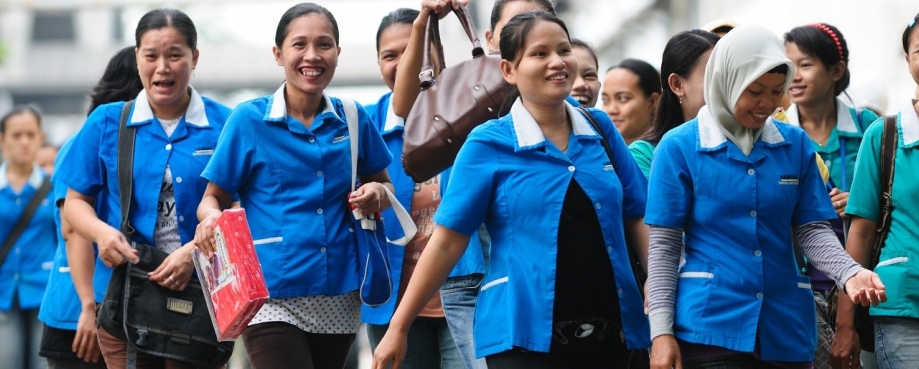 Ahead of ETI's 20th anniversary conference on responsible supply chains (31 October and 1 November), we're running a series of think pieces reflecting on some of the issues to be discussed. In this first article – a Q&A – ETI's Executive Director, Peter McAllister considers 20 years of progress and challenges.
Ongoing developments in the collective response to global supply chain risks, makes ETI more relevant today than ever before. As ETI enters its third decade it continues to operate in a unique space, fusing together the collective objectives of companies, NGOs and trade unions, and remaining true to its founding principles of fostering effective collaboration and cooperation.
The last 20 years have seen substantive progress in response to ethical trade problems. But with millions of people still facing inadequate, and often shocking conditions at work, ongoing challenges will demand more innovative solutions and approaches from ETI members, and beyond, to turn the tide.
Here, ETI's Executive Director Peter McAllister reflects on the positive progress ETI has seen, while looking ahead to the trends that will continue to keep ETI relevant.
What can you point to as the most significant development in ethical trade over the last 20 years?
Certainly, there are a lot of things we now take for granted. There are standards, such as ETI's Base Code, that make labour rights accessible. These are found in thousands upon thousands of workplaces around the world – from factories in China to farms in South Africa, that is no small achievement. The idea of a company looking into its supply chain to see if there are problems sounds so passé now. But it wasn't 20 years ago. Even understanding who is in the supply chain, such as homeworkers, was not common.
So, are you pleased with the progress that has been made?
To a certain extent, particularly in Tier 1 factories and the suppliers that brands and retailers have direct sight of. But current approaches haven't dealt with more systemic issues, such as paying real wages, recognising unions or solving gender inequality.
What needs to change?
Well, it's definitely time for disruption, new leadership and evolving the business model. For example, being overdependent on compliance is blocking progress as much as it is revealing problems. Even though audits have value, alone they are not the answer. The trouble is that audits do not pick up everything, especially if there's corruption, audit cheating and double books kept by suppliers. This approach allows far too many companies to sit in the shadows, hiding behind these reports.
But aren't businesses at the mercy of traditional economic models built on low cost and poor pay?
Too often, yes. We need to appreciate that businesses are massively competitive. They compete on price and strip out production costs to maximise profit and returns for shareholders. However, even given this, we see that some make real efforts to drive more inclusive change and we need to see a critical mass for such action. I certainly don't subscribe to the idea that businesses collude to exploit workers in poorer countries. But unless brands look at their business models and relationships with suppliers, we are not going to see real progress at scale.
Do the new generation of conscious consumers have the power to force more companies to act on ethical trade issues?
Consumers are now able to amplify their concerns much more effectively and quickly mobilise networks through social media which is powerful. And the fear of being the company caught out still drives action. Most consumers don't want to buy products tainted by modern slavery, for instance. But it can take real effort to find out how products are made, or where they come from. They expect brands to take care of that.
The Modern Slavery Act has been a driver of corporate action. Are we likely to see more legislation in the future?
Yes, not least because ETI and others will continue pushing for it. And leading companies will keep demanding a level playing field. But importantly, companies that really engage on human rights will gain a competitive advantage in the long run. It's not enough to just talk about moral good. If companies really care about their impact on the world and take the time to understand their supply chain – whether from a product quality or human rights perspective – they will run more sustainable businesses, carry less risk, attract more investment and build increased loyalty among staff and customers. However, too few businesses take this longer-term view.
Are you optimistic about the next 20 years in ethical trade?
Yes, but with my eyes open. We've come a long way since ETI was established but progress needs to accelerate over the next 20 years. New technologies, demands for transparency and changing consumer behaviour, provide us with the opportunity to do business differently. But, for ethical trade to come of age we need to move further faster to build lasting business relationships founded on decent work and respect for workers.
In a time of uncertainty and rapid change, the ELEVATE and ETI conference, Responsible Supply Chains: the Future of Trade is focused on the future of trade and understanding the evolving relationship between business and human rights. It will include analysis of key sustainability trends, the future of business models and leadership and explore new models of collaboration. Breakout sessions and learning activities on both days will enable delegates to interact and share insights on the key challenges facing responsible business and how leading companies are responding.