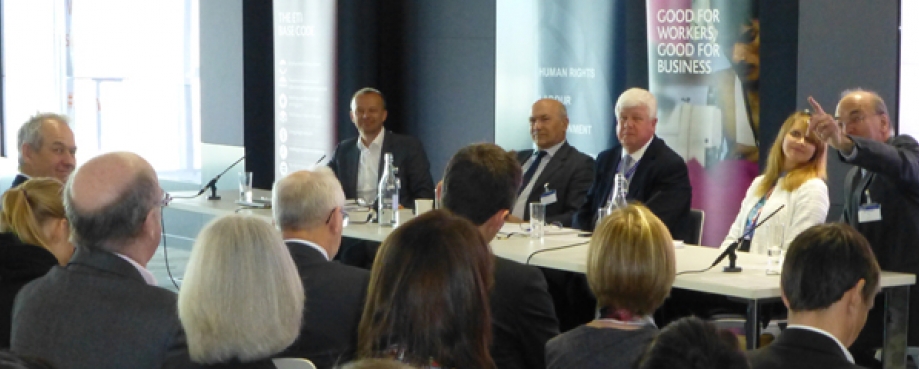 We have teamed up with the Ethical Trading Initiatives in Denmark and Norway to publish a new briefing on living wages in supply chains.  'Living wages in global supply chains: a new agenda for business' was launched in London this week, to an audience of businesses, NGOs, trade unions and stakeholders.
The living wage debate has gained momentum in recent months, with increased pressure on companies and governments to tackle poverty wages in global supply chains. The three ETI organisations commissioned this briefing, recognising a need for further information to help companies play their part in raising wage levels.
The briefing takes a whole-systems approach, drawing on the experiences of member companies, trade unions, NGOs, as well as governments. It shows that while individual companies have had some success in raising wages through supplier projects, this has not been sustainable, or at a sector-wide level.
There is a strong case for companies taking a more strategic, coordinated and proactive approach by:
Analysing the root causes of low wages in supply chains
Collaborating with other companies, trade unions, NGOs and governments over issues, such as negotiating/setting adequate national minimum wages
Actively supporting local collective bargaining mechanisms and institutions, in particular trade unions
Reviewing and revising their own commercial practices
Taking a sector-wide approach, linking advances at supplier level with broader institutional developments
The briefing covers how to gain buy-in at a senior level to addressing supply chain wages, outlining the clear benefits for businesses and workers. It also highlights case studies in the garment, tea and banana sectors, where companies have joined with other stakeholders on creating the right conditions for setting wage levels.
"We know that companies are really struggling to tackle low wages in their supply chains," says ETI Director Peter McAllister. "This briefing highlights the complexity of this issue, where a number of factors combine to keep wages at poverty levels. But we hope that companies reading this will take heart that they can have a positive influence. There is no quick-fix solution, but much can be achieved by working in collaboration and taking a sector-wide approach to wage improvements."
'Living wages in global supply chains: a new agenda for business' was jointly commissioned by ETI and its counterparts the Danish Ethical Trading Initiative (DIEH), the Ethical Trading Initiative Norway (IEH). It was written and researched by Ergon Associates, a London-based ethical trade consultancy. You can find the briefing here.