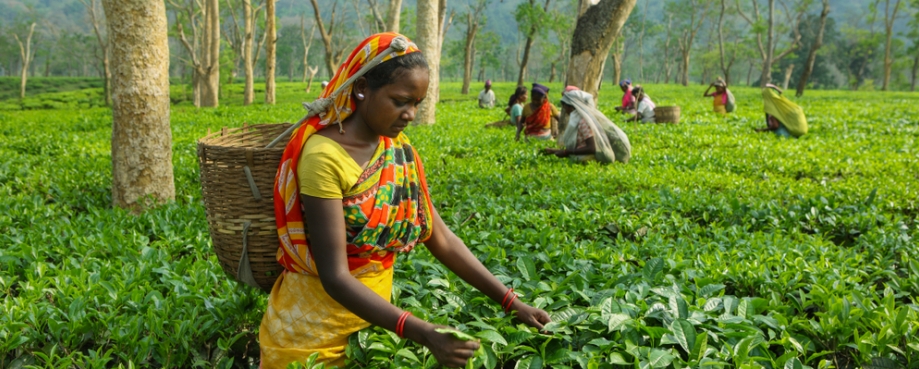 Tim Aldred, Head of Policy and Research at the Fairtrade Foundation, reflects on pay and conditions for workers in Assam's tea sector.
Last month, the University of Sheffield once again shone a light on low pay and poor conditions on Assam's tea plantations with the publication of its Global Business of Forced Labour report.
This scrutiny is important, especially if it helps to bring about much-needed change. The team's insights should also shift our collective understanding of what that change requires.
Since the Sheffield team included some Fairtrade certified sites in their work, we've been keen to examine their findings and to ensure we are following up on any specific compliance and remediation questions they raise.
There is a growing body of research on Fairtrade, and this work helps us to be clear about strengths and weaknesses, and feeds into long-term improvements in our work. It is right as well that similar scrutiny is given to other certifiers and sustainability initiatives.
Fairtrade in hired labour settings
Fairtrade's work in hired labour settings is less well understood, but is significant. Close to 200,000 workers are directly employed in Fairtrade-certified hired labour settings. On top of that, workers are employed by Fairtrade-certified smallholder producers, for example as co-operative staff or during temporary harvesting.
That's why Fairtrade has been strengthening its attention to workers' rights by making explicit commitments to ILO conventions within Fairtrade standards, setting an ambition to achieve living wages and living incomes within Fairtrade supply chains, and deepening engagement with workers' rights initiatives such as ETI.
We undoubtedly have much to learn – but we also have learning to share. A recent survey of Fairtrade research by ODI, while acknowledging challenges, concluded that Fairtrade has delivered "a cost-efficient expansion of positive Fairtrade effects on labour conditions in agricultural sectors previously closed to third party inspection, and where exploitative labour relations have previously flourished".
The report also showed positive benefits for workers and their families linked to Fairtrade Premium - the additional payments made by Fairtrade buyers.[1]
Similarly, research by the University of Wageningen[2] into banana plantations found improved rights awareness and better job satisfaction, and showed that despite similar primary wages, household economy indicators amongst Fairtrade banana workers were often higher due to factors such as improved job security and better service provision (such as housing, education and health) – deriving from Fairtrade Premium.
Addressing concerns over workers' rights
So why is Fairtrade sometimes taken to task over workers' rights concerns, and what is the story in Assam?
Part of the answer lies at the heart of the Fairtrade model itself. Fairtrade works by delivering additional value to producers through the Fairtrade Premium, the protection of a Fairtrade minimum price applied at times of low market prices, and a set of standards linked to human rights conventions.
Producers themselves have a 50 percent stake in the governance of the system, and a high level of control over decision making and in the use of the premium.
In hired labour settings, workers control the use of Premium, and have rights in Fairtrade's governance structures. "Empowerment" – or if you like, producer control, is central to the approach.
However, at the risk of stating the obvious, the model requires sales to work. Without reasonable sales on Fairtrade terms, additional finance doesn't materialise on the ground. When that happens, less money is available for improvements in working or social conditions.
Secondly, where problems are particularly acute or deep rooted, the application of Fairtrade standards is likely to be helpful, but unlikely to solve the problems in isolation.
Independent certification
Every Fairtrade certified plantation, including those in Assam, is monitored closely by FLOCERT, the independent certifier for the Fairtrade system. It's a "high bar" standard, aligned to the core conventions of the International Labour Organization (ILO) and developed with input from global unions and labour rights experts.
Audits can be unannounced and include detailed physical inspections of fields, plants and offices; documents and finance reviews; and confidential interviews with staff members at all levels, and the certification status of producers is publicly available on the FLOCERT website.
One test of whether compliance processes are meaningful is whether sanctions are ever applied. FLOCERT has a strong record of being prepared to suspend or decertify a producer organization where major core criteria have been violated, and this is also true in Assam. The focus is on giving Fairtrade producers the opportunity to address problems and improve, but sadly it has been necessary to remove certification status in some cases.
Systemic challenges
Such compliance processes are only part of what is needed for change. By their nature, Fairtrade standards are designed to be applied globally – the hired labour standard is applied in tea, flower and banana plantations from Ecuador to Sri Lanka.
Yet systemic challenges, human rights and environmental risks will vary. They need to be analysed, understood and responded to on a case by case basis.
Where problems are acute, additional intervention alongside Fairtrade certification and sales is likely to be useful if systemic challenges are to be overcome.
Fairtrade tea in Assam
Both the existence of acute systemic challenges at the local level, and low Fairtrade sales – are true in Assam. Fairtrade started working in Assam more than 20 years ago, but the volumes are not large.
Today, Fairtrade plantations in Assam sell a small percentage of their tea on Fairtrade terms. There are more than 800 tea estates in the region with just 10 at present being Fairtrade certified. At some of these estates, as little as 2-5% of tea grown is sold on Fairtrade terms. The sales aren't at the level needed to deliver a step change in financing.
Furthermore, in Assam, local laws relating to plantations, including the Plantation Labour Act and wage legislation, are key. Reform of laws on wages and conditions is intensely debated between plantations, business associations, the government and civil society groups, but until this debate translates into action, obstacles will remain to improving pay and conditions.
We therefore welcome the comments from Assam labour minister, Pallab Lochan Das, that the state plans to do more to tackle workplace abuses at tea estates, including monitoring conditions and ensuring plantation workers are paid a fixed minimum wage.
Fairtrade is keen to explore any opportunity to engage with the local authorities on wages and working conditions at tea estates to bring about the transformative change that is needed.
Lessons for the future
Against this background, the Sheffield team's conclusions are incisive, and should be taken to heart by tea brands and retailers.
They explain: "Forced labour is driven by uneven value distribution along supply chains, including the low prices that producers receive for their products compared to the high profits of retail and brand firms, as well as irresponsible purchasing practices. Unless these core drivers of forced labour are tackled, efforts to address forced labour in supply chains are likely to fall short."
They go on, rightly, to call for urgent action to deliver living wages. Without a serious commitment to better terms of trade for producers and delivery of additional value, progress in Assam and elsewhere will be glacial.
So what's next for Fairtrade in Assam?
First, we are planning to strengthen our standards for tea plantations. The ongoing challenges in Assam mean that we need to raise the bar even further.
Second, the challenges in Assam cannot be addressed by standards and sales alone. The scale of the systemic challenge is such that additional investment will be required. We've developed a multi-year programme, working directly with plantation workers and management, to improve plantation productivity as well as the livelihoods of workers.
But we can't do this alone. At best, Fairtrade has influence over roughly one percent of Assamese production. All stakeholders involved in Assam tea, including tea brands, other certifiers and initiatives, and governments, will need to take a stand.