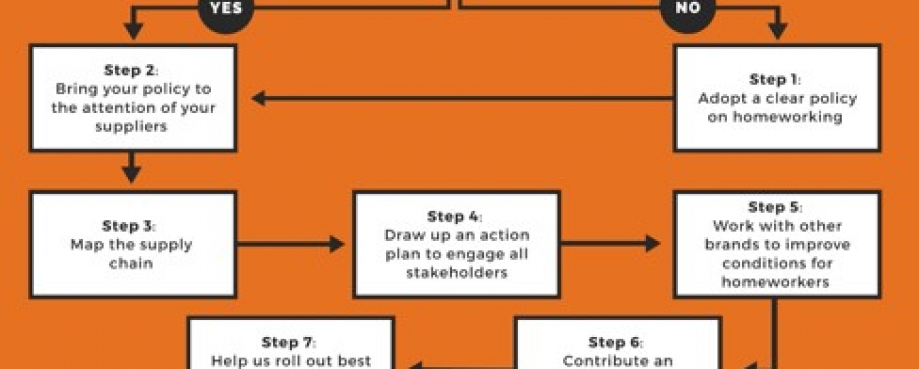 Homeworkers are likely to be some of the poorest women workers in your supply chain. Employed informally on a piece rate, at risk of exploitation from intermediaries, homeworkers have no guarantee of regular work or social protection – or even that they will be paid on time. 
When work is available, they have little choice but to accept it, even if it means working through the night or involving their children in production.
Yet homeworkers provide brands and suppliers with flexible and often skilled labour, helping provide suppliers with the capacity to produce high quality products and enabling them to expand production volumes when faced with peaks in demand and tight deadlines.
The latest ILO estimates suggest that as many as 11% of women workers, between 100 and 300 million, work in their own homes in diverse subcontracting chains across many different sectors, from traditional crafts such as weaving or embroidery, to garments and footwear manufacturing, and even food processing and electronics. 
You can find products made by homeworkers in every aisle of every shop."  Homeworker activist
90% homeworkers are women, making addressing homeworking one of the most gender-positive strategies a brand can take. Homeworking offers women seeking to combine paid work with childcare or other domestic responsibilities an opportunity to earn an often vitally important livelihood.
What's more, if homeworkers are employed in decent working conditions, it allows employers to retain skilled women workers in the workforce, making it easier for them to return to the factory in the future, with the experience they need to secure supervisory positions.
90% homeworkers are women, making addressing homeworking one of the most gender-positive strategies a brand can take
Homeworkers and Covid-19
The Pandemic has hit homeworkers hard, with many unable to access social security. With lockdowns closing factories and communities, they cannot even chase their intermediaries to request outstanding payments. As HNSA's recent blog makes clear,  the Covid-19 crisis has left many facing hunger and destitution, and most homeworkers are excluded from government relief programmes.
Through the Hidden Homeworkers project, our partners in South Asia have been able to adapt their activities to provide additional help for homeworkers and their families. HWW currently has a crowdfunding appeal, to provide emergency food for migrant homeworkers in Tamil Nadu. Paradoxically, as Covid-19 challenges suppliers to implement social distancing measures, homeworking could also provide a safer way to restart production than reopening factories or encouraging vulnerable migrant workers to return to the cities.
What does due diligence in supply chains involving homeworkers look like?
HWW has published a factsheet, highlighting the different stages in the journey towards the decent employment of homeworkers, and listing the actions that brands can take to safeguard this vulnerable group of women workers. This infographic gives a preview of its contents:
The first step is adopting a clear policy on homeworking, explicitly recognising that homeworkers are likely to be present within supply chains, and committing to work with suppliers to address any ethical issues that may also be present.
Recognising the contribution that homeworkers make to production helps to ensure that this important livelihood strategy for some of the world's poorest women workers does not remain hidden deep within supply chains. Instead, encouraging suppliers to disclose their use of subcontractors and in turn, homeworkers, opens up supply chains, improving transparency and reducing the risk that child labour and other reputational risks are driven even further underground.
Our factsheet goes a stage further, setting out a series of actions that brands can take to improve homeworkers' situation, and helping guide those who have a policy on homeworking, but who may be unsure of the steps needed to put it into practice. These include finding ways to raise the issue with your suppliers, and also opportunities to collaborate with other brands to increase leverage.
For the next three years Homeworkers Worldwide can offer brands sourcing apparel and footwear from India, Nepal and Pakistan additional support to address these issues, and specifically opportunities to collaborate with local civil society partners to document homeworkers' working conditions within your supply chains.
We are working with Homenet South Asia and their local partners in the Hidden Homeworkers project, led by Traidcraft Exchange and co-funded by the European Union.
We are also aware that some brands have been working with their suppliers to address homeworking issues for some time; see for example, our own work with Pentland Brands here. Through the Hidden Homeworkers project, we are currently documenting case studies and examples of good practice, to produce a Toolkit that brings together and shares the learning and proven steps which companies can take to improve the employment conditions of the homeworkers in their supply chains. Contact HWW if you have a case study to contribute to this exciting initiative. To find out more please contact Lucy Brill.