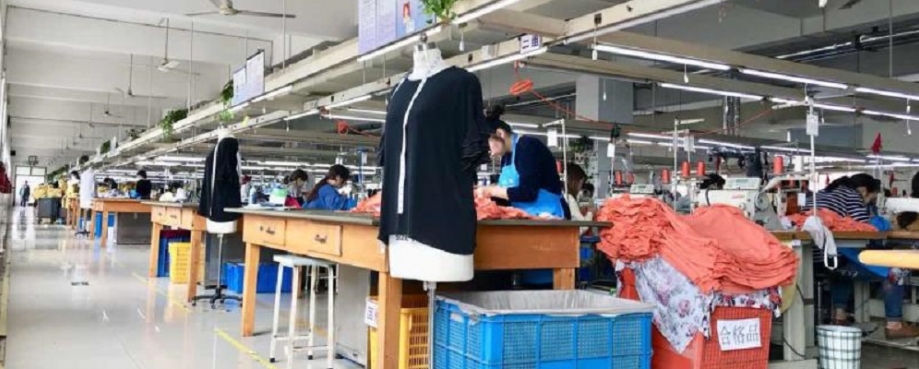 Eshan Chan has been visiting factories in China to view progress being made under the ETI-ILO SCORE training scheme. At the Hangzhou Huasheng Garments Company she saw that China's hugely popular WeChat App (the Chinese version of Whatsapp) is being used to facilitate communication between workers and management and asked for further details.
More and more ETI members are looking at technology, hotlines and mobile applications as a way to understand workers' needs, and in some cases to use as grievance mechanisms. It's why I was so interested in how the Hangzhou Huasheng Garments Company is using China's WeChat App.
At the factory I asked Lily Li, Vice General Manager and Dan Lei Zhu, HR Manager to tell me more. Lily is the main liaison for the ETI-ILO SCORE training programme while Dan is in charge  of registering workers when they first join the factory and is the initial point of contact for most.
Together they know everyone in the factory. And together they answered my questions.
Huasheng management was first introduced to ILO SCORE Training when one of their buyers, British brand and ETI member White Stuff, offered to sponsor their participation in the training project. A previous blog about their overall training progress can be read here. SCORE (or Sustaining Competitive and Responsible Enterprises) modular training helps SMEs improve productivity and working conditions by providing practical classroom sessions combined with in-factory consulting.
Amongst all the improvements Huasheng has implemented since the roll out of the SCORE programme, I am most intrigued by the WeChat Worker Group. What was the rationale behind setting it up?
The suggestion came from our SCORE trainer Mr. Toby Huang. He recommended it as a solution to strengthen worker-management communication in the factory. As many of our workers have smartphones and are frequent users of WeChat, we thought it was a no brainer so set it up.
So what was it like before the WeChat Worker Group? If workers have issues to raise, what did they do?
We had a suggestion box for workers to share their thoughts, and have been using notice boards to make factory-wide announcements.
Were there any concerns raised by the management when the WeChat Worker group first started? Any pushbacks or backlash?
The majority of the management have been here for over 18 years and we are quite transparent and open about most things. We even have a performance assessment system for management and team leaders that is public for all workers to see, so there weren't any hard feelings or worries.
Mr. Huang advised us at the very beginning that it is crucial to let workers express themselves freely. There might be issues and questions workers do not want to communicate directly with management, so having WeChat as a space – and myself to facilitate the communication – is very useful.
Was it complicated to create the WeChat Worker group? Were there any cost implications?
WeChat is free and there's only a few clicks involved in getting the group up and running – so it's very quick and easy! We tell our new hires that we have the WeChat worker group, it's our main channel of communication in the factory, and that they can ask their team leader to add them in.
What are the most common issues raised by workers in the Group?
They share the issues they face in the workshop and during production, although most of the time discussions are around canteen food and lost property. A few workers will also share funny videos with everybody after work.
When you see that an issue or a complaint has been raised, how do you deal with them?
When a worker raises an issue, they will send a message on WeChat tagging (@) me. As the message is visible for every worker to see, I will acknowledge receipt as soon as possible to show that management is now aware of the case. I will then follow up directly with the worker in person. In cases where the worker has misinterpreted information, I will write a message publicly tagging everyone, to clarify and explain.
Do you have a real life example to share with us?
There was this time when the AC in the dormitory wasn't functioning properly, and the worker who is living in that room tagged me on the WeChat Worker Group and told me what happened. I reached out to her separately and in parallel asked our technician in residence to fix the AC immediately. After it was followed up, I sent a message to the WeChat Worker Group, tagging the worker who raised it, to report on the progress and solution.
What do you think is the key to success in running the WeChat Worker Group?
Our motto is to address and resolve issues raised on the same day. This demonstrates to workers that the mechanism is effective and efficient, and it gives them confidence to keep raising issues through the WeChat Worker Group.
The other important thing is to let workers say and share whatever they want. 
The ETI-ILO SCORE project is running until February 2019 with funding from Germany's Federal Ministry for Economic Cooperation and Development (BMZ) via its develoPPP.de programme. DevelopPPP helps German and other European companies conduct business activities in a responsible manner in line with the expectations of the Sustainable Development Goals. In the context of the SCORE initiative, ILO and ETI are cooperating with SEQUA, one of DevelopPPP's designated partners charged with implementing the programme.