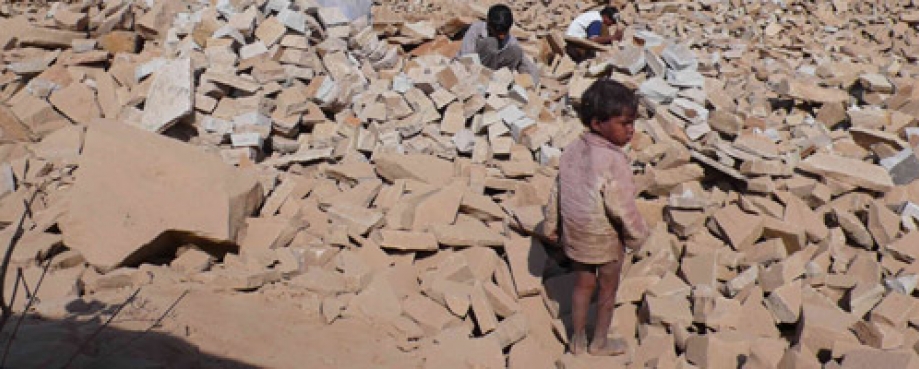 No excuse for inaction - A comment by Dan Rees, ETI Director
Mohan, 5, said he enjoyed playing with hammers, but would rather be at school.
ITN's (9 and 10 July) footage of Mohan and other children, chipping away at blocks of stone, surrounded by heat and rubble and in danger of serious injury, reportedly earning less than £1 a day, could not fail to shock.
This timely report shone a spotlight on the exploitation of hundreds of thousands of workers, many of them children, in stone quarries across Rajasthan, India - the source of much of the sandstone that ends up in our patios and driveways.
ITN rightly highlighted the need for the Indian Government to enforce its own laws that ban child labour. But UK stone importing companies have a clear responsibility to use their buying power to hep tackle child labour and other grave abuses of workers' rights in the industry.
Many stone companies cite the lack of transparency in their supply chain as a reason for inaction - they typically buy their sandstone from open markets, where it is virtually impossible to trace the origin of the stone.
But companies like Marshalls, the first stone importing company to join ETI, have shown that it is possible to tackle the endemic exploitation in the industry. It has developed an exclusive relationship with a single stone processing company, which purchases its stone from a small selection of known quarries.
This relationship enables Marshalls to work in partnership with its supplier to promote decent conditions in the stone quarries that supply it.
And while smaller companies may not have the commercial clout to be able to develop exclusive relationships with their suppliers, there is plenty they can do to in the meantime. As a starting point, we plan to develop initiatives in the stone industry that help empower workers to understand what their rights are.
Walking away from this problem is no solution. By working together, learning from credible non-governmental organisations on the ground, and engaging with the Indian government, UK companies can make a difference.