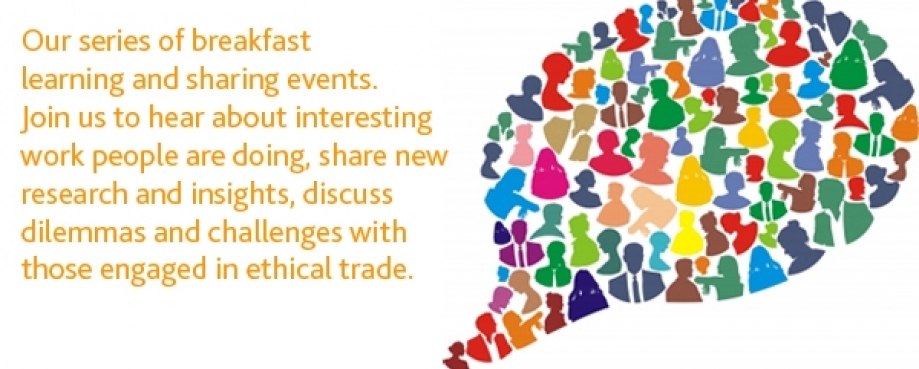 The drive to make trade ethical has never been more timely. There are more and more shocking stories of modern slavery and worker deaths as a result of health and safety negligence, killing and arresting workers that protest for a living wage …  
There are lots of efforts to improve workers' rights and working conditions in global supply chains, but are we doing enough lesson learning and sharing about what's working and not working, sharing new analysis and insights about the shifting nature of global labour markets and supply chains?  
ETI has created an open, informal space for everyone who works in ethical trade to build a spirit of collaboration in learning that can help to improve the impact of all our efforts.
Our Ethical Insights Series challenges assumptions and takes an honest look at how much effort is going to managing risk and reputation versus changing business models; how much companies and investors care about workers rights, and if they do, how far can they go in respecting workers' rights when governments and suppliers from sourcing countries don't, whether trade unions and NGOs are always in the right places and doing the right things, and many more questions…  
View next events, book your place
About Ethical Insights
ETI's Ethical Insights Series create a safe, open space where we can air challenges, share ideas and learn from one another. We want to generate a spirit of knowledge collaboration to improve the impact of all our efforts.
At the end of each session, we'll have a 10-minute 'open mike' for you to share news and propose ideas for future topics.
"A full room of like-minded people and good speakers: an opportunity to brainstorm new solutions for ethical trading."  Attendee from a previous Ethical Insights event
Join us over coffee and croissants at the ETI office in Farringdon.
Ethical Trading Initiative, 8 Coldbath Square, London, EC1 5HL
Past events
Child Labour Persists: Why? What else needs to be done?
26 March 2015
Simon Steyne from the ILO talked about the need to promote long-term thinking and encouraged companies to be brave in their work to tackle the issue of child labour. He touched on the UN Guiding Principles on Business and Human Rights and the ILO Declaration On Fundamental Principles And Rights At Work. 
Matt Jones from World Vision talked about what strategies are being used to address child labour and which of these strategies have been shown to be effective and which haven't. He also looked at the biggest risks to companies and what they need to do to address this issue.
Samah Abbassi from UNICEF UK talked about their work to track and measure the scale of child labour, particularly in supply chains. She provided case studies of measures that have been taken to tackle child labour in supply chains.
Peter Williams talked about the recently launched Traidcraft / HomeWorkers Worldwide Child Labour Toolkit, which looks at tackling the root causes which lead to child labour. He provided examples of how some companies are failing to address these root causes, often driving children into more hazardous work, and gave some examples of good practice.
Transparency in Supply Chains: What does transparency in supply chains mean and what will it achieve?
26 February 2015
CAFOD's Anne Lindsay provided a perspective on why NGO's are advocating for transparency in supply chains, what companies should be transparent about, and how to ensure that companies are rewarded and not punished for being transparent when they find abuse and exploitation of workers in their supply chain. 
Kilian Moote has been involved in 'Not For Sale' since it's inception in 2007. He talked about the California Transparency in Supply Chains Act, its achievements and limitations and the proposed federal legislation in the USA in light of the UK Modern Slavery Bill's Transparency in Supply Chains clause. He also talked about the results achieved by 'Know The Chain'.
Modern Slavery: What does the Bill mean for companies and what are they doing about it?
27 January 2015
Klara Skrivankova from Anti Slavery International gave an overview of progress and the process for the UK Modern Slavery Bill before it is approved;  where the opportunities for influencing lie; and what the Bill will mean for NGOs / civil society to hold companies and the government to account for their actions & commitments.
Henrietta Lake from Sainsbury's talked about their new training partnership with the Gangmasters Licensing Authority and Derby University, plus the Stronger Together initiative, set up with retailers to build awareness amongst suppliers in the food & agriculture sector to help them recognise signs of exploitation and what to do about it.
Matt Crossman gave an investor perspective on the Modern Slavery Bill and talked about his work at Rathbones to get the investor community to take note; he also touched upon partnerships with others such as Calverts and why he's been advocating for the TISC based on California / Federal changes.
What to do where there is no union. The cases of China and South Asia
Thursday 11 December 2014 8.30am - 10.00 am
How can worker voice, social dialogue and collective action operate within existing legal systems and structures? How are workers pushing the boundaries, and how are companies and governments reacting? We heard from guest speakers Professor Sarosh Kuruvilla, Cornell University, and former ILO official and ETI trainer, Stirling Smith.
Worker voice - what are we learning from mobiles and tablets?
Tuesday 28th October, 8.30am - 10am
Mobile phone-based grievance mechanisms and surveys have huge potential to give us direct access to workers' voices. We heard how five ETI member companies who are pioneering this work are progressing in China, India, Bangladesh and the UK. Heather Franzese, Executive Director, Good World Solutions and Paras Shah, Principal Manager, Health, Safety & Sustainability, Vodafone UK shared lessons and insights. 
When is a job empowering for a woman?
Tuesday 7th October
What does 'empowerment' mean, and who defines it? What strategies are we using to know if they're working? LSE's Professor Naila Kabeer and Ethical Tea Partnership's Anu Hutisari shared insights on the theory and practice of empowering women at work.
Can trade be ethical in China?
Thursday 11th September
The economy may be open but the political space is increasingly closed. What opportunities are there for the right to freedom of association for workers? There are lots of social audits and capacity building but is it delivering improvements for workers? ETI's Yun Gao hosted China labour experts Dr Liu and Dr Ben Wu.