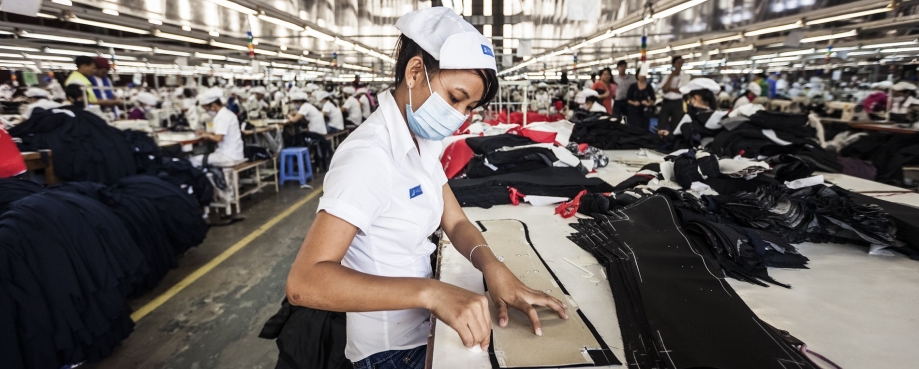 In today's think piece on current ethical trade issues, we show that as consumers are offered ever better value, the cost is felt by low wage workers. Now, more progressive and transparent procurement strategies are needed to reduce supply chain risks.
The prevalence of digital retailing and so-called 'omnichannel strategies' by brands continues to put new and added pressures on supplier companies.
As such, global production systems for many high street goods – based on high speed and low-cost sourcing – pose a significant risk to the rights and working conditions of supply chain workers.
ILO research shows that tight price negotiations, fueled by consumer demand for ever cheaper items, are making life hard for suppliers. 39% of suppliers admit accepting orders that are below the cost of production, while 40% subcontract orders to other companies because of low order prices.
Short lead times fuel excessive overtime
Crucially, these market conditions make it tough for suppliers to pay fair and appropriate wages. Over a quarter (29%) say that buyers' practices are likely to result in their workers having to accept wages below the cost of living.
Similarly, last minute changes and short lead times can contribute to excessive overtime, increased use of casual labour, and unauthorised subcontracting.
These trends are not exclusive to developing countries. For example, ETI funded research looking at Leicester in the UK found serious and endemic labour rights issues – such as workers being paid below the minimum wage, an absence of employment contracts, and excessive and under-reported working hours.
No easy answers
The commercial realities of a fast-paced retail environment provide no easy answers. But there is growing evidence that adopting a more responsible approach to purchasing can create long-term  business benefits, helping to optimise costs, increase  productivity and quality, and reduce operational  and financial risk.
With guidance from ETI, a number of retailers, are beginning to develop new buying practices that support rather than undermine suppliers' ability to provide decent pay and conditions for their workers. Some have created training programmes to make buyers and commercial teams more aware of the impact their decisions have on workers in the value chain.
Others have gone further, promoting 'ethical champions' to act as go-to internal people for all questions relating to ethical trade. Some have even started to financially incentivise buyers, offering bonuses for considering labour standards when placing orders with suppliers.
Meanwhile, new initiatives like Better Buying allow suppliers to rate and rank buying companies in the hope of encouraging a shift in practice.
A two-way relationship
While price and cost continue to dominate corporate strategy, the fact that 66% of consumers are willing to pay more for products that come from sustainable brands should be reason enough for companies to consider how they can raise ethical standards – and  share the cost with customers.
The ACT (Action, Collaboration, Transformation) initiative, involving 17 brands from the textile and garment sector, is a good example of how collective working builds stronger and more transparent relationships with suppliers.
In collaboration with trade unions, ACT aims to help transform the garment and textile industry and achieve living wages for workers through collective bargaining at industry level linked to purchasing practices. Workers can negotiate their wages under the same conditions, regardless of the factory they work in or the retailers and brands they produce for. And the link to purchasing practices means that payment of the negotiated wage is supported by the terms of the contracts with global brands and retailers.
Meanwhile, ETI has commissioned King's College Business School to examine the extent to which business models themselves are at the root of poor labour practices in supply chains. We aim to identify ways in which existing business models can be improved, and to highlight examples of businesses working differently to support better standards.
Yet ETI's General Merchandise Lead, Martin Buttle, warns that there's still a need for more government intervention. "Responsible companies complain that it's not a level playing field, and that irresponsible companies can derive short-term benefits from not supporting better labour standards. This is where strong regulation backed by government can support and encourage responsible business."
As part of ETI's 20th anniversary conference on responsible supply chains (31 October and 1 November) being run in conjunction with business risks solution provider Elevate, there will be sessions on:

Investor expectations for responsible sourcing – led by Bettina Reinboth of PRI, Jelena Stamenkova van Rumpt of PGGM Investments, Christine Chow of Hermes EOS amd Kristina Stonjeková of MN the session will explore how investors are looking at supply chain risks and how investors engage with companies to mitigate operational, legal/regulatory and reputational risks, as well as benefit from opportunities.
Supplier ownership – led by Juliet Edington of Better Work, Dan Murray of Sedex and Arno Gasteiger of ELEVATE the session will explore different approaches to bolstering ownership of suppliers' compliance programmes, challenges in programmme implementation and unpack best practices on how to overcome those.
Purchasing practices – Doug Kahn, the co-founder of Better Buying will present the Better Buying platform, share insights from the Purchasing Practices Index and discuss how buyers and suppliers can benefit from improved purchasing practices.