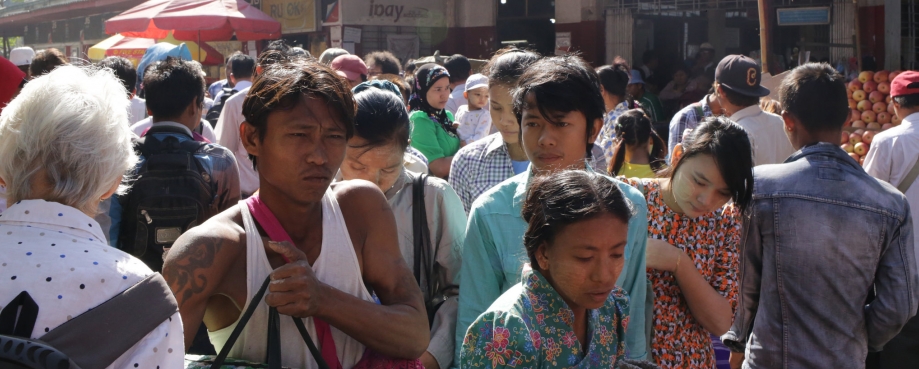 ETI has developed a roadmap for international companies sourcing from or operating in Myanmar. Our four-point plan provides guidance on adopting a human rights due diligence approach in response to ongoing human rights issues.
Download Responding to the Human Rights Crisis in Myanmar: Guidance for Responsible Businesses.
Myanmar's people have suffered from decades of civil conflict and oppressive military intervention.
In September 2018, Myanmar's military was accused by the UN of committing genocide against the Rohingya population.The Chief Prosecutor of the International Criminal Court in the Hague subsequently announced a preliminary investigation into alleged crimes.
Moreover, in October, the European Trade Commissioner confirmed that Brussels was considering reviewing Myanmar's duty-free trade access to the EU because of "a deeply worrying and worsening situation for the Rohingya [people]."
However, despite this challenging context, responsible businesses operating in or sourcing from Myanmar retain a crucial supportive role in supporting economic development, in providing decent work and by helping to foster respect for human rights across their value chains.
Engage with care
Garments and footwear accounted for more than 70% of the more than $1bn of goods Myanmar exported to the EU last year.
Furthermore, the apparel sector employs over half a million people, mainly young women, in one of Asia's poorest economies. The Institute for Human Rights and Business (IHRB) has highlighted that many of these young women would likely be working in rural poverty or risk being trafficked were it not for jobs in the apparel sector.
Importantly, the UN Factfinding Mission investigating crimes in Myanmar has stated that it does not support general economic sanctions. It is concerned that such sanctions in the past may have contributed to the impoverishment of Myanmar's people generally while having little impact on those most responsible for serious human rights violations.
Rather, the Mission supports continuing efforts to reduce the poverty in which most people in Myanmar live, through increased economic engagement and development assistance, provided that the engagement and assistance is carefully targeted to avoid any benefit to the Tatmadaw (military), its leaders or to others responsible for serious human rights violations.
Ensure compliance with UNGPs
The UN recommends that all business enterprises active in Myanmar, trading with or investing in businesses in Myanmar should demonstrably ensure that their operations are compliant with the United Nations Guiding Principles on Business and Human Rights (UNGPs).
This involves respecting human rights, avoiding infringing on the human rights of others and addressing the adverse human rights impacts with which businesses are involved.
ETI's four-point plan builds on the advice of the UN. It is aimed primarily at companies that wish to remain or invest in Myanmar to support economic development through the provision of decent jobs, whilst preventing any unintended negative human rights impacts on the broader population.
In line with the UNGPs, the plan sets out the basic steps companies should take to avoid infringing on the rights of others or causing inadvertent harm through investment decisions and business relationships.
Conduct rigorous human rights due diligence
ETI strongly believes that given the context, conducting rigorous human rights due diligence must constitute part of a business's social licence to operate in Myanmar.
We recognise that this due diligence is difficult. And we acknowledge the opaque nature of certain industries and the lack of information on the connections between the government, the military and the private sector.
But, we consider it is essential in ensuring that companies have a positive impact if they are to continue doing business in the country.
For information on conducting Human Rights Due Diligence, see ETI's new Framework which serves as a guide for companies to help manage and mitigate labour rights risks, and understand why engagement, negotiation and collaboration is the best way to succeed.