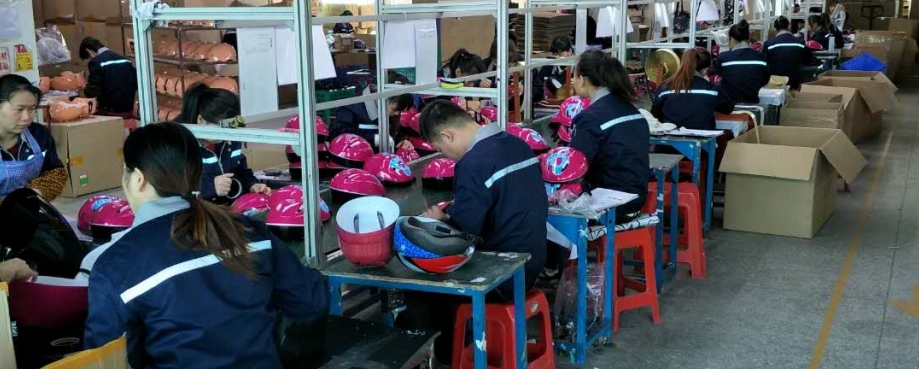 Icy Tse, the owner of the Long Shine Sports Factory, has been guiding her enterprise through a joint ETI/ILO training initiative that aims to make production more profitable for her and her workers, writes Echo Hui.
A small enterprise located in Guangzhou in China's southern Guangdong Province, Long Shine employs around 60 workers. For many SMEs like Long Shine, 2018 was a very challenging time.  China is witnessing huge changes in its labour demographics as well as growing demands for cleaner and healthier working conditions.
 [Editor: to find out more about demographics read our Matrix APA guest blog, "Attracting younger workers: the challenges facing manufacturers in China" and this other Matrix blog about China's new environmental tax, "Matrix APA checks out the impact of the new China Environment Tax on supply chains".]
Meanwhile, overseas orders are shrinking due to an economic slowdown in Europe and the escalating trade war with the U.S. So, is 2019 going to be better? And what could be done to make the future for the business brighter?
A joint ILO and ETI training scheme, Sustaining Competitive and Responsive Enterprises Initiative (SCORE) is helping China's SMEs handle some of the challenges.
Improving production and management
"We are a 17-year-old factory. Our internal management has become rigid, but the demands from our clients are getting higher and higher every day," says Icy. "SCORE is helping us improve our production capacity and factory management.
"For us, SCORE training is about self-improvement. We've learned a lot. It turns out that our management can be changed and improved through SCORE methods."
With SCORE encouragement, Icy has established an Enterprise Improvement Team (EIT) under her leadership. It includes production line supervisors, managers, quality control and other departmental staff and technicians.
"Every time a product is found to have any defects, we now share the information in a social media group set up for communication around the factory. And we let all departments know."
Icy continues, "That way everyone can be involved and discuss the reasons for defects as well as solutions. It helps us minimise the rate of return."
Shop floor workers embrace change
Shop floor workers as well as managers recognise the positive changes that are happening in the factory.
After studying Module One on Workplace Cooperation, Module Two on Quality Management and Module Three on Productivity and Cleaner Production, Lei Zhang, a production line worker gives an example relating to daily operational protocols.
"Some historical problems have been answered. For example, the wastewater channel in the production line had a blockage problem that had not been solved for many years. We raised the issue via the EIT and it has now been investigated and cleaned up."
One of the biggest changes has been to ensure clear passageways around mobile production lines. Employees are now prohibited from randomly stacking products in the passageways.
In the past, objects to be processed were often piled up in front of the only exit to the workshop, or just randomly placed by the production line in unmarked boxes. This not only caused a safety hazard, it also added to the heavy workload. Now, all items are placed in a fixed stack point with clearly labelled instructions. This also means that now workers save time looking for parts in production.
Seeing such positive changes, workers have begun to respond actively. The absence rate has reduced from 4.81% to 3.61%. Wages have also gone up 44.5% and 150% respectively in the first two months in 2019 compared to the average wages from the same period last year. In addition, the factory has seen a drop in the rate of defective products.
"Before, workers did not care when they saw defective products, but after the EIT was set up, they actively report & monitor defects," says production line supervisor Zhao Min.
Case analysis and sharing lessons from other factories has also proved helpful. Following experience shared by other SCORE trained factories, Long Shine staff suggested that well finished samples be placed on the production line. They thought it would be useful for employees' to reference and further improve product quality. This has proved to be very effective.
Reducing pollution, lowering consumption
Reducing waste and cost has become ever more urgent for China's SMEs. Forty years after economic reforms and opening-up policies brought an influx of foreign capital and facilitated the expansion of mass production, China's small factories are now facing the growing challenge of soaring production costs and global competition. This is particularly the case in China's southern provinces. In the meantime, the introduction of higher and better living standards for the working classes has increasingly become a key objective for the Chinese government as well as a new generation of workers. It's one of the reasons why, under the SCORE initiative, Cleaner Production (CP) is a strategy to reduce environmental pollution and simultaneously lower the consumption of resources.
The main focus is on processes and on the reduction of losses, while maximising output. At the EIT meeting, project trainer Feng Xiaowu asked each member to propose three areas where production could be cleaner and asked for a simple improvement.
Employees were encouraged to participate in reducing costs and also to profit from the savings, mobilising their autonomy to participate in reforms.
"During the process, we identified waste in water, electricity and production oil usage," says Feng Xiaowu. "We also identified places to eliminate this waste, such as putting caps on the amount of glue used, or water temperature control."
According to the latest monitoring and evaluation database set up to track the impacts of SCORE training, Long Shine has experienced a sharp decrease in electricity consumption. In March 2019, energy consumption per unit of product (per kilowatt) reduced from 71.25 to 16.28 compared to the same period last year, saving up to 77% of electricity cost.
Using incentives to introduce new systems:
When long-standing employees were worried about using new and cleaner tools, SCORE assisted the factory in introducing feasible incentives. A "cold knife" production process originally used in the factory was time consuming. To encourage staff to practice and familiarise themselves with an improved "hot knife" process, the factory provided subsidies to help employees get up to speed and on with the job smoothly!
To find out more about ILO and ETI SCORE Training, contact Eshan Chan.
The ETI-ILO SCORE project ran between February 2017 and February 2019 with funding from Germany's Federal Ministry for Economic Cooperation and Development (BMZ) via its develoPPP.de programme. DevelopPPP helps German and other European companies conduct business activities in a responsible manner in line with the expectations of the Sustainable Development Goals. In the context of the SCORE initiative, ILO and ETI cooperated with SEQUA, one of DevelopPPP's designated partners charged with implementing the programme.