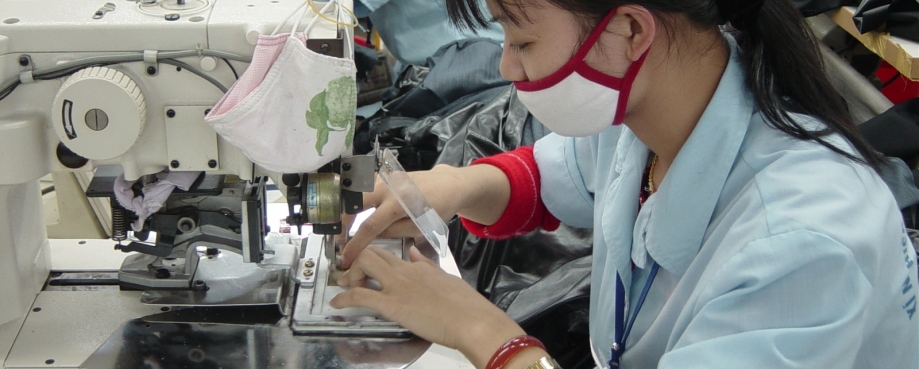 ETI's Manager in Hong Kong, Yun Gao, has been asked by the ILO to lead an on-line discussion for Italian business students that addresses responsible supply chain management in East Asia. The students are particularly interested in some of the main challenges that global buyers and suppliers face in addressing ethical trade. We thought ETI blog readers would be interested in this sneak peek at what Yun will say.
New advanced training course: Human rights due diligence
All countries face different challenges when it comes to global buyer/local supplier relationships, but also there are many overlapping issues.
Some are proverbial low-hanging fruits, while others are more persistent and difficult to tackle.
Challenges around tangible or visible issues related to occupational health and safety, such as wearing personal protection equipment (PPE), as well as child labour, fall into the former category. They can be fixed quickly and at relatively low cost.
However, there are other persistent issues in East Asian supply chains, where most businesses are SMEs, and where improvement has been slow or even static. This includes excessive overtime, which characterises labour-intensive sectors. Another is low wages.
Such industry-wide issues cannot be easily resolved unless all actors in the supply chains change their behaviours, including buyers themselves.  
Addressing core labour rights
Addressing excessive overtime and low wages is crucial, but they are inextricably linked to good industrial relations i.e. the less promoted freedom of association (FoA) and collective bargaining (CB).
When FoA and CB are effectively protected and implemented, other closely related issues will be readily solved.
I should acknowledge here, that I've seen international buyers encouraging their suppliers to do more around protecting workers' rights in the face of real local scepticism.
I should also acknowledge, that ultimately, the driving force for better protection of rights needs to come from workers themselves, important though buyers' encouragement is.
This means active promotion by governments.
As the Sustainable Development Goals recognise, and ETI explained in a recent guide, ending abuse has to be a collaboration between governments, companies, trade unions and the voluntary sector.
However, currently, there are only sporadic, very local reforms or pilots taking place here and there, and social dialogue remains weak. [Editor: social dialogue seeks to improve industrial relations by bringing workers, managers and sometimes government representatives together to talk through issues and arrive at jointly agreed solutions.]
So, it's important for people to recognise that to promote workers' rights, various factors are in play and there's a limit to what buyers can do via compliance.
Nonetheless, until local restrictions are addressed – and workers become organised and empowered – the main thrust for improvement in workers' rights must come from buyers acting within the scope of their responsibilities around due diligence.
Effectively, the global buyer's role is crucial. They are not only a monitor of supply chains but also a bearer of responsibilities themselves.
Purchasing practices
Where do global buyers' particular purchasing practices and behaviours create difficulties? I see both direct and indirect challenges.
For example, buyer delays in sending samples and designs, and a requirement for tight delivery schedules, can directly lead to excessive and forced overtime.
Poorly planned production volumes will cause similar difficulties.
Furthermore, when there is a serious labour shortage in factories with limited production capacity, the risk of child labour also becomes predictable.
Sometimes, the linkage between the price paid by a buyer and the wages paid to workers may be less straightforward – but they are still linked.
Here's just one, relatively common, example: reverse price online auctions, so-called Dutch auctions, can be very risky for workers as the price bid by suppliers can easily fail to cover their wages. This opinion piece by Charm Rammandala of IStrategy USA clearly explains the problems.
Modifying behaviour
Global buyers need to modify their behaviours in five ways:
Internally review their purchasing practices, promote the collaboration of social compliance/CSR departments with procurement departments and bring the ethical trading agenda to the highest level of company decision makers.
Establish strategic partnerships with suppliers, and policies to incentivise transparency and improvement.
Communicate with suppliers, identify root causes, and discuss structured responsible buying practices including decent pricing.
Shift from outsourced responsibilities to shared responsibilities.
Listen to workers' voices to better assess the impact of buyers' behaviours on workers, verify improvements and when necessary, seek remediation solutions.
All of this may be easier said than done. But leading international companies, albeit too few of them as yet, are showing that it is possible.
Let's call a spade a spade! It is crucial that international companies step up to their responsibilities if the workers that produce goods for the global marketplace are to enjoy decent employment and good working conditions.   
And here's where we must acknowledge that suppliers can face vicious local and regional competition – and what this means for them. 
When suppliers' factories are struggling to get more orders, they are not in the best position to negotiate. It's not easy (and is often impossible) for them to challenge a global business or even to reject an order if they feel it is unreasonable. They fear losing out on future contracts.
That's why mutual trust and a clear policy regarding purchasing practices and supplier relationship are key factors in encouraging suppliers to communicate honestly.
A transparent business relationship
In a best-case scenario, supply chains are mature and developed, and suppliers discuss issues with buyers, because:
The stable buyer-supplier relationship helps establish mutual trust, which in turn encourages open dialogue; buyers are then better informed of supplier situations, including production capacity and challenges; they then can better control their orders.
Some suppliers become bigger and start to develop their own brands; when this happens, they better understand the position of buyers and are more willing, and in a better position, to bring any issues to the table in an honest way; this subsequently encourages better practice across the wider local sector.
You'll not be surprised when I say that in East Asia, we've still got a way to go to reach that state of affairs. But I want to end on a positive note.
This following example shows what can happen when a global company joins forces with a voluntary organisation to investigate purchasing practices.
In 2003, ETI member Gap Inc conducted a study in nine markets with Women Working Worldwide (WWW). The study analysed the impact of garment retailers' decision-making processes on social compliance in their supply chains.
The analysis showed that Gap itself had work to do, and they invited WWW to help them review their purchasing practices.
Although the corporate responsibility team initiated the project, they soon gathered support from senior commercial managers across the business.
This led to reworked relationships with suppliers in their sourcing hubs. Gap's work on committing to transparency and accountability continues to this day.