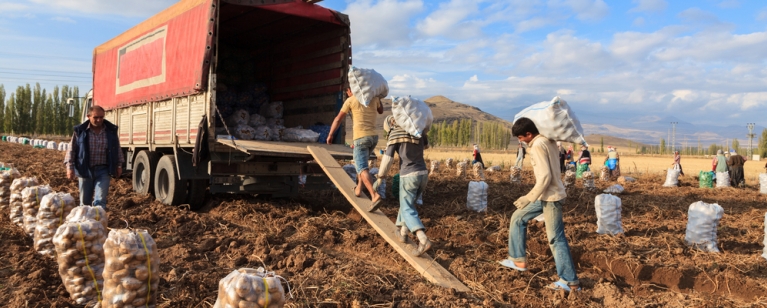 18 June 2018 08:30 – 10:00
8 Coldbath Square
London
EC1R 5HL
United Kingdom
What drives modern slavery in global supply chains? Who is most vulnerable? And how do we stop it? Latest research findings from leading global experts.
ETI's popular Ethical Insights Breakfast Series is back!
On 18 June 08.30 – 10.00am (London), we are proud to host leading academic experts to share the latest findings from multi-year research and programme evaluations on what makes people most vulnerable to modern slavery and what interventions work (or don't) to help them.
This seminar will provide the latest insight and analysis,busting popular myths and assumptions about what drives modern slavery and what we should be doing to tackle it. Our speakers have recently published cutting-edge research that helps us understand the complex and multi-dimensional factors that drive  modern slavery in global supply chains, as well as the specific challenges faced by vulnerable and excluded groups that are at risk of becoming victims.
Some of the issues we will discuss include:
What makes workers vulnerable to forced labour – how do they end up in situations of physical, psychological or economic coercion? 
What puts migrant workers at risk of being exploited, and how do they make decisions about how and when to migrate? 
What might protect them from these abuses? 
What are the business models of forced labour?
Professor Genevieve le Baron is Professor of Politics and Co-Director of the Sheffield Political Economy Research Institute at the University of Sheffield. She is UK ESRC Future Research Leaders Fellow and Co-Chair of the Yale University Modern Slavery Working Group. Her research focuses on the business dynamics of forced labour in global supply chains, with recent studies of cocoa and tea supply chains. She has been published in leading academic journals, and has held positions at Yale University, the International Labour Organization (ILO), Sciences Po, and University of California, Berkeley. In 2017, She was awarded the British Academy Rising Star Award by the British Academy for the Humanities and Social Sciences for her research and policy contributions. Her recent study on forced labour in the tea and cocoa industry has been featured in national and international media. 
Dr Ligia Kiss is Assistant Professor at the London School of Hygiene and Tropical Medicine (LSHTM). She is an epidemiologist, with expertise in research and complex intervention evaluations in Latin America, Asia and Africa, with a focus on trafficking in persons, violence, and migration and health. She has authored many research papers and is co-author of the South Asia Work in Freedom Transnational Evaluation (SWIFT), the results of which will be featured in this Ethical Insights seminar. This trafficking prevention programme is a partnership between DFID, the ILO and LSHTM focusing on women and girls migrating from and within South Asia in domestic and garment sectors. Ligia will also discuss wider lessons and insights from research on the health impacts of trafficking.
Please sign up to attend this free breakfast event. ETI's Ethical Insights series has been set up to generate debate and discussion on labour rights in complex global supply chains, drawing on evidence from experts, current research and practice. They are free and open to all at 8 Coldbath Square, London EC1R 5HL. We start promptly at 8.30am and finish by 10am. A light breakfast of coffee and croissants will be provided.