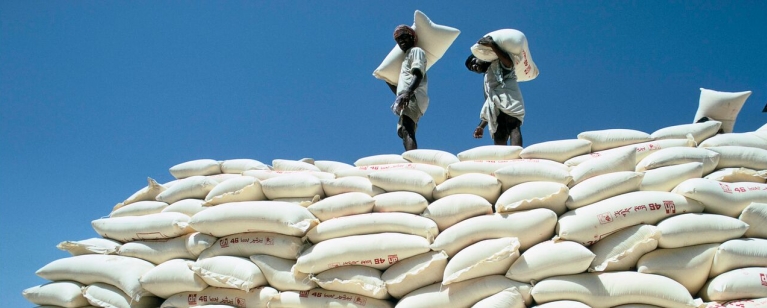 ETI Strategic Partnership with the Pakistan Institute of Labour Education & Research (PILER).
In September 2017, ETI signed a partnership agreement with the Pakistan Institute of Labour Education & Research (PILER) to promote ethical trade and the UN Guiding Principles on Business and Human Rights (UNGPs) in Pakistan. The initial Agreement will cover the 18-month period from September 2017 to March 2019. In summary, the objectives are to:
Improve knowledge and understanding amongst relevant stakeholders in Pakistan of the UNGPs, ethical trade and human rights due diligence.
Create a more enabling environment whereby practical challenges to the protection of labour rights are discussed and addressed collaboratively in multi-stakeholder forums.
Gather and share evidence on the practical application of good human rights due diligence and ethical trading practices.
Provide opportunities for ETI member companies to engage with local stakeholders in Pakistan who can monitor the protection of labour rights, and who work with businesses to facilitate better due diligence processes.
PILER is leading in the delivery of the activities, working in close partnership with ETI. Activities include training for businesses, trade unions and NGO's in Pakistan on ethical trade and human rights due diligence, advocacy, multi-stakeholder Roundtable Dialogue events on Responsible Business Conduct; and dissemination of materials to support the practical implementation of ethical trading practices and due diligence. Examples of this work include:  
Surgical Instrument Supply Chain Work in Pakistan
ETI is in the process of conducting further research into surgical instrument supply chains in Pakistan and public procurement, in partnership with UK as well as Swedish, Norwegian, and German public bodies, buyers, suppliers and intermediary bodies. The aim here is to identify critical areas where change is needed, improve business practices, and build trust and collaboration between key stakeholders so that we work together to contribute to the elimination of child labour and modern slavery practices.
Pakistan, labour rights initiatives
Government of Pakistan
Punjab Integrated Project on Child and Bonded Labour (June 2015)
The Project is a seven-year programme that aims to eliminate all forms of exploitative work practices in all 36-Districts of the Punjab Province through social mobilization and social development of vulnerable and marginalized families (non-formal education, skills training, health screening, micro-credit etc.).  The estimated investment is US$50 million.
The Project is being implemented to attain six main objectives:
Eliminate Worst Forms of Child Labour and contribute in Global Target
Eliminate Bonded Labour particularly from Brick Kilns and rehabilitation of freed bonded Iabour and economic empowerment of affected families
Improve collaboration among various Provincial Departments, District Offices and with International Organizations to combat Child Labour & Bonded Labour
Strengthen Legislation on Child Labour and Bonded Labour
Build institutional capacity and train Government Staff to ensure effective monitoring
Promote Knowledge base Development, Knowledge Sharing and Promotion of Good Practices with other Provinces
Punjab Employment Trends Report Occupational Safety and Health (2014)PDF (at p.4)
To enhance the implementation of the Occupational Safety and Health (OSH) provisions and to prevent accidents, the Government of Punjab has taken concrete steps to:
Reform the system of inspections
Ensure registration of all workplaces in the province with the Provincial Labor Inspectorates, who shall establish criteria for determining the workplaces 'at risk' in line with international labor standards and relevant laws; and identify vulnerable enterprises based on the criteria
Ensure integrated inspections were carried out to identify enterprises posing the greatest threat to workers' safety; the principle of "integrated inspection" aims at ultimately reaching the 'One enterprise-one inspector' level
Encourage the concept of self-inspection and self-reporting among 'Low risk' enterprises
Joint Action Plan for Promoting Workplace Safety and Health in Sindh (2013 - 2016)PDF (at p.5) 
Collaborative plan between the Government of Sindh, Employers Federation of Pakistan (EFP) and Pakistan Workers Federation (PWP) and ILO.  Swift cooperation was triggered by the largest 'Industrial Disaster' in the history of Pakistan, in which a factory fire in Karachi trapped and killed more than 250 workers due to inadequate safety measures and fire exits on 11th September 2012.
In the medium-long term, Government of Sindh aims to develop:
Enhanced occupational safety and health (OSH) management system
Efficient and effective Labor Inspection System
A work-related injuries/accidents compensation system (social protection)
ILO
Pakistan Decent Work Country Programme – Phase III (2016 - 2020)
Joint effort with the Government of Pakistan, the Employers' Federation of Pakistan (EFP) and the Pakistan Workers' Federation (PWF). The programme builds on the labour law reforms and social protection expansion to informal industry in Phases I & II of DWCP. Promotes four areas of Decent Work Agenda:
Promoting decent work in the rural economy
Promoting job creation for youth and vulnerable groups
Extending social protection floors
Strengthening ILS compliance through social dialogue.
A Programme for Action in Asia and the Garment Sector (Dec 2014 – June 2017)
Collaboration with GIZ and BMZ to promote decent working conditions in the garment industry in southern Asia, notably Pakistan, which was granted Generalized Scheme of Preferences (GSP) in 2014 and needed to strengthen its labour market governance, minimum wage implementation, collective bargaining mechanisms and equitable working conditions to maintain its GPS status.   
Adopting the tripartite approach, the programme aims to:
conduct a detailed review of minimum wage fixing in Punjab (largest textile producing province), Sindh and Khyber Pakhtunkhwa; and analyzed the criteria used to periodically review minimum wage levels;
develop capacities of the provincial Labor Departments in labour law reforms and inspection mechanisms; and
extend coverage to the informal economy in the garment sector supply chain.
Promoting Decent Work and Labour Law Compliance in Garment and Textile Industry in Faisalabad (1 Feb 2015 – 30 Jun 2016)
Increasing productivity and competitiveness through labour law compliance in Pakistan's textile sector
ILO and Pakistan Textile Exporters Association sign a unique Partnership Agreement Promoting Decent Work in Garment and Textile Industry in Faisalabad
A public-private collaboration established between ILO and Pakistan Textile Exporters Association (PTEA) that aimed to:
Develop the capacity of workers' and employers' organizations in textile industry, labour inspectors and provincial labour department to effectively advocate for national labour law compliance and reporting;
Engage 280 industrial establishments to promote responsible workplace practices and reporting mechanisms, which was bridged with the public labour inspectorate and enhanced the sustainability of the labour inspection regime.
Strengthened Capacity of Constituents to Address Unacceptable Forms of Work in the Textile and Garment Sector in Pakistan (July 2014-September 2015)
Partnership with Federal Ministry of Overseas Pakistanis & Human Resource Development, four Provincial Labor Departments (Punjab, Sindh, KP, Baluchistan); Employers Federation of Pakistan (EFP), Pakistan Workers Federation (PWF); and Textile Industry Associations.
The programme adopted a two-pronged strategy to:
(1) strengthen the institutional capacity of the provincial and federal Government to enhance compliance and reporting on ILS; and
(2) improve responsible workplace practices to ensure sustainability of enterprises with the support of Employers and Workers through social dialogue.
GIZ Social Dialogue Programme
Supporting Social Standards in the Textile and Garment Industry in Punjab, Pakistan (August 2014 – July 2016)
This project emerged against the backdrop of Pakistan being granted enhanced access to the European market under the European Union's preferential trade scheme – GSP+; and was aimed at supporting the Pakistan Government in maintaining the GSP+ status.
The project engaged relevant state, civil society and private sector actors (including some from outside Punjab) in two social dialogue events, in which the participants systematically explored the various ongoing initiatives, developed a roadmap for the dialogue platform, set up a steering committee, defined modes of cooperation. The project also worked to support factory employers to run pilot measures at factory level; facilitate regular information and knowledge sharing and facilitate cooperation between government, employers and workers; prepare baseline figures, against which to measure key performance indicators of productivity and compliance with social standards.
Pakistan Institute of Labor Education and Research (PILER)
Access to Justice for Vulnerable Populations in Pakistan (2014-16) 
This project aimed to develop and implement a multi-pronged public awareness campaign that increases citizens' knowledge of the laws, which protect their fundamental rights.
Towards Health and Safety at Workplaces (2012-14) 
This programme aimed to halt the downward slide of occupational health and safety at workplace, make all the stakeholders aware of the utmost importance of keeping the workplace safe and healthy ensuring well-being of workers, and to urge the state and other key stakeholders to put in place enabling and worker friendly legislation and effective implementation of laws and procedures.
The Forum is an ongoing initiative from the ILO, IFC, and the government of the Netherlands, in collaboration with the government of Pakistan, with the key objective of improving productivity, workers safety and compliance to all the requirements under the GSP Plus status.
Series of efforts to improve labour conditions in textile and garment supply chains include:
Mapping Study: Providing Additional Insights and Roadmap for the Buyers' Forum. The Sustainable Trade Initiative (IDH)
World Bank/ International Financial Corporation
Corporate Governance PakAf (21 Jun 2012 – 30 Jun 2017)
The project aimed to improve corporate governance (CG) at the firm, market, regulatory, and macro levels in Afghanistan and Pakistan.