We are delighted to announce our new Supply Chain Logistics programme.
Set up in recognition of the seriousness of the human rights and modern slavery issues outlined during ETI's briefing events on the Crew Change Crisis in June 2020, we in collaboration with ETI member, the International Transport Workers' Federation (ITF), established a member Expert Support Network (ESN).
ETI's Logistics ESN was set up for ETI members who want to map and address issues arising in their logistics supply chain. Together, the network navigates a stepped approach by looking at the various components of how goods are transported.
Shipping
The network aims to better understand the oblique shipping industry, a complex supply chain with a knowledge vacuum and explore how to drive change for the oft forgotten and hidden workforce transporting our goods around the world.
ETI members formed part of the groundswell of activity and call to action on the crew change crises and have been part of testing the new HRDD health check facility for Companies. ITF has established a Seafarers Human Rights Due Diligence (HRDD) Unit which aims to support companies with bespoke and confidential HRDD shipping health checks on their shipping supply chains.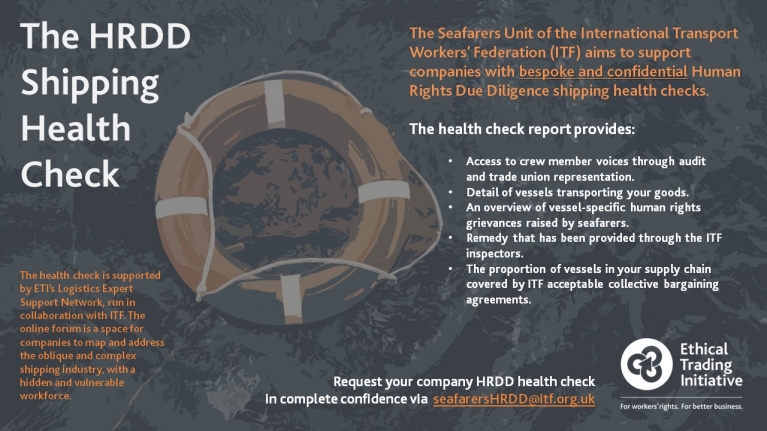 ITF, representing nearly 20 million transport workers in 150 countries worldwide, holds extensive data on shipping lines, vessels, routes, and vast practical knowledge on the industry and the workforce moving our goods around the world twenty-four hours a day. Through their global network of shipping inspectors, there is also has an established grievance mechanism and remedy pathway. 
Haulage & warehousing
The ESN aims to begin discussions around haulage (September 2021) and warehousing (November 2021) to complement the work already underway on shipping.
Be part of this Expert Support Network
This programme is open to all ETI members. 
Contact: Beverley Hall, ETI's Senior Collective Action Advisor: Transitions, Futures & Social Dialogue.
Blog post
ETI members part of ground-breaking HRDD toolkit for seafarers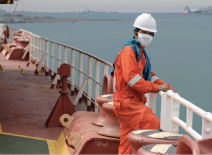 Guidance and checklist on how to identify and address human rights risks through the due diligence process.

Read more
Blog post
Human rights due diligence in freight supply chains - event report and videos