ETI held a Corporate Roundtable for all company members on 2 May 2018. Thank you to everyone who came and made the day a success! Please find below the agenda and presentations. Minutes and video snippets from the day will be also be available on this page by 18th May.
Members only
Sorry! You cannot view/download members-only files unless you are logged in.
If you are an ETI member please log in.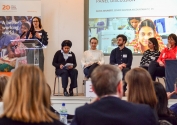 Members Only

4 May 2018

Resource type

Presentations

Subject

Purchasing practices

Freedom of association

Gender

Transparency

Accountability

Modern slavery

Advocacy