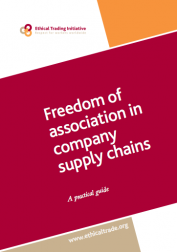 Public

10 June 2013

Resource type

Tools, Guidelines & Briefings

Subject

Freedom of association

Unions

Collective bargaining

Trade unions
This ETI guide provides practical help to companies in identifying and understanding the impacts of their operations on the fundamental rights of freedom of association and collective bargaining. It is a guide to many aspects of industrial relations across different regions and cultures.
In addition to showing how companies can establish a practical framework for monitoring and protecting these rights, the guide suggests ways to improve the situation of workers in the supply chain by supporting their right to set up and join unions and to negotiate collectively with employers. Taking action on these issues will form an important element of human rights due diligence for many businesses.
The guide covers the rights to freedom of association and collective bargaining; what constitutes a trade union; the ILO Core Conventions; how companies can drive change in their supply chains; and challenges to freedom of association. It also provides a selection of relevant tools and resources.