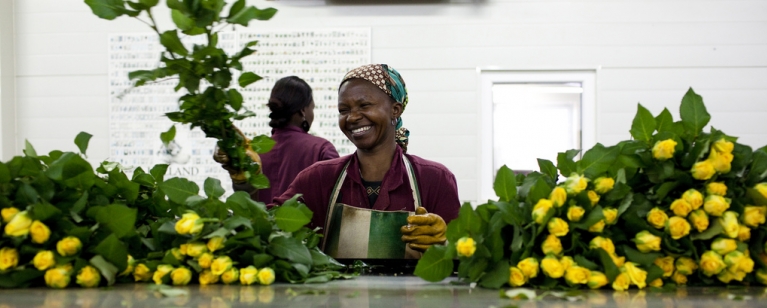 Black Lives Matter
The challenge of progressing equality is a huge one, and ETI is committed to unpacking the complex issues around Black Lives Matter. While anti-discrimination has featured in the ETI Base Code since it first launched, we continue to explore how we can mainstream equality and fairness across every aspect of what we do.  
We know we don't have the answers yet. But as we search for them, we will involve everyone – members, staff, partners, and workers – in the conversation, and commit fully to ongoing progress and meaningful, sustainable change. 
ETI sees itself very much as a "community", within which we all strive to oppose and root out discrimination.  But recent events have shown just how far there is to go on the journey towards anti-racism.  As an organisation, we are initiating a process of educating ourselves, confronting our own biases, and ensuring everything we do in the future is informed by that learning and self-examination. 
We work hard for ETI and our members to remain at the forefront of ethical trade. That means being transparent and accountable. Transparent in conducting activities. Accountable in accepting responsibility for actions.
Company, trade union and NGO members play equal parts in shaping ETI's thinking and the way we work.
This commitment strengthens trust and collaboration. And it builds better ethical trading practices to the benefit of workers in global supply chains.
As such, within and between ETI and our members, we foster transparency and accountability. They are powerful drivers of change and key to seeing the Base Code implemented in global supply chains.
Governance
Here's how we hold ourselves accountable.
Our Board
ETI is governed by a Board of Directors who represent our tripartite membership under an independent Chairperson.
The Board and its sub-committees guide our strategic direction and provide approval for strategic, business and annual work plans and large-scale projects.
They also review the ethical trade performance of corporate members.
Groups and roundtables
Two Caucus Groups feed into Board decision-making.
The Trade Union Caucus includes representatives from selected affiliate unions involved in ETI activities. The NGO caucus includes all member NGOs.
Companies are brought together at the corporate roundtable. There is also a Food and Farming and an Apparel and Textiles Working Group as well as Programme Groups which focus on country-specific supply chains.
Our Working and Programme Groups represent members with a common interest and tackle critical aspects of ethical trade.
The ETI Secretariat
Under the Board's oversight we develop strategies and policies, manage projects and Working and Programme Groups, provide advice to member companies and hold them to account.
We also publish resources, run training courses, organise events, liaise with a wide range of external organisations and carry out communications activities.
Transparency
Towards greater transparency - ETI's direction of travel
Towards greater transparency: the business case
ETI is taking steps to make more information publicly available, both about ourselves and our members' ethical trade performance.
We have revised our corporate member reporting system in line with due diligence best practice and the United Nations Guiding Principles on Business and Human Rights.
This will provide a robust framework from which members can set their ethical trade strategic objectives, evaluate their practices and assess how these affect workers' rights.
Specifically, our strategy commits us to:
have demonstrated the case for companies being more transparent about their supply chains and the degree to which workers enjoy their rights
have a robust and credible reporting system that drives evidence-based accountability
provide publicly available, authoritative and well-recognised reports on member companies to support their commitments and achievements.
Looking forward, this will enable our members to collaborate more effectively and be more open about business practices.
Monitoring, evaluation and learning (ME&L)
ETI works with and through our members in multiple, highly complex environments where there are many factors beyond our control.  
Furthermore, our outcomes relate to 'hard to measure' issues such as tripartite collaboration, influencing business practices and the treatment of workers through a cycle of continuous improvement.
Consequently, our ME&L framework is designed to help us gather relevant information in flexible and creative ways.
It supports our membership reporting system, uses participatory monitoring tools in our supply chain programmes and tracks the impact of our learning and advocacy.
By doing this, we monitor our progress against our strategic objectives and identify lessons for our own improvement.
Being open and accessible is integral to our way of working. For any information that is not available via specific webpages, contact us here.