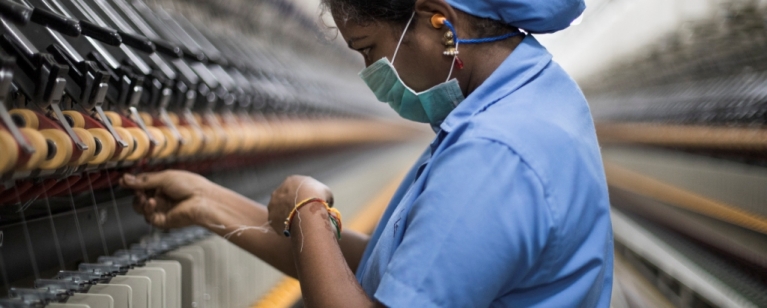 Today there are still far too many workers who are treated with indignity and lack the basic rights at work we are all entitled to. Particularly for women, migrants and many other vulnerable groups, work often fails to offer much-needed security or a route out of poverty.
The laws that govern commerce and the commercial relationships that turn ideas and raw materials into products and services, must ensure that people, wherever they work, have their basic human rights respected. 
The impact of Covid-19 and the rising tide of climate change present us with an opportunity to do things differently and drive progress in addressing the issues that workers face in supply chains.
Vision 
ETI's vision is of a world of work that protects human rights, ensures dignity for all, provides opportunity and is free of exploitation and abuse. 
Mission 
ETI's mission is to advocate for the most vulnerable workers, by harnessing the power of a diverse and growing membership. Through collaboration and innovation, we work to drive engagement, challenge barriers to change and ensure respect for human rights at work.
Our strategy is built around supporting our members to do better for workers, while facilitating a united, multi-stakeholder approach to drive resilience and sustainability throughout supply chains.
Our five year aims 
Leverage the influence of our members to reach more than 15 million workers in their supply chains.   
Harness the power of a growing and diverse membership, to demonstrate impact in key issues that matter for workers. 
Ensure ETI and our members are recognised leaders in promoting human rights at work. 
How we influence business
ETI influences business practices through three essential pathways:
Progression & accountability 
We support our member companies to develop their approach to human rights due diligence, using the ETI Progression Framework to apply the UNGPs.
Collective action 
We leverage our membership to convene on systemic workers' rights issues and act collectively to resolve them.
Enabling environment 
We work with our members to influence the policy and regulatory environment that enables responsible business and effective action to ensure respect for human rights at work.
ETI Strategy 2026
For human rights, for better business. Our vision, mission, aims, and strategic goals.
Theory of Change
The links between our activities and interventions, and the outcomes and impact that we seek to achieve.