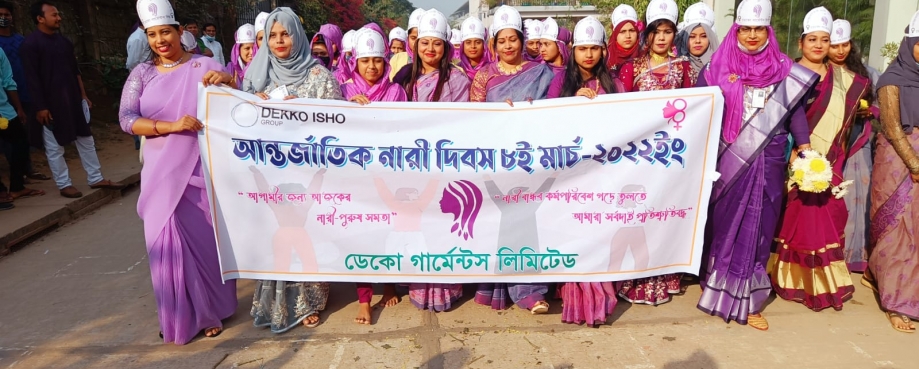 "This International Women's Day (IWD) has been one of the most memorable days in my career" said one of the newly promoted supervisors of a garment factory in Gazipur.
"It is a 'dream come true' for me on a very special day", she added.
She has been promoted from worker to supervisor alongside four other female colleagues. ETI Bangladesh has been implementing workplace a gender equality programme in this factory for nearly two years. Promoting women's leadership is one of its major focus areas of the programme.
For a sector which employs over 3.5 million, 60% of whom are women, International Women's Day is an important annual event in Bangladesh's garment industry. This year, the theme for the day is "gender equality today, for sustainable tomorrow". Given the garment sector contributes to more than 12% of national GDP and over 84% of remittance earnings, the success and sustainability of this sector is of national importance, and one that relies heavily on the support and empowerment of women workers.
To bolster efforts across garment factories in Bangladesh ahead of IWD, ETI Bangladesh, Fair Wear Foundation co-hosted a webinar, attended by the Dutch Embassy, to exchange ideas with local partners and collaborate with over 50 factories country wide. Over 120 participants (46 female, 78 male) across 56 garment factories attended the webinar to engage in campaign planning with a variety of IWD activities emerging from the event.
ETI Bangladesh supported 25 garment factories in celebrating the day by sharing critical messages promoting gender equality and women's empowerment through a behavioural communications campaign. The campaign included awareness raising posters and banners which factories could adapt and make their own, as well as songs and announcements played to staff via public announcement systems. It also included a video raising awareness of sexual harassment and steps to combat it, to feature on factory premises. Steps were taken to ensure factories continued to feature campaign materials and messaging beyond IWD, with brands including INDITEX disseminating campaign materials via their supplier factories too.
All participating factories held rallies with banners and festoons, produced and distributed T-shirts and caps with IWD 2022 messages, decorating factory gates and premises with balloons, ETI designed banners, placards and posters. They also played ETI provided gender awareness songs and announcements and screened our campaign video. In some instances, factories also distributed of flowers among women workers and cut cakes as part of the celebrations.
Speaking to workers on the day, one mentioned "previously we used to only hear about International Women's Day' on the radio or TV; now it reaches us at work. ETI Bangladesh played a vital role in making this happen, through their training, advocacy and other activities."
The managing director of a factory in Gazipur area said participating in ETI's campaign presented a unique opportunity to create dialogue on gender issues within the factory. He expressed his determination to continue and sustain the effects of the programme, saying "women's empowerment is always a 'work in progress' and we are determined to continue workplace dialogue, motivate our staff and work to boost confidence among our female workers".
ETI Bangladesh's workplace gender programme is jointly supported by NORAD and the Government of the Netherlands through STITCH.