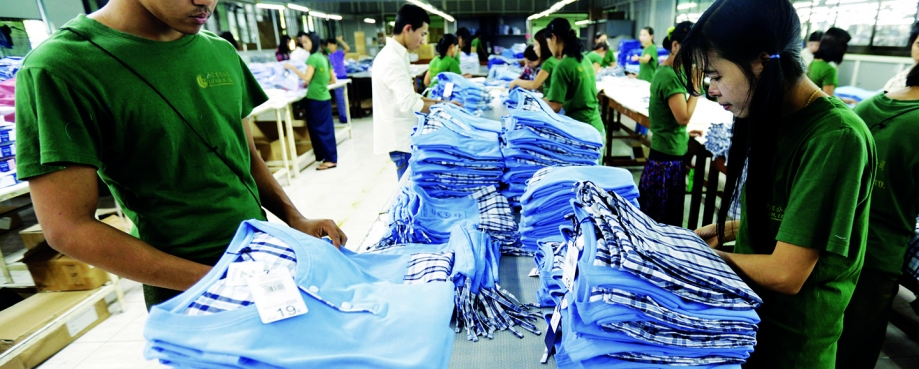 In our April Leadership Series blog, Dr Aidan McQuade former Executive Director of Anti-Slavery International, reflects on how ETI members came together to influence the passage of the UK's Modern Slavery Act and the potential for future tripartite action to advance the cause of decent work and poverty reduction.
If ever there is an example of the benefit of the tripartite nature of the Ethical Trading Initiative – i.e. the possibilities that are opened by its business, trades unions and non-governmental members working together in common cause – it is the existence of the Transparency in Supply Chain Clause of the UK's Modern Slavery Act.
In spite of its claims of world leadership against slavery, the British Government's initial draft of the bill that became the 2015 Modern Slavery Act was very narrowly focussed.
The Act was overwhelmingly concerned with easing the prosecution of organised criminal traffickers. It included nothing on the risks of forced labour in business supply chains and had no consideration of victim protection.
Government reluctance on victim protection

While pressure by civil society and diligent parliamentarians redressed the protection omission, I had suspicions at the time that the government wanted nothing in the Modern Slavery bill that might give aid and comfort to victims trafficked across borders into the UK – particularly in view of its previously stated intent of creating a "hostile environment for illegal immigrants". Indeed, on reading the first draft of the bill, I remember thinking it was "tough on crime, and tough on the victims of crime". A year later, the introduction of the 2016 Immigration Act's offence of "illegal working" undermined many of the protection measures intended to protect trafficking victims as outlined in the Modern Slavery Act. And now, as viewed through the prism of the dreadful Windrush scandal, I fear my worries have, unfortunately, been corroborated and that often vicious discrimination has been justified, impacting all migrants, including those brought to the UK under conditions of modern slavery.
Supply chain reporting
In 2013, when the first draft of the Modern Slavery Act was published, the transparency in supply chain clause seemed like a long shot for inclusion.
Civil society and trade unions had been calling for some years for the UK to introduce regulatory measures similar to those that California had introduced, requiring businesses to report on what they are doing to eliminate forced labour from their supply chains. But, there was considerable resistance from government towards any measures that were regulatory of business in nature, including something as modest as supply chain reporting.
Yet, there had long been concern amongst business members of ETI that many of their efforts towards more ethical performance were undermined by less scrupulous firms with little regard for the social consequences of their business policies and practices.
Business recognised the need for regulatory measures to level the playing field and so added their voices to the demands that the government introduce some transparency measures. 
The capacity of ETI to marshal its constituent elements, business, non-governmental organisations and trades unions, and to work with other multi-stakeholder organisations, such as the British Retail Consortium, to present a united front to the government in favour of transparency legislation ultimately cracked the government's opposition to the measure.
Of course, this hasn't ended slavery in the world. The ILO estimated in 2017 that there are a minimum of 40 million people living in slavery today, many of them in international supply chains.
Transparency in supply chains legislation is merely the first modest step in advancing the goal of decent work for all.
Transparency helps companies
Transparency helps companies and wider societies to understand the deeper causes of slavery, other human rights abuses and effective measures to ameliorate them. For example:
where workers are organised into democratic trades unions and mature systems of industrial relations exist, then systemic abuses are far less likely to occur.
Where there are good and sufficient schools, particularly for girls, then there is less likely to be child labour.
Where governments have established effective systems of rule of law, that protect the socially excluded, such as Dalits and Adavasi in South Asia, then unscrupulous employers are denied opportunities to exploit vulnerable workers.
And, where the safety of migrant workers is assured, and the xenophobic impulses of some in government and society are repudiated, then the opportunities for decent work for all are expanded.
Other factors causal to slavery
There are diverse other factors in law and society that are causal to slavery.
What the reporting requirements of the Modern Slavery Act provide are an opportunity for business to understand more profoundly what the causes are, and what businesses can do about them.
Sometimes businesses will be able to fix the problems directly through, for example, changes in recruitment or procurement practices.
Sometimes though – such as with the Bangladesh Accord formed to improve workplace safety in the aftermath of the Rana Plaza atrocity, or current efforts to establish a pan-European law on human rights due diligence for businesses – the sorts of systemic changes necessary can only be achieved by businesses working with each other and with trades unions and civil society to confront governments over their policy failings.
The history of ETI has shown what tripartite work can achieve.
I firmly believe that if ETI can craft an agreed agenda for political action from the insights afforded by business, trade unions and non-governmental learnings, then, over the next 20 years the cause of decent work and poverty reduction can be advanced in a world changing way.
THE LEADERSHIP SERIES: ETI's Leadership Series of blogs commemorates our 20th Anniversary and links business to human rights. The aim is to re-affirm the case for ethical trade and encourage a constructive approach within a concept of 'principled pragmatism'. Earlier posts include: How can international brands ensure that homeworkers are treated fairly? Everything a business needs to know about social dialogue and sound industrial relations and Where business meets human rights