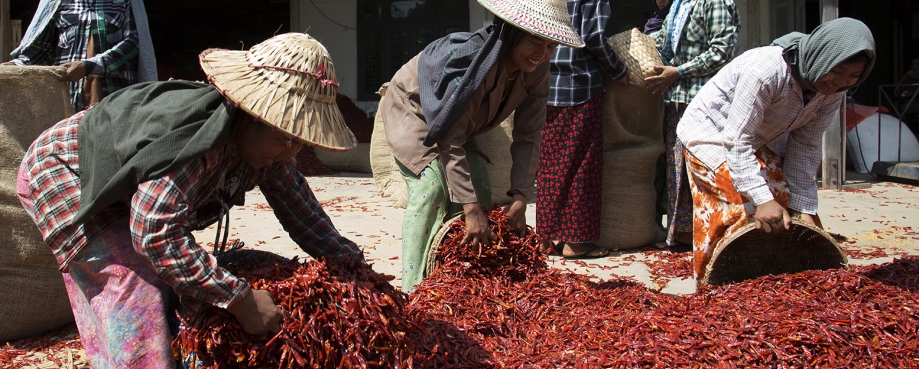 ETI has issued a joint call with leading MSIs in the global apparel industry for urgent action to protect over 500,000 workers in Myanmar's garment industry.
The statement calls for an immediate return to the democratically elected government and a halt to the coup which, alongside the military's growing violence in support of it, "threatens to reverse the progress and the thawing of relations between Myanmar and the international community ongoing since 2011."
The call comes amid escalating concerns about the treatment of workers and trade unionists, threats to workers' livelihoods due to interruptions to the country's banking and communications systems, and plans to introduce laws to restrict internet activity, in a direct assault on freedom of association and assembly.
Garment, footwear, and accessories account for a third of Myanmar's total exports. The sector employs half a million workers and is worth $5.8 billion a year to the country's economy.
The signatories state: "If democracy is not restored, the hard-fought social and economic progress of the country and the well-being of its people will be significantly put at risk. In addition, the rights of ethnic minority groups and women following the coup are at particular risk.
"We urge the military to respect the results of the November elections and we call for a quick and peaceful restoration of the legitimate civilian government. All those detained during this period must be released immediately.  Internet service should be restored and the proposed legal restrictions on internet activity should be rejected as they are harmful to freedom of expression and assembly."
The signatories also call on companies sourcing from Myanmar to prioritize the safety and economic security of workers, and to exercise enhanced due diligence and supply chain monitoring to ensure respect for workers' fundamental rights of opinion and expression, whatever they are, as well as freedom of association and peaceful assembly. Businesses should ensure workers' rights to peaceful protest are respected without discrimination or penalization and trade union representatives are not victimized or targeted."
For further information, or to interview Peter McAllister, Executive Director of ETI, please contact lindsay.wright@eti.org.uk or call +44 (0)7941 294885.
Full list of signatories
American Apparel & Footwear Association
Amfori
ETI Sweden
Ethical Trading Initiative
Ethical Trade Norway
Fair Labor Association
Fair Wear Foundation
German Partnership for Sustainable Textiles
Initiative for Compliance and Sustainability