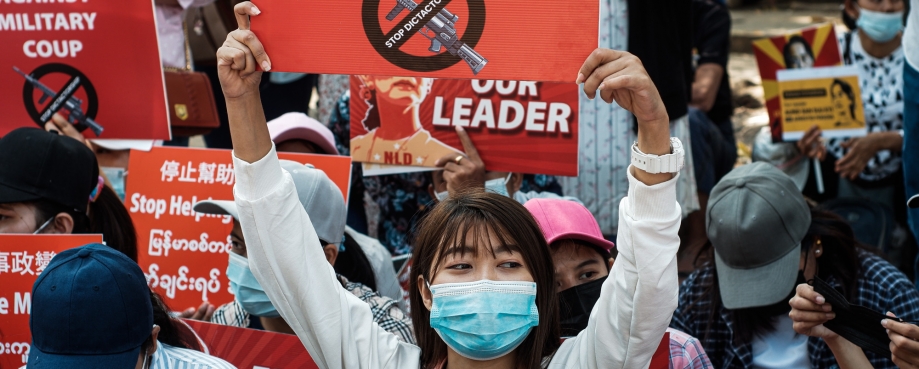 Since February this year, the world has watched the situation in Myanmar continue to deteriorate. The impacts of the military coup have come at great cost to the country's people, and have been most severely felt by its resistors - among them, union leaders seeking to protect workers and support a return to democracy.
ETI has worked with its members to track the situation, ensure workers did not lose out on wages earned, and provide advice on responsible business conduct. Alongside this work, we have also consulted with stakeholders to consider the wider role of responsible business in terms of whether continued presence risks underpinning continued presence of the military.
On September 1, local and global unions, in solidarity with their local affiliates, called for responsible disinvestment from Myanmar and called on companies to take action. Yesterday, to mark the International Day of Democracy, global unions stepped up their campaign in support of democracy in Myanmar.
In response to these calls to action, ETI has begun working with Fair Wear and other expert parties to develop a human rights impact assessment of the evolving situation in Myanmar. This assessment will include an evidence-based comparison of the impacts of divestment from Myanmar and the impact of continued sourcing from the country's garment sector. It will assess whether sourcing can be continued responsibly, both in terms of direct impact for workers and the local industry, and given the wider context, the case for disinvestment and what impact this would have. This assessment will help determine what would constitute responsible action as informed by the UN Guiding Principles on Business and Human Rights (UNGPs) and their focus on actual human rights outcomes for affected stakeholders on the ground. By engaging with a broad set of stakeholders, both local and international, this assessment aims to provide insights as to the key human rights questions for responsible business in Myanmar at this time.
In the interim, ETI encourages all companies operating in or sourcing from Myanmar to answer the call by local and global unions, by working to ensure they hold no direct or indirect business, commercial, or financial ties to the Myanmar military regime.
This statement builds on ETI's previous statement available here.