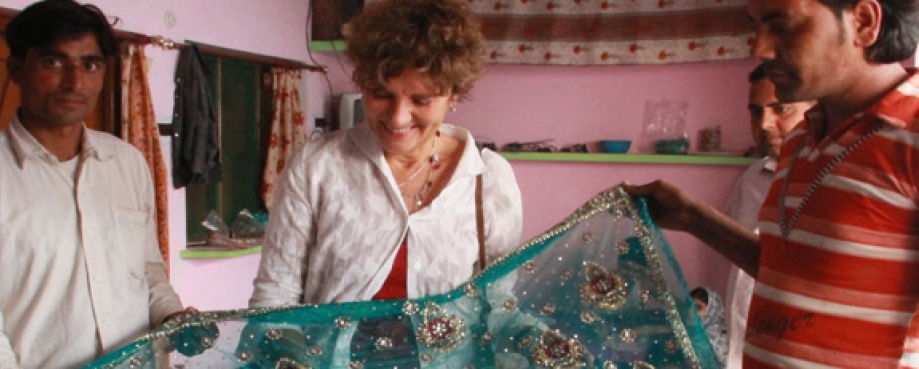 During my recent visit to Delhi and Bareilly, centre for 400,000 homeworkers in Uttar Pradesh, I was struck by two key things: the vulnerability of homeworkers with extraordinary skills to offer, and the difficulties of aligning the needs of different stakeholders at each stage of the supply chain.
Munisha, a 38 year-old female homeworker from Partipur village near Bareilly, explains the reality:
"Every day is a new beginning. Every morning we try to get the work to earn our bread. You are not sure about tomorrow. We don't have many options to feed our children. Only regular work can support us better to ensure regular income."
For millions of homeworkers across the world each new day marks another search for work to keep food on the table, a roof over their heads and children in school.
Brands and retailers have a great opportunity to help stabilise these precarious lives while benefiting from the skill and expertise found in these communities. By taking a range of practical steps to promote transparency, efficiency and fairness, there's a win-win situation available for homeworkers and those prepared to support them better.
That's why ETI has developed a new course, Homeworkers and ethical trade, a practical workshop for retailers that raises awareness of the opportunities, risks and realities of supply chains that rely on homeworkers - and that gives guidance and tools to help tackle the issues. The half-day course focuses on opportunities to improve the lives and working conditions of skilled artisans; on business and ethical risks in complex supply chains, and on the realities of pay, conditions and insecurity faced by many homeworkers.
Developed as part of ETI's DfID-funded RAGS project in India, the retailer course is one of five new training programmes designed to promote understanding of the issues at each key stage in the supply chain. Drawing on ETI's acclaimed work with homeworkers and the National Homeworkers' Group (NHG) and on collaboration with experts in NGOs, trade unions and community organisations, the full suite of courses includes training for brands, suppliers, contractors, sub-contractors and homeworkers. 
It aims to help colleagues in UK sourcing companies understand how to ensure that for Munisha, and thousands like her, a new beginning means regular work, safe working conditions and fair pay.
Homeworkers and ethical trade: A practical workshop takes place at ETI on 24 April 2013, 23 Oct 2013 and 12 March 2014 from 9.30 to 13.00.  Read more and book online or contact training@eti.org.uk for more information.