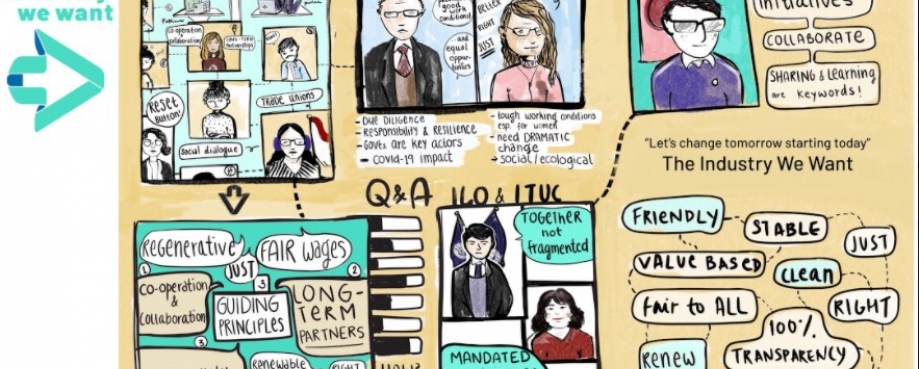 270 experts from across the garment sector came together online for a global event to determine a new vision for the global garment industry on 14 January.
The Industry I Want ....
"is an industry that protects and respects the rights of workers
"is transformative, with people – workers, consumers and stakeholders – and our Planet central to every choice
"involves brands paying fair prices"
The Industry We Want was jointly hosted by the Ethical Trading Initiative and Fair Wear Foundation, and hosted by Pierre Hupperts and Catherine Schook. It featured high-level speakers Sigrid Kaag, Dutch Minister for Foreign Trade and Development Cooperation, Guy Ryder, ILO Director-General, Angel Gurria, Secretary-General of the OECD, Rubana Huq, President of the Bangladesh Garment Manufacturers and Export Association, ITUC's Sharan Burrow, and Indonesian trade union leader Elly Rosita Silaban, Brands experts Maximilian Lenk and Anna-Karin Dahlberg, coordinator at the International Office of the Clean Clothes Campaign Ineke Zeldenrust, vice-president of membership & stakeholder engagement at the Sustainable Apparel Coalition (SAC) Andrew Martin and Director of the ASN Bank Arie Koornneef. All speakers shared their thoughts on how to define a collective purpose, improve collaboration, and ensure accountability.
Peter McAllister, Executive Director of Ethical Trading Initiative, introduced the event, describing a sector which, despite being innovative, creative and a major contributor to the global economy, has "significantly underachieved its potential to be a global force for good."
"This event today will explore the potential for all of us to come together to define a common purpose, drive effective collaboration, and hold ourselves to account for progress," he said.
Sigrid Kaag, Dutch Minister for Foreign Trade and Development Cooperation, gave the opening speech, issuing a "clarion call" for action on raising standards and for the clock to be reset, with a renewed focus on identifying and remedying labour rights abuses in global supply chains. "The industry itself cannot just be competitive," she commented. "It also needs to be compassionate." 
During a group discussion, a number of priorities were raised: ensuring a payment safety net for workers; moving away from initiatives created by brands, for brands, and towards a common sustainability agenda via real partnerships based on mutual transparency, and where suppliers' and manufacturers' voices are heard too; and the importance of long-term partnerships with manufacturers.
Mentimeter audience surveys carried out during the event highlighted a number of areas of agreement, where participants want to see future progress, and action, including: mandatory human rights due diligence; regulation; freedom of association; social dialogue; and a new social contract for workers.
"Why is it so difficult? There are complexities, and multiple actors, but I thank Minister Kaag for her impatience, which I share. And if we fail to act, then the two big actors, public opinion and consumers, will sanction us." Guy Ryder, ILO.
"Consumers are ready. Workers are beyond ready to have decent work So what's the problem?" Sharan Burrows, ITUC
"Now is the time for all of us to be in this together. Post-Covid, there is no separate labour, industry, or brand angle. We are all defenceless, and need to face the harsh reality. We need to put the reset button." Rubana Huq, BGMEA.
The event was well received by the participants, and there was a huge consensus on the urgency and need to develop a common vision, roadmap and accountability metrics for the industry. Led by ETI and Fair Wear, the participants will enrol in developing this together.
Following the kick off event Fair Wear and ETI will develop an inclusive process for all participants. They will come together in June to present the progress they made and the way forward.
As Alexander Kohnstamm, the executive director of Fair Wear, commented: "As MSIs, we are committed to working together, with each other and with you all, to create this movement for the industry as a force for good. The industry that we can feel proud to be a part of. In other words, the Industry We Want."
Stakeholders across the supply chain will be invited to join the journey to develop a common narrative, to connect in active collaboration and alignment, and to participate in credible collective accountability.
A first draft vision and action plan will be presented at a follow-up event on 22 June 2021.
Stay up to date at www.theindustrywewant.com