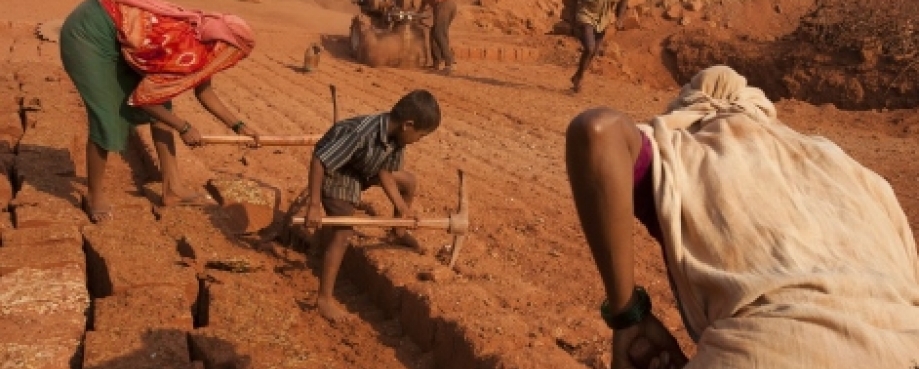 Caste in global supply chains, which has been produced in partnership with the Dalit Solidarity Network, outlines 4 explicit steps businesses can take to tackle caste in their supply chains  in order to comply with their human rights obligations and UK modern slavery legislation.
Caste discrimination is fueling slavery, child labour and the exploitation of workers in South Asia

Caste discrimination is largely hidden, and often poorly understood by global companies sourcing from South Asia

Remaining silent about caste discrimination is a part of the problem. Being explicit and addressing it directly with suppliers is the solution

Responsible companies have a duty to address caste discrimination explicitly in their policies and agreements with suppliers

Lowest caste workers must be involved in designing, implementing and reviewing initiatives and policies aimed at remedying or preventing caste discrimination

The new caste guidance offers four key steps to address caste in your business.
Caste-affected countries are home to over half of those working in slavery and child labour in the world. Experts agree that over 80 per cent of those in bonded labour or child labour in India, Nepal or Pakistan are either Dalits (lowest castes) or from indigenous groups. Forced and bonded labour as well as child labour, involving Dalits, has been documented across sectors including in garments, leather, agriculture, construction, carpet weaving and stones and minerals.
Peter McAllister, Executive Director of Ethical Trading Initiative, comments: "Dalits are particularly vulnerable to exploitation and often this is not understood by global companies. There is now an opportunity to shine a light on exploitation of Dalits and put  strategies in place to ensure that they are able to access their rights at work.
"This guidance tool will help companies understand the issue and take action to mitigate their risks of fueling exploitation and human rights violations within their operations in South Asia."
The guidance also explains the historical ties between the caste you are born into and employment, with Dalits traditionally being forced to do the most demeaning and toughest work under substandard pay and working conditions. It offers advice on how to take action to ensure inclusive workforces and combat caste discrimination in hiring and promotion practices.
"Many companies sourcing from South Asia are unaware of the role that caste plays in relation to who is doing what jobs in their supply chain and their vulnerability to exploitation," says Meena Varma of the Dalit Solidarity Network UK. "Companies need to dig deeper into the composition of their work force and remedy caste-based discriminatory practices.
The Guidance released today is a publicly available on the ETI website and will be distributed widely to global companies with supply chains in South Asia. The Guidance includes an overview over the key sectors affected and outlines four key steps to "caste proof your business".
To interview Peter McAllister, please contact Lindsay Wright, Communications and Media Manager, at Lindsay.wright@eti.org.uk, 020 7841 4352.
Background on caste discrimination:
There are an estimated 260 million Dalits worldwide, often born into an 'untouchable' status, in highly stratified caste systems. Caste systems are found in South Asia, in communities that have migrated from South Asia across the globe and in other caste-stratified countries in Africa and Asia.
Due to widespread exclusion, Dalits have limited access to resources, education, services and development, keeping many in severe poverty and making them particularly vulnerable to child labour, slavery and trafficking. Caste discrimination intersects with others forms of exclusion such as geography, gender, age etc. Evidence shows that women are more likely to be sexually harassed and raped when they are from a Dalit background. 
Caste-based discrimination involves massive violations of civil, political, economic, social and cultural rights. Caste systems divide people into unequal and hierarchical social groups. Those at the bottom are considered inferior, 'impure' and 'polluting' to other caste groups. Those in the lowest of castes, known as Dalits in South Asia, are often considered 'untouchable' and subjected to so-called 'untouchability practices' in both public and private spheres. Dalits may be forced to do the most dirty and hazardous jobs. Caste-based slavery remains an issue few have acknowledged or addressed. Due to exclusion practiced by both state and non-state actors, Dalits have limited access to resources, services and development, keeping many in severe poverty. 
Dalits are often de facto excluded from decision-making and meaningful participation in public and civil life. Lack of special legislation banning caste-based discrimination or lack of implementation of legislation, due to dysfunctional systems of justice, lack of state responsibility and caste-bias, have largely left Dalits without protection. 
Despite policy development and new legislation in some countries, fundamental challenges still remain in all caste-affected countries.
Due to widespread exclusion, Dalits have limited access to resources, education, services and development, keeping many in severe poverty and making them particularly vulnerable to child labour, slavery and trafficking.