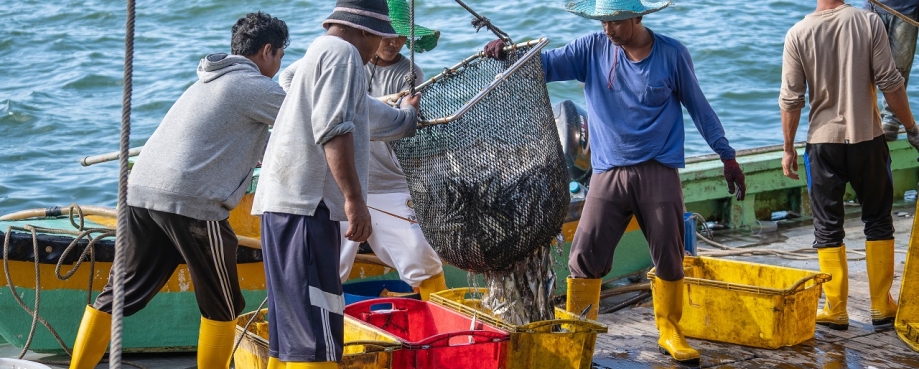 The fishing sector globally has been associated with human rights abuses for many years. The launch of the Outlaw Ocean Project's latest report is the most recent in a long line of reports connecting fishing boats to modern slavery. However, this latest investigation connects seafood processing to state sponsored forced labour in China. 
NGOs, including The Seafarers' Charity and Stella Maris, plus trade unions, such as the International Transport Workers Federation (ITF) have long been aware of the risks to those working at sea. Each organisation focuses on different priority areas - but underpinning all their work is a common theme: the desire to protect human beings and their rights. Something we at Waitrose fully support.
As a retailer dedicated to quality food that has been responsibly sourced, fish is an important part of our offer to customers. We have taken a leading position on fish sourcing for many years, winning the MSC fish counter of the year for the last five consecutive years.
Depleting fish stocks and ecosystem damage is bad news all round but, worse still, without people to catch fish, we have no fishing industry and risk losing a staple and nutritious part of the nation's diet. We therefore decided to take action to focus on people's experiences of working in the fishing sector in order to help drive improvements.
Understanding risks for fishers
In 2019, before Covid-19 restricted our ability to travel to ports and do in-person interviews, we commissioned Impactt to study workers' experiences in selected UK fisheries, from a positive and negative point of view. Fisheries were selected based on the regions were source from but were deliberately not connected directly to our supply chains so we could understand the risks from a broader perspective. The report was finalised in 2022 and highlighted some key challenges faced by migrant workers from outside the European Economic Area, working onboard some UK flagged vessels fishing off UK coast. 
Following feedback from key stakeholders (including Waitrose buyers, suppliers, NGOs, industry associations and labour unions), the research also made recommendations for how the John Lewis Partnership (specifically Waitrose) could take practical steps to support those working in the sector. Without knowing their rights, people are unable to know when they aren't receiving them, so there was a clear call to focus initially on boosting knowledge in a simple and digestible format.
In 2022 'Letting Exploitation off the Hook? Evidencing Labour Abuses in UK Fishing' was published. The Seafarers' Charity had partnered with the University of Nottingham's Rights Lab to carry out a research survey to understand the reality of working conditions for fishing crew across the UK. Open to all crew working in the UK fishing fleet, the survey was designed to capture the experiences of the local workforce, as well as people from overseas, share-fishers and contracted employees. The findings, covering the whole of the UK, mirrored some of the findings from our research, but on a wider scale. Part of the conclusion was that 'even if migrant fishers are threatened with false information, they have no frame of reference to challenge this misinformation or assurance to ignore the threat'.
The same year, the ITF had released their briefing note: 'A One Way Ticket to Labour Exploitation; How Transit Visa Loopholes Have Been Used to Exploit Migrant Fishers on UK Fishing Vessels', laying out the risks transit visas created when it came to the legal entitlements of fishers. Since then, the UK government has clamped down on the use of transit visas within UK waters, which we strongly welcomed.
Protecting migrant fishers
What was clearly evident from all this work was a real need to raise awareness of what employment rights people had in the UK, particularly within the migrant crew population who were heading here, or already here to work. The logical thing to do was to work together and create material that could be shared widely to have maximum impact and reach. Successful collaborations are built on recognising that all parties bring something different to the table in terms of expertise but are united in a common goal. 
So, during 2022 and 2023, a tripartite (in this case - NGO, union and corporate) collaboration was formed to help educate existing and potential crew about their rights in the UK, and what they should expect when they arrive. A series of films were created with engaging, positive and hard-hitting information. They are now available, open source. in nine different languages (Asante, Cebuano, English, Fante, Hindi, Indonesian Bhasa, Latvian, Tagalog, and Tamil) . It was important to all involved to share the output of our work with the wider sector.
The films can be shared via Facebook, LinkedIn or other social media outlets, or as part of a training event or pack. We want them to have far-reaching impact. They have already been shown at the ITF Seafarers' Conference in Manila, which was attended by 5,000 people and have been shared widely across government, both in the UK and overseas. 
With huge thanks to The Seafarers Charity, Stella Maris and the International Transport Workers Federation for our powerful partnership!