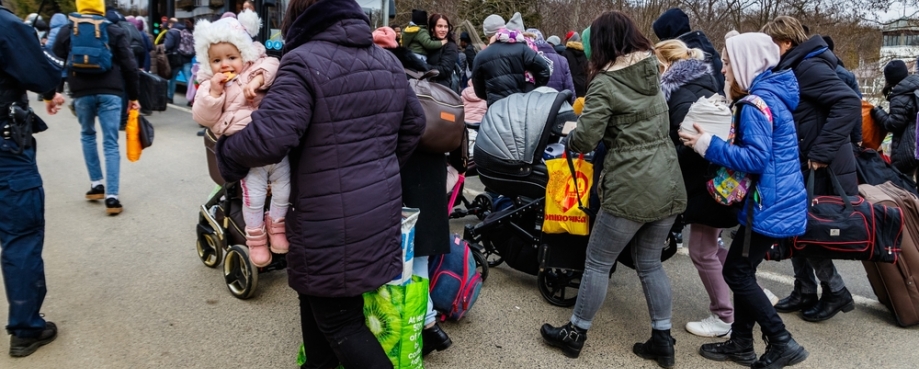 Anti-Slavery International's Business and Human Rights team, on business support for people displaced by conflict.
Humanitarian crises including armed conflicts have forced millions of families to leave their homes and seek refuge in other countries. On 19 August each year, we observe World Humanitarian Day and address the impact of humanitarian crises on people worldwide. 
Displaced people face a higher risk of human rights abuses, including forced labour, human trafficking and modern slavery, both during their journey and upon arrival in the destination country. Therefore, it is important for businesses to take proactive measures in developing meaningful due diligence to mitigate these risks. 
Developing guidance for businesses 
In May 2023, Anti-Slavery International and La Strada International published guidance designed for businesses to support the recruitment and employment of people displaced by conflict and address the risks of modern slavery in their value chains through heightened human rights due diligence.  
The guidance includes case studies from consultations with organisations in countries experiencing a significant influx of people displaced by the ongoing war in Ukraine: Bulgaria, Germany, Italy, Poland, and Romania. Each country's context presents different risks to workers, highlighting the importance of tailoring due diligence accordingly. 
The guidance highlights key areas of labour-related risks and provides corresponding recommendations based on consultations with organisations on the ground.  
While the recommendations are framed by the conflict in Ukraine, they can be applied to other regions with high numbers of displaced people, depending on contextual considerations. 
Identified risk areas: case studies of vulnerabilities faced by displaced workers 
The guidance identified recruitment as a key risk area. People who have been displaced are likely to take unsafe and irregular migration routes, and may be exposed to exploitative recruitment practices before departure and on arrival in their destination country. They may be charged transportation fees, recruitment fees, or be subjected to deceitful recruitment. 
The research found cases of false adverts for jobs in tourism, hospitality and catering for those displaced from Ukraine, in destinations such as Romania and Germany. Jobs, which often involve unregulated peer-to-peer recruitment, have resulted in deceitful recruitment into other forms of work.   
Among other key risk areas identified were accommodation and transportation, which can create a situation where people who have been displaced are taken advantage of. Weak support systems upon arrival in a new country can leave people dependent on employers or third parties for necessities such as food, housing, or transportation, making them vulnerable to exploitation. 
In the guidance, we detail how some people fleeing Ukraine were offered accommodation and transportation at the border. However, in cases where accommodation was tied to employment, workers were often afraid to complain about poor and exploitative conditions because they didn't want to risk losing their homes. In Germany, for example, some displaced people were forced to do domestic work in exchange for housing. In an extreme case, a Ukrainian woman had her identity documents taken away and was subjected to sexual advances by someone who offered her a room in Germany. These examples show why businesses must ensure that accommodation provided as part of employment is safe and secure. 
We have outlined key recommendations for business to guide due diligence activities to prevent and remedy the abuse displaced people are at greater risk of facing. It is crucial that this heightened due diligence is conducted along the whole value chain, focusing on operations and suppliers, including labour agencies. This should also extend to all workers, with consideration of the specific experiences of people with marginalised identities and those with specific vulnerabilities, such as undocumented workers.  
Key recommendations for businesses 
To guide due diligence activities aimed at preventing and remedying the exploitation of displaced people, businesses should: 
Engage with all workers to understand their recruitment journey    
Check that their accommodation and transportation is safe and secure   
Provide workers with their contract in the language they understand before they start work and training on their rights    
Ensure that displaced workers are able to access a meaningful grievance mechanism, with an effective remediation process   
Share the guidance document with your teams and with suppliers in your value chains 
Heightened human rights due diligence is crucial in areas of high risk, including conflict affected settings. This heightened due diligence should be proportionate to the risk, more complex and designed according to the context. By considering the risk areas listed in the guidance, businesses can effectively undertake due diligence activities to protect and support displaced workers. This means that businesses can play a crucial role in avoiding and mitigating the negative impact on displaced communities.  
We encourage all businesses operating in areas hosting a large number of displaced people to engage with our guidance, assess their operations, and implement our recommendations while considering each context.  
We need stronger human rights due diligence laws to ensure that workers are protected throughout supply chains. At Anti-Slavery International we are calling for stronger laws both within the United Kingdom and the European Union. These laws would mandate companies to undertake meaningful due diligence to understand the contexts in which displaced workers are at risk and the appropriate steps to address them.  Find out more about the laws we are calling for and what you can do to get involved.
Business guidance: Human rights due diligence on the risks of modern slavery for displaced workers
This guidance, published by Anti-Slavery International and La Strada International, explains how businesses can prevent and mitigate some of the risks of labour exploitation, forced labour and trafficking affecting displaced people. It is aimed in particular at businesses who work in or with suppliers in countries neighbouring conflict zones or where there are high numbers of displaced people.