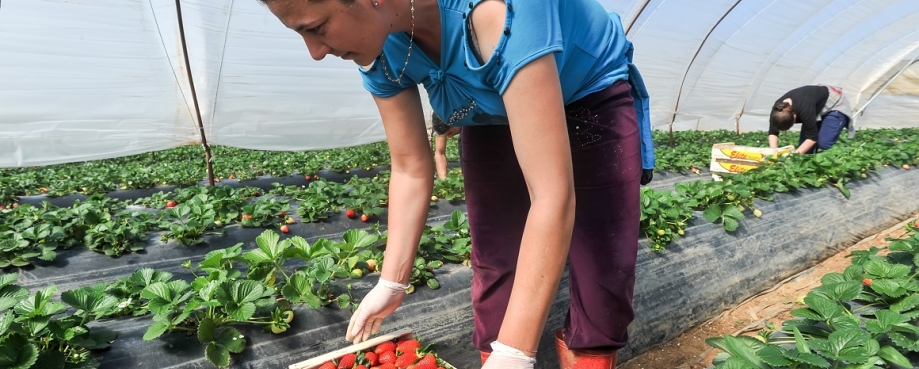 New interest in what we are learning to call modern slavery is leading to increased public awareness that there are groups of people in the world today who get a very raw deal out of the labour market. In this long read, guest blogger Don Flynn of the Migrants' Rights Network points out that high on everyone's list of the biggest victims are migrants. Workers who cross national frontiers in search of a livelihood.
There are two things to say about concerns registered on behalf of migrants.
The first is, yes, there are very good grounds for believing that many of them are exposed to a high risk of abusive, exploitative work conditions.
The second is, don't get carried away: migrants are working hard to turn their disadvantages around, and there are things to learn from those who are registering a degree of success in doing this.
Migrant workers are not necessarily vulnerable workers
The facts are a good place to start this discussion. And here the empirical evidence for the disproportionate presence of migrants in work situations which are clearly exploitative is not as clear-cut as many suppose.
According to data assembled by the Migration Observatory at Oxford University:
Close to two-thirds of migrants (understood as 'foreign-born' people) are in jobs that range upwards from skilled trades, through administration right up to managerial. 
Round about twice as many migrants are to be found in management and professional posts (33% of the total) than in the elementary occupations (17%) where it is believed that the greatest risk of exploitation lies. 
The mere fact that a person comes from abroad is not a particularly good indicator of their vulnerable status when it comes to experiencing hardship and abuse in the world of work. 
But a closer look at the groups of foreign-born people who are concentrated in industries described as 'processing' and 'elementary' does yield up real grounds for concern that some groups of migrants are being exposed to work situations in which there is a higher risk of abuse.
Where risks exist for migrants
A detailed scrutiny shows that nearly 30 per cent of migrants are to be found in the 'processing' and 'elementary' sectors of the jobs market. And 'processing' and 'elementary' sectors are frequently precarious.
However, migrant workers are not there on their own, since 20 per cent of the native-born workforce is also labouring in these services.
Rather than concentrate our interest on migrants per se to account for greater incidences of exploitation, we should be looking much more closely at structural features of the jobs market which seem to be working to the disadvantage of so many people.
The bigger picture of what is happening in labour markets in general goes someway to explaining what the nature of the risk of exploitation actually is today. 
Over the past thirty years the decline of the manufacturing sector has seen employment in what had been thought of secure, 'jobs-for-life' trades slip back from 30 to 11 per cent of the workforce – down from 6.8 million to 2.5 million people. 
The jobs market now has an hourglass shape, with an increase in the numbers employed in white-collar positions requiring administrative and technical skill, in the upper half of the setup. 
An equally large bulge makes up the lower half of the hourglass, which marks out a place where work is available on terms which require ultra-flexibility from employees right up to the point of the numbers on minimum hours contracts.
This grew by 20 per cent in one year alone in 2014 to reach 800,000 people at the end of 2015.
Low pay as an indicator of greater exploitation risk
Across the economies of the developed world low pay – an indicator of greater exploitation risk – has become concentrated in such sectors as agriculture, hotels and catering, public and private services and the textiles industries.  
These frequently combine wages at or below minimum level rates with part-time, short-term, seasonal and ultra-flexible work contracts. 
With such poor conditions on offer the firms operating this business model are only able to meet their needs for labour by using employment agencies which specifically target groups of people who are in the most marginal positions with regard to accessing decent jobs. 
Recruitment teams will travel to towns and cities in economically depressed areas with a remit to sign up quotas of candidates for the jobs their clients have asked them to fill.
The risks here will be mitigated if there are escalators in place that move people from low-waged, entry level employment to jobs with better terms and conditions. Then the workers involved will usually regard it as having served its purpose.
The problem is – and this is another structural feature of our modern-day labour markets – entry level jobs too often turn out to be blind alleys which trap workers into low pay and demoralising conditions. 
As the Work Foundation recently put it after drawing on evidence from its 'Bottom Ten Million' research programme, the hourglass polarisation of the labour market has created additional challenges for social mobility with low-wage work more often operating as a dead-end rather than an escalator.
What the world of exploitative work looks like
If we want an accurate picture of what the world of exploitative work looks like in a country like the UK today, it is one in which, by a considerable margin, the largest number of people stuck in low-paid jobs where they have little or no control over their working conditions are native citizens.
Migration figures as an issue because there are a number of sectors nested within the segment where poor wages and conditions predominate. And where newcomers make up a much larger section of the workforce. 
These are hotels and restaurants, construction, agriculture and food processing, and social care.  Migrant exploitation is largely a problem of these groups of industries.
We would make huge progress if we could come up with campaigns and toolkits that addressed the specific characteristics of each sector and start moving them in the direction of decent employment.
Recruitment agencies including gangmaster recruitment
The campaigns we need will certainly have to address the problem of private employment agencies and gangmaster recruitment, which is often the only route of entry into job vacancies. 
Not all of these outfits are the same, but too many operate with scant regard for the interests of the people they take onto their books as workers. 
Professional and vocational qualifications will be disregarded with the sole interest being in getting the workers onto the farms, packing houses, hotels, kitchens or care homes which require hands for a few days or weeks. 
Opportunities to network outside teams of similarly exploited workers become very limited and as a result knowledge about how to find routes to better jobs is scarce. 
A further factor in this grim picture of entrapment occurs when low wages lead to people being stuck on a permanent treadmill in which cash wages get paid out as fast as they are earned on rent, food and other basic necessities. 
High costs of accommodation, transport and utilities suck money out of a worker's pockets as quickly as it is earned. 
The problematic area of migrant entitlement to social security benefits during periods of unemployment or ill-health means that the workers are brought back into the labour market to scramble for whatever positions are available at whatever wages are available.
When this happens the employment agency or gangmaster, who was the source of the problem, actually begins to appear as something of a saviour: the only means to stave off a complete crisis and descent into destitution because they hold out the only hope of another job and a few more days of paid work. 
A regional perspective to migrant exploitation
Further levels of disadvantage occur because of the part of the country where a migrant is looking for work.
Studies have shown that employment outcomes for migrants across the UK vary – not only on the basis of the industry they first work in but also by the city or region where they take up that job. 
In Hull, for example, migrants are predominantly employed in factory work channelled through recruitment agencies.
A much smaller proportion of the city's economy is made up of the knowledge intensive business services sector that migrants in other regions like Bristol and London have been able to access in order to progress out of types of employment which veer towards exploitation.
Strengthening resistance to exploitation
It is important to say again that many of these issues are not unique to migrants.
And it is also important to repeat that the largest proportion of people trapped in employment where they are at risk of exploitation are native-born. 
But a comprehensive strategy which aims to combat this situation needs to be sensitive to the factors which have drawn individuals and groups into at-risk areas. 
Some migrants – particularly those whose point of entry into the country and the jobs market is managed by recruitment agencies – show up amongst those particularly vulnerable to exploitation. 
This is reinforced, as recently published research has shown, when the recruitment deal is secured by co-ethnic agencies and businesses which have additional resources at their disposal which keep their workforces trapped in place.
So what then is the best way to tackle the risk of migrant labour exploitation?
Better regulation of recruitment agencies to ensure that workers who use their services do not find themselves trapped in exploitative employment.
Improved advice and representation services for workers in at-risk employment sectors, with a role for trade unions in this area in particular.
Strengthening the role of local government to monitor situations in which exploitation is at risk of occurring, using incidences of accommodation vulnerability and resort to food banks as indicators of problems.
Working with business to ensure that their supply chains are being properly monitored for abusive employment situations.
And finally, building the capacity of migrant communities to work alongside other groups tackling poverty and disadvantage and to contribute towards leadership in finding solutions.
It may be challenging, but strengthening resistance to exploitation is an imperative.