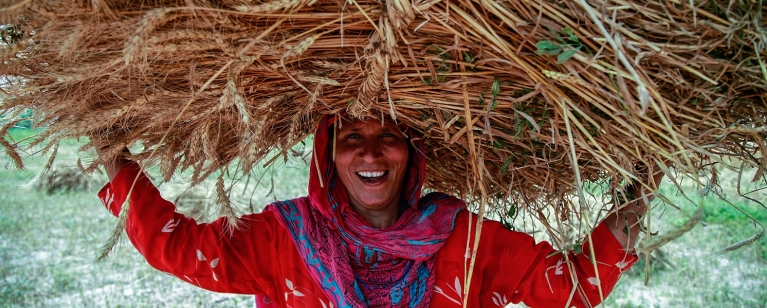 Briefing note: Human rights due diligence in Pakistan. Sets out the current context in Pakistan with regards to key labour rights issues and the landscape for addressing these in relation to the UNGPs.
National non-governmental Organization dedicated to promoting a democratic and effective labour right movement and the protection of people's fundamental rights.
Pakistan Workers' Federation (PWF) (link to official site is suspended)
Umbrella organization of national trade unions in Pakistan that aims to represent Pakistani workers at national, regional and international forums, to promote decent work and to secure equal rights in employment irrespective of race and sex.
UN agency that specializes in labour issues; and aims to give an equal voice to workers, employers and governments to promote rights at work, encourage decent employment opportunities, enhance social protection and strengthen dialogue on work-related issues.
IndustriALL represents 50 million workers in 140 countries in the mining, energy and manufacturing sectors in the fight for better working conditions and trade union rights around the world. Affiliates in Pakistan
The ITUC is the global voice of the world's working people. Its primary mission is the promotion and defence of workers' rights and interests, through international cooperation between trade unions, global campaigning and advocacy within the major global institutions. Affiliates in Pakistan
The IUF is an international federation of trade unions representing workers employed in: i) agriculture and plantations; ii) the preparation and manufacture of food and beverages; iii) hotels, restaurants and catering services; and iv) all stages of tobacco processing.
OHCHR is a part of the United Nations Secretariat that spearheads the United Nations' human rights efforts.
The Corporate Responsibility to respect human rights: An Interpretative Guide to the Guiding Principles on Human Rights and Business (UNGPs) (2012)
The EU´s current Generalised System of Preferences (GSP) (Regulation (EU) 978/2012) (in force since 1 January 2014).
Information provided by the European Commission on EU-Pakistan bilateral trade relations.
British charity that exclusively works to eliminate all forms of slavery and slavery-like practices throughout the world by achieving sustained, systematic change. ASI's key objectives are to (1) secure the responsiveness and accountability of duty bearers; (2) empower people affected by slavery to claim their rights; and (3) achieve rejection of the social norms and attitudes perpetuating slavery.
Independent, non-profit charitable institution registered in UK that aims to (1) advance human rights in business by strengthening supply chain transparency; and (2) eradicate abuse (notably modern slavery) by emphasizing on the role of due diligence in complying with existing international standards under UNGPs. BHRRC also maintains the Modern Slavery Registry.
Independent central registry that hosts modern slavery statements setting out the steps companies are taking to address and prevent the risk of modern slavery in their supply chains.  The registry is supported by non-profit institutions and provides a transparent platform for stakeholders to analyse whether the statements are in compliance with the UK Modern Slavery Act.
UK civil society coalition on corporate accountability that advances human rights protection in the global operations of UK companies - by publishing guidelines to strengthen the regulatory framework, improving the due diligence on modern slavery and enhancing access to remedy for those harmed by the activities of UK companies.
Statutory institution independent of government that operates in the nexus between governments, NGOs and businesses; and offer long-lasting solutions to tackle human rights challenges.  To achieve this, DIHR developed National Action Plans (NAPs) to promote country-level, multi-stakeholder implementation of the UN Guiding Principles on Human Rights and Business (UNGPs).
International, non-profit organization that provides technical and economic support for the development of labour movements and sustainable labour markets in Africa, Middle East, Asia and Latin America.  The four thematic areas include: (1) democracy - social dialogue in the labour market; (2) labour rights; poverty eradication, (3) distribution policies and the informal economy; and (4) occupational health and safety and HIV/aids.
Independent non-profit organization based in Berlin that aims to build domestic constituencies and political will for human rights reform in the implementation of GSP+; and to create self-sufficient civil society working groups in developing countries that focus on the socio-political participation of women, youth and minorities.
Independent non-profit organisation that empowers farmers and workers to secure a better deal with traders and retailers by working with businesses, consumers and campaigners. The four key areas of work include (1) providing independent certification of the trade chain; (2) empowering producers to sell to traders and retailers; (3) finding new ways to support producer organisations; and (4) raising public awareness of the need for Fairtrade and the significant role of Fairtrade in making trade fair.
London-based NGO that works to end human trafficking for labour exploitation. The goal is to protect the rights of trafficked persons and to promote best practice responses to human trafficking for labour exploitation by undertaking research, knowledge building and evidence-based advocacy.
US public charity that identifies and invests in the most effective frontline efforts to eradicate modern slavery in the countries and sectors where it is most prevalent.  The aim is to protect vulnerable populations, liberate and reintegrate those enslaved and prosecute those responsible.
Independent maritime human rights charity that promotes human rights for seafarers, fishermen and others involved in working at sea throughout the world. 
International think tank on business policies and human rights that aims to build responsible and accountable businesses that make respect for human rights part of everyday business
Organisation for Economic Co-operation and Development (OECD)
International non-governmental organization that promotes policies that will improve the economic and social well-being of people around the world. 
Multi-stakeholder initiative that aims to reduce modern slavery by providing a network for employers, labour providers, workers and their representatives to work together to reduce exploitation.
Global non-profit membership organization that promotes ethical data exchange between suppliers and customer; and enhances corporations' compliance with Modern Slavery Act in their operation and supply chains.
Sedex Members Ethical Trade Audit (SMETA) Best Practice Guidance in the implementation of UN Guiding Principle and ETI Base Code
Independent, non-profit organization that reports on Swedish business relations in developing countries, their breaches on international human rights standards and best practices cases in relation to CSR and human rights.
Report on: Healthier Procurement Improvements to working conditions for surgical instrument manufacture in Pakistan. (SwedWatch, The Medical Fair and Ethical Trade Group & the BMA)
Other Implementation Guidelines on UNGPs and MSA: