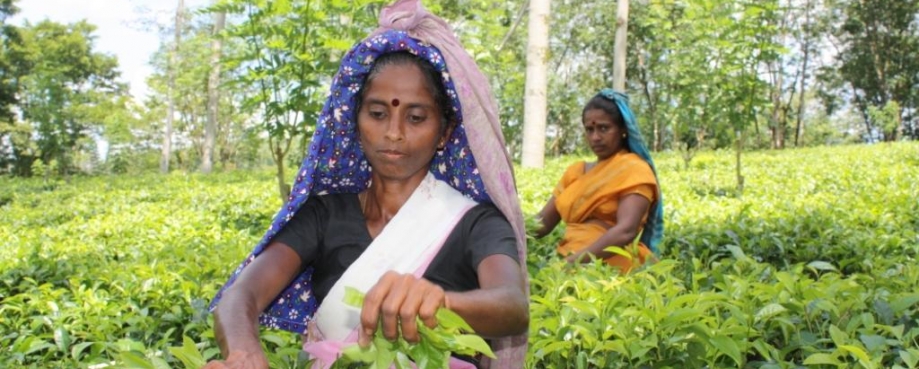 Last week, I attended a conference in the futuristic Crystal building in London's Royal Victoria Docks to discuss a commodity that is very far from futuristic – tea. Yet despite its age-old pedigree, as with many food and beverage sectors, tea has been the subject of media exposés on apparent abuses of labour rights. So what is the sector doing to address this?
With football's European Cup taking place, it was appropriate that the theme of the Ethical Tea Partnership's (ETP) annual Team Up conference was Goals.
And the conference kicked off with how the ETP and its partner organisation, IDH (the sustainable trade initiative) are contributing to the UN's Global Goals for Sustainable Development (SDGs).
ETP and IDH shared an impressive array of work that aims to meet three clusters of SDGs including hunger, health, sanitation, decent work, equality and the environment.
Business is already contributing to the SDGs
As ETI's Executive Director Peter McAllister, the opening speaker said, "Business is already contributing to the SDGs, part of which is through providing jobs – but what it needs to do is ensure they are decent jobs, jobs that reduce poverty, that empower women, and that minimise environmental damage."
Business, like doctors, Peter said should take the Hippocratic Oath and seek to "do no harm".
He empathised with those responsible for meeting the standards expected of business today – not just the SDGs, but the UN Guiding Principles on Business and Human Rights, the ILO conventions, the UK's Modern Slavery Act and even the ETI Base Code.
But he reminded us that there is help through partnerships. As an example, he explained that the ETI Base Code is there to interpret international labour standards into a format that makes sense to businesses and then to support them in finding ways to meet the standards.
A golden thread on wages is emerging...
A key Base Code clause is that living wages shall be paid. And it was heartening to see a golden thread emerge through the day about improving wages. 
In Kenya, replacing firewood with biomass in tea processing factories not only saved thousands of trees, but freed up value to go back to smallholder tea growers.
In Malawi, ETP and IDH are leading an exemplary multi-stakeholder programme involving tea growers and buyers, trade unions, NGOs and the government to make improvements across multiple aspects of the tea industry to create enabling conditions for living wages.
Most impressively of all, in Sri Lanka, genuine tripartite collective bargaining and innovative Community Development Forums have resulted in tea workers being paid substantially higher wages than their counterparts in other countries.
…but there is still a long way to go
There remain huge barriers to worker empowerment and wellbeing in the tea sector. Oxfam's Rachel Wilshaw highlighted some stark statistics from India:
50 per cent of tea workers are malnourished.
96 per cent of women and young girls suffer from anaemia.
Additionally, Rachel reminded us that across industry as a whole (not just tea), in the 1970s, 10 per cent of every £100 of company profit was paid in dividends to shareholders; today that figure is 70 per cent [i].
She asked why we are expected to come up with a business case for paying living wages, but not for this rocketing inequality in the distribution of value.
The huge challenges facing tea
The tea sector is under attack from multiple directions.
We were shown predictions that in 50 years Assam, India's largest tea growing area, will have barely any land remaining that can grow tea due to declining rainfall levels and rising temperatures.
Furthermore, in the absence of government intervention, tea's outdated structure, that dates back to the colonial era keeps workers dependent on their employers for every aspect of their lives – and hampers price and wage negotiation. 
Added to that, the world's most popular drink, after water, is losing its allure.
Millennials in the UK are turning their backs on tea – which they see as dusty and old fashioned – in favour of drinks that "perform": bottled water that "hydrates", fizzy drinks that "energise" and "health giving" juices. If they drink tea at all, it is likely to be the herbal variety.
'Sexing up' black tea – hope for the future?
Forum for the Future told us how they hope to halt this decline with a category-wide social media PR campaign, via the Tea 2030 collaboration, to 'sex up' black tea for millennials.
Meanwhile, boutique tea shops are linking up with small tea growers so that they can trace its provenance like fine wine.
If the tea industry achieves its goals and demand for black tea does revive, providing enough value in the chain to fund living wages and decent working and living conditions – and if environmental projects can revive the land it's grown on – then perhaps it does have a future after all.
Perhaps there is hope for the future of tea workers too.
[i] Andy Haldane, Chief Economist of the Bank of England, http://www.bbc.co.uk/news/business-33660426
The photograph of tea pickers in Sri Lanka's Western Province is courtesy of ILO-Alan Dow under a creative commons licence issued via flickr.com.