Human rights due diligence framework
Please supply your email address to receive a link to both the guide and executive summary.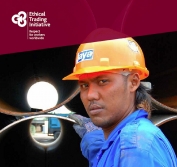 19 May 2016

Type:

Tools, Guidelines & Briefings

Subject:

Due diligence

ETI base code

Child labour

Women

Gender

Migrant workers

Contract labour

Domestic workers
A guide for companies to help them prevent and manage labour rights risks, and understand why engagement, negotiation and collaboration is the only way to succeed.
Full guide and executive summary available.
The executive summary is also available in Spanish, French and German. 
Already using this framework? Let us know how you are using it and what other resources you need, via our short feedback survey.
We also run a 3-day training course based on the framework.