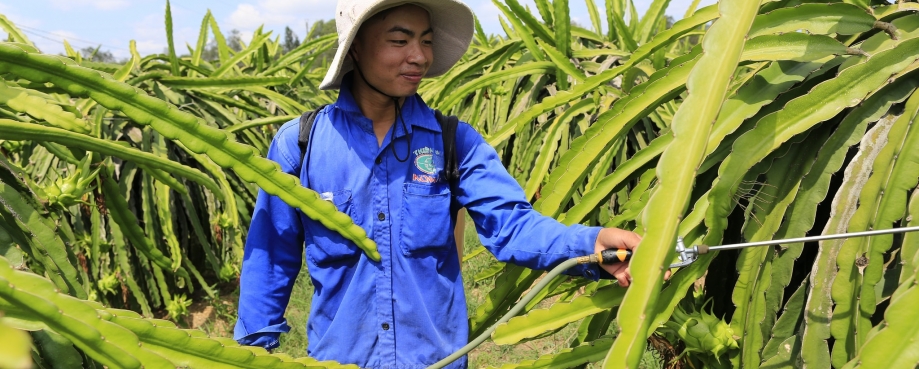 Recently, ETI's Executive Director, Peter McAllister attended an Oxfam event at which the key note speaker was Paul Polman, Unilever's CEO. Just before that, Secretary of State for International Development, Penny Mordaunt set out her strategic direction for the UK's aid effort. Here, Peter reflects on both, and the links between business and the development agenda.
Apart from a deeply impressive command of facts and statistics, one could be forgiven for thinking that Unilever's CEO, Paul Polman, is a dyed-in-the-wool eco-warrior.
He was speaking at an Oxfam event on business models that can end poverty and extreme inequality.
And who better than Paul Polman to speak to this? He is, after all, the corporate world's best known champion of business as a force for good and for the planet.
The rules that govern business
I was particularly struck by Paul Polman's comments on the nature of capitalism, finance and the rules that govern business. It was right on message in terms of evolving business models.
Naturally, he talked about the efforts that Unilever is making to reduce waste, create a circular economy and understand its impact on human rights.
But, it was his comments on the need for the wider shareholder and investment community to align with the SDGs – the global development goals – that is potentially the most transformative, while at the same time the most difficult to achieve.
As such, (even though there were some notable differences) there was considerable overlap between Paul Polman's speech and that of Penny Mordaunt, when she set out her vision for UK Aid at the beginning of April. 
Penny Mordaunt's speech also addressed the role of trade in development.
And how using UK Aid in new and innovative ways can help trade and business make a more significant contribution to inclusive economic growth that purposely benefits poor people.
Both also talked about the importance of fully involving women.
Not as beneficiaries (as recipients of charity), but as rights holders – as half of the world's population who should be fully involved in making decisions about the path of development.
Because, as both Paul Polman and Penny Mordaunt pointed out, too often decisions are at best gender blind, or at worst perpetuate entrenched imbalances of power and benefits.
Trade and finance models
One of the key themes of Paul Polman's speech was the nature of the post second world war system of trade and finance.
This is not typical territory for a CEO to venture into, particularly the CEO of a company, which it could be argued, has benefited from this very system for the last 70 years.
However, the insight he offered is that whatever a company can do, even one as large as Unilever, is against the tide.
Too often both capital allocation and trade systems reward short term exploitative gain, rather than long term returns, both to capital, but also to the planet and people.
One observation that particularly rang true for me, is the imbalance between traditional capital (typically that invested by pension funds which have a stake in the progress of the real economy) and the fact that this is vastly outweighed by short term capital invested in derivatives or other financial activities that seek short term returns that are too often disconnected from the real economy.
Such activities take little or no account of the resources, both physical and people, that all real value ultimately rests upon.
Paul Polman's call to action to change this system to one that better supports the SDGs, values the planet and respects the rights of people, was both compelling and daunting.
Aid, trade and the SDGs
I believe that the Department for International Development (DFID) is well placed to play an active and decisive role in helping to transform trade systems to support the SDGs.
In part this is because of DFID's commitment to engage in discussion with business in support of the SDGs; in part because the UK hosts London – still one of the major financial centres; but also because of the political path the UK has now chosen – to move away from its close trade ties with the EU and engage in developing new trade arrangements with global partners.
However, like many others, I can see a risk in too closely equating aid with trade.
We should be clear that aid must be based on universal rights, a desire to support those unable to support themselves in disasters and emergencies and a recognition that the world as a whole (as well as the UK in particular) benefits when more people live in safety and security.
That means ensuring people have economic opportunities, the education and health to take advantage of these opportunities and that they live in societies where they are not discriminated against.
Trade and business can be harnessed to support this broader objective, while at the same time creating wealth, jobs, paying taxes, and innovating in products and services. Nonetheless, care must be taken to ensure that this equation is not inverted so that aid becomes the servant of individual business needs or trade.
Questioning assumptions
As there always will be at any discussion, there were times in Paul Polman's discourse where I questioned assumptions.
Most of us, for example, have been following the debate over ocean plastic and what this means for the planet.
I wanted Paul Polman to not just talk about the problem of the amount of plastic in the sea, but follow it up with what Unilever itself is doing to reduce the mountains of plastic containers that it uses in its products.
I also question his treatment of the share of value along the value chain as a given. For me, this does not take into account power imbalances. Too often these result in those with the least power having the least say in what happens. 
Regrettably, there was also no mention by either Paul Polman or Penny Mordaunt of the key role of trades unions.
Unions can ensure that the voice of workers is heard as a genuine partner in business and in achieving the SDGs.
They can help ensure the health and safety of their members, protect the vulnerable and safeguard a better share of value for the many workers (disproportionately women) at the bottom end of many supply chains.
Praising Oxfam
Following the scandals that have recently beset Oxfam and the wider aid sector, I should like to end by saying that I was very pleased when Paul Polman paid tribute to Oxfam several times and confirmed that companies like his "need the Oxfam's of this world".
Sadly we see that in many walks of life – from business, to politics, to religion, to the media – a few will abuse their positions of power. Development aid is sadly not immune.
When this happens, efforts must be redoubled to ensure that those who do so are rooted out and that the vulnerable are safe and secure. Oxfam is doing this, as I know are other aid and development charities.
It was also heartening to see Oxfam back where it belongs, hosting ground-breaking discussions on their mission to end poverty and the causes of poverty.
Download ETI's guide to ethical trade and the SDGs.
---