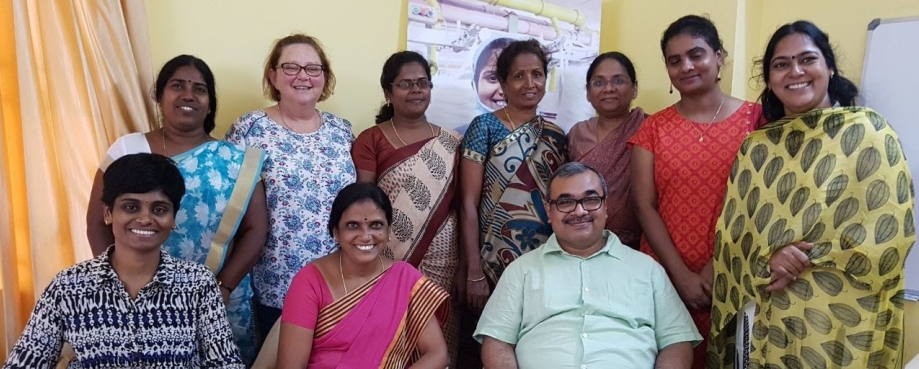 Trade unions come in all different shapes and sizes, as Beverley Hall, our Senior Industrial Relations Advisor and Alok Singh, our India Country Manager found out when they visited a women-only trade union in Tamil Nadu.
I've always thought that we bandy around the words "thinking outside the box" far too much.
Now, I've just met some women trade unionists in Tamil Nadu who were never "in the box" in the first place. And have carved out their own path to dealing with workplace abuse.
Their story made me think about how gender perceptions and the status quo of a predominantly older male trade union leadership are being challenged.  
It also made me think about the potential (as well as the already real) power of all-women collectives, meeting to address workplace wrongs.
Not only that, how the women I met appear to have a different approach to western organising models.
The story of the TTCU
When I was in Tamil Nadu, I met women from four all-women trade unions.
All of them inspirational.
This is the history (or perhaps it would be more accurate to say herstory) of one of those groups, the Tamil Nadu Textile and Common Labourers Union (TTCU).
In 2010, an Indian Community group, Serene Secular Social Service Society, started a community outreach project in the Dindigal District of Tamil Nadu.
Two years later, with the help of the Association for Women's Rights in Development (AWID), 53 members formed a village women's committee initially focussed on ending child labour amongst young girls.
That inital work with local schools identified and acted on 83 cases of girls leaving school early for work purposes.
Within a year, 53 became 1,973.
They developed democratic structures with elected office bearers. They expanded to other villages. Then they appointed representatives at District and State level – and included rules for yearly elections with a cap of three terms in office.
At the same time, village meetings started seeing an increase in formal employment-related discussions as the vast majority of members were found to be in paid, albeit very low paid, work: 80% were textile labourers in spinning mills, knitting and garment factories while 20% were general workers in a range of sectors.
Within another year membership had grown to 6,029.
In 2013, the village committees formally transitioned into the TTCU and registered as a worker organisation.
However, as a recognised trade union, traditional development funding which supports the development and administration of the village groups stopped. 
Members now pay an initial joining fee and then, due to the constant battle over minimum wages, a nominal subscription when they attend meetings.
Trade union benefits are societal benefits
The success of collective workplace action is about defending your membership, stopping workplace abuse and ultimately improving working conditions.
The nature of TTCU's structure means successful trade union intervention has community benefits as well.
Delivering on core trade union values for the benefit of the wider community includes the following examples (to name but a few):
A series of fatal mini-bus accidents transporting workers to and from local mills resulted in an intervention with the mills' owner. After extended negotiations, the owner invested in 9 new mini-buses. Previously outsourced, the drivers are also now employees and are trained to acceptable standards.
An older woman worker, allegedly forced to do overtime on unfamiliar machinery, suffered an accident that resulted in four severed fingers. The TTCU helped her secure a one-off compensation payment and the pension to which she was entitled.
A family employed by a local spinning mill were distraught when one of their daughters was found dead in a mill canteen. The initial mill report stated that the young worker had choked to death, but witnesses alleged she had been brutally beaten. Evidence gathered by the TTCU also indicated that the young woman may have been raped. Various interventions with the mill, plus legal representation, led to an out-of-court settlement for the bereaved family.
After a local Dindigal mill went insolvent – leaving 419 people unemployed – TTCU representatives proved that legal processes around worker notification had not taken place and workers had not been paid. Workers were consequently awarded 9 months' wages in lieu of compensation for loss of income.
Improving the fabric of communities
When we speak of workers on farms, in offices or in factories we lose sight of the fact that they are also parents, siblings, partners and neighbours – making up the fabric of communities.
Through day-to-day life such as school, shopping, cleaning and even faith celebrations, out-of-work hours provide opportunities for groups to gather to discuss activities and happenings and where possible improve lives.
It is exactly this journey that the TTCU has followed.
A village women's committee network has grown into an active trade union.
And it evolved due to the sheer volume of bad industrial practices that impact villages and households in some of the most economically deprived areas of Tamil Nadu.
As such, TTCU intervenes on behalf of communities.
TTCU may not have specific organising or bargaining rights with individual mills, but due to their determination, strength of commitment and perseverance they now meet quarterly with mill owners to bring about change.
ETI aims to work with them and other women trade union leaders – in conjunction with the global textiles union, IndustriALL's regional office and other local trade union partners.  
We want to help harness their commitment and experience and drive forward even greater change. Not only within their organisations, but also for the women they represent.
Both in and out of the workplace.
Organisations and companies wishing to know more about our Tamil Nadu project seeking to improve the lives of women working in local spinning mills should contact Martin Buttle.