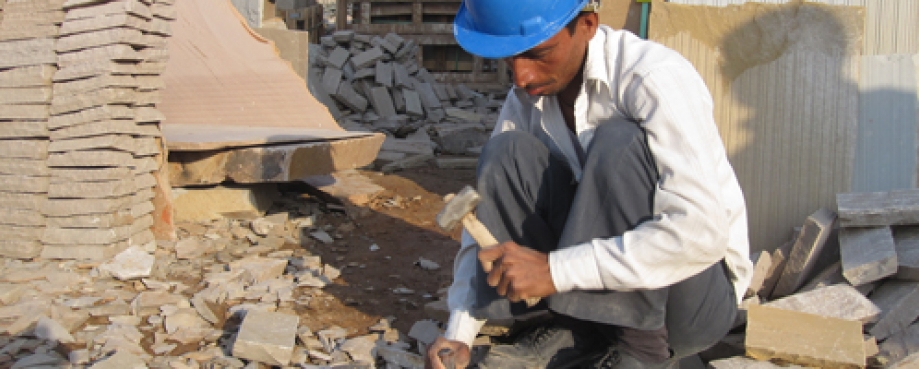 I recently talked to ETI's new Category Leader for Household and Hard Goods, Deborah Johnson, about plans for developing a collective response to tackling the underlying issues for workers in the industry.
This follows on from my earlier blog about the issues for workers in Rajasthan that ETI's Head of Membership Services Martin Cooke discovered on his recent trip to the area.
As Martin explained to me, the issues for workers in Rajasthan are clearly very serious. How are you going to decide where best to place ETI members' collaborative efforts?
ETI's new approach is about digging deep down supply chains and getting a 360° view of the issues for workers and their underlying causes before designing interventions, and so we are going to do just that. We need to get a much better understanding of the supply chain than we do now, and to that end we are asking company members to carry out an extensive mapping exercise of their Rajasthan sandstone supply chains, with the help of NGO and trade union members, to build up a really rich picture of this particular area.
When will the mapping process start?
It has already started, using a mapping tool we developed which has seven easy steps:
1. Define the scope
2. Identify the product
3. Describe the product story
4. Identify what you know about the supply chain
5. Identify the broader context
6. Identify key stakeholders
7. Identify where the leverage is.
Although this tool has been developed specifically for mapping the stone sector in Rajasthan, it could have applicability for supply chains in other categories.
A few weeks ago in June we held a meeting of our Stone Group - which includes participation from NGO and trade union colleagues - to introduce the tool to the Group in order to help get them thinking about the information they'll need to gather. They now have a month to do their mapping, which will include consulting their colleagues and asking their suppliers for information. With the expertise of our NGO and trade union members, we'll then analyse all the information.
We should end up with a very rich picture of the nature of the industry, the key challenges for workers and the main areas where we can collectively exert our leverage. The gaps in our collective knowledge will also become much clearer, and we'll draw in other expertise in the sector and on the ground to fill them.
What will be the challenges in obtaining information?
Well, as Martin said earlier, the whole sector is very opaque. It is so hard to get traceability down the chain. That's why the trade union and NGO role will be crucial, in helping us get as accurate a picture as possible.
How have members of the Stone Group responded?
I'm glad to say the response so far has been overwhelmingly positive. People are very pleased that they are going to be getting behind a big piece of work on the ground.
What are the next steps?
We plan to do the first cut of analysis in early September, and having identified key issues, will do further research and analysis to feed into the design of programme work.
Are you able to hint at what kind of issues the programme may address?
Well, as ETI's new approach is all about getting to the bottom of the root causes of poor working conditions, I can definitely say that it will be designed to do just that in Rajasthan.
What kind of scale of impact on workers are we talking about?
According to the Rajasthan government Department of Mines and Geology, there are about 80,000 workers in quarries alone. This is likely to be a huge underestimate given the amount of unlicensed quarries in the area. It also doesn't take into account the processing sector which is likely to employ more workers, or the ancilliary and infrastructural jobs dependent on the industry. As well as the workers we'll be directly reaching, as with all our interventions it'll be scalable and replicable to other parts of the Indian stone industry as well as other countries, including China, from where many of our members are sourcing granite.