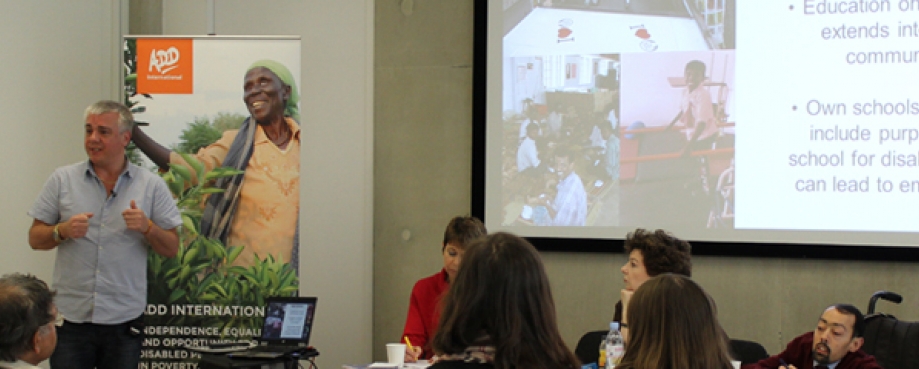 The Body Shop has been involved with equal access to work initiatives for decades. In this blog, which forms part of a short series of communications on disability and business, the Body Shop's Sustainable Sourcing Manager, Lee Mann explains that they've been actively seeking and working with people around the world specifically because they face disadvantages. And why people with disability most certainly have the right qualities to produce their products. 
Handbook: Towards disability inclusion
The never decreasing demand for better practices and transparency in global supply chains isn't going away any time soon. Simply put, I believe that any business has a duty to ensure that the people it directly or indirectly employs in the production of its goods or services are treated with fairness, which includes on an equal basis.
The business case to treat people with fairness is compelling
Susan Scott-Parker from Business Disability International told me to remember a number recently (I haven't forgotten it). Fifteen per cent she said – that's the percentage of people in society living with a disability.
I have to admit I hadn't even thought of a number previously but it did make me think – that means that 15 per cent of our customers would also be disabled. So why shouldn't we want to see disabled people make up 15 per cent of any workforce?
After all – we all know that the best teams are made up of a diverse mix of skills, background and expertise – a mix that reflects the real world we live in.
The L'Oreal group has a vision that though our Solidarity Sourcing programmeour suppliers are enabled to provide a fairer and more balanced approach to employment practices – specifically those that relate to meaningful employment for economically disadvantaged members of society.
The number of people that are receiving employment today as a result of this programme totals more than 52,000 – these range from fair trade farmers, factory operatives, office staff and even construction workers.
Overcoming the fear factor when tackling disability rights in supply chains
When I was speaking at ETI's recent Ethical Insights forum, Disability and Ethical Trade I said that I believe there is an element of fear in tackling the issue of disability rights in supply chains. To a lot of companies this may only be the start of their journey into this area and I'd like to remind them all that they are not alone in this.
As with any issue that relates to employment practices there are experts and support organisations that most definitely can help navigate the way. I have found it's certainly a challenge to work with suppliers to support our programmes and for many of them too, this is often the first time they are encouraged to become part of our work.
Employment for disabled people. The answer is simple? Of course not! 
All of us working with both short or long supply chains – and more often than not global ones for added complexity – are faced with a multitude of issues that relate to employment practices.
All companies employ internal and external expertise to help us navigate the difficulties and challenges that arise in an effort to work towards best practice. And expertise is also available in helping companies in the areas of employment for disabled people.
I realise - even more today - that I do not have all the answers. I do not have all the expertise. But now, having taken part in the Ethical Insights briefing, and having the opportunity to meet many people working in this area….well?
I just might know people who do!
Find out more about our Ethical Insights series of breakfast briefings