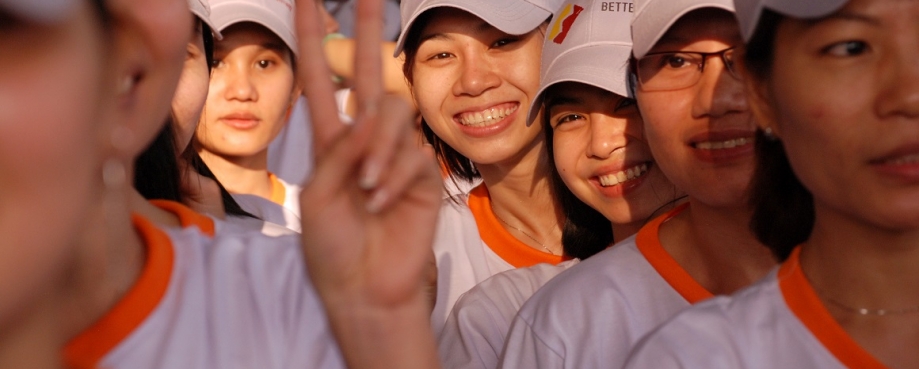 During a recent ETI Ethical Insights briefing on worker wellbeing: a right or a privilege, one of the speakers, Michael Weatherhead, International Director of NEF Consulting was struck by how far the conversation has progressed on worker wellbeing in the supply chain, as he outlines in this guest blog.
It seems to me that three key factors have helped move wellbeing on from being viewed as a privilege towards being considered a right or necessity:
Business imperatives
​Societal pressure
Reoccurring crises
Business imperatives
Happiness drives performance more than performance drives happiness[1].
In a growing number of UK workplaces, worker wellbeing is accepted as being closely tied to organisational performance. Bosses now get (even if they don't always fully embrace) that unhappy workers will, at best, produce just 'okay' work.
They understand the relationship between happy workers and good performance.
Yet why don't they therefore look for a focus on worker wellbeing within their suppliers?
Is it because buyers are tasked with simply securing the best price from suppliers, regardless of risk factors associated with poor worker wellbeing?
Or because a focus on worker wellbeing is still relatively new and its importance is only now becoming apparent within our own workplaces?
Whatever the reasons, the direction of travel seems set. Worker wellbeing in supply chains will become of greater interest to buyers in the future.
Societal pressure
As UK views change about how the world of work could or should be, so these views have begun to permeate down the supply chain. There is pressure from:
A new generation that expects a different relationship between life and work.
A greater general awareness that cheap goods are often only cheap because of the conditions of those who produce them.
A greater shared solidarity due to a world more interconnected than ever before.
Reoccurring crises
A couple of years ago I wrote a blog about worker wellbeing in China. It focussed on how we must move beyond audits and compliance to get to the real underlying needs of workers.
Why?
Well, because even though audits are undertaken and compliance-based solutions implemented, the same problems still persist.
At NEF Consulting we've found in our work that suppliers can score highly in terms of objective compliance-based criteria. Yet, the lived experience of its workers, as measured by subjective wellbeing questions, tells a completely different story.
And unhappy workers lead not only to costs that every employer globally recognises such as retention rates and absenteeism, but also to strikes.
The South African experience
In a country such as South Africa, where I live and work, worker wellbeing really matters.
Strikes in South Africa cripple businesses, often bringing businesses to a standstill for weeks or months at a time.
When I first moved to South Africa, I could set my watch by when strikes were likely to occur - around the time collective bargaining over pay and working conditions took place between unions and employers.
But, I asked myself, were these the only factors driving dissatisfaction to a point where it triggered a strike?
While pay and conditions, particularly in a country as unequal as South Africa, are undoubtedly important, there are many other factors important to workers.
That so many of these are directly related to wellbeing and seen throughout our work in countries other than South Africa, highlights that people in work have the same needs the world over.
What matters most to workers but is so often overlooked
HappinessWorks have identified those things that matter most to workers but are so often overlooked, including the following five:
Connect – Having connections, not only with fellow workers at all levels, but also with the local community and the communities our organisation serves, fuels our need for sociability.
Be fair – not only in terms of pay and conditions, but in how we treat and view one another within the work place.
Empower – Having the courage to give workers autonomy and to delegate decision making can provide rich rewards for any manager, not to mention the workers.
Challenge – Everyone enjoys challenge because everyone enjoys the feeling of accomplishment. People want to learn in their work places and to feel they are good at what they do.
Inspire – As human beings we are hard wired to give. To feel our work is serving others can be hugely gratifying and motivating.
It is telling that only one of the HappinessWorks list comes from giving workers more money!
The others come from changing mind-sets.
This is why, at NEF Consulting, we developed Well Supplied – a programme for employees and employers to co-produce sustainable and affordable solutions to improved worker wellbeing.
This blog has also appeared on the NEF Consulting blog pages
NEF Consulting, founded and owned by the leading think tank, New Economics Foundation (NEF), helps organisations on the journey towards a new sustainable economy. As NEF Consulting's International Director, and an organisational development practitioner, Michael Weatherhead developed and delivers tools and processes such as the Happiness at Work survey and Well-Supplied. He has brought an understanding and use of wellbeing in decision making into organisations including the UK National Health Service, Woolworths, Timberland and Shelter.
[1] Harter, J. K. Schmidt, F L. Asplund, J W, Kilham, E A & Agrawal, S (2010) Causal impact of employee work perceptions on the bottom line of organisations, Perspectives on Psychological Science, 5(4), 378-389