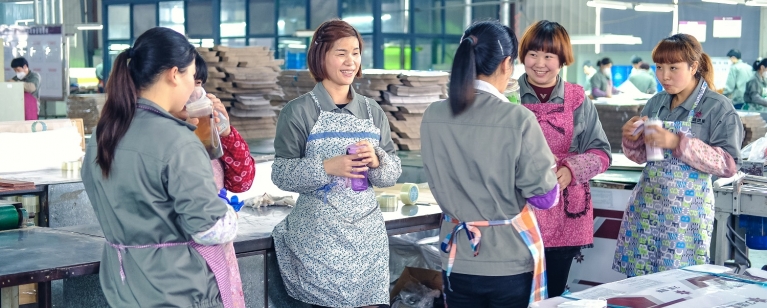 Our income derives from a combination of members' fees, a grant from the Foreign, Commonwealth & Development Office (FCDO), individual project funding and trading income.
Support from FCDO
The UK Department for International Development (DFID, now the Foreign, Commonwealth & Development Office (FCDO) since September 2020) has provided unrestricted funding to ETI since our inception in 1998. In 2015, DFID agreed to grant us further core funding of £5 million between 2016 and 2019 to deliver our 2020 strategy.
"There is no doubt that jobs will continue to be a force for good in developing countries, giving working people the chance to be part of the global economy. It is crucial we all keep the spotlight on business practices. I am determined that Britain will continue to play its part in improving the lives of employees in the developing world."   Justine Greening, former Secretary of State for International Development
We value the long-term commitment and strategic support that our funding relationship with DFID offers. Of equal value is the opportunity it gives us for both open sharing of views and constructive dialogue with government on policy issues and to develop closer links with DFID regional and country offices.
Other funders
We receive valuable funding from the Ministry of Foreign Affairs of Denmark in Bangladesh. Freedom Fund is generously supporting the expansion of ETI's programme in Tamil Nadu to protect the rights of women apparel and textile workers. The Commonwealth Foundation is supporting our work in South Africa to improve living and working conditions in the agriculture sector.
We are currently supported by the former Foreign and Commonwealth Office (FCO) to protect workers' rights in Turkey and to integrate the UNGPs into the Restructuring of Manufacturing in China.
Members' fees - Companies
Companies pay annual fees and often contribute directly towards ETI programmes.
Members' fees - NGO members
Oxfam, Save the Children, CAFOD, CARE and Christian Aid make a contribution of £5,000 a year to ETI's activity. Our smaller NGO members pay a small fee. They also help to deepen our understanding of working conditions and facilitate partnerships with local organisations.
Members' fees - Trade Union Organisations
Trade union organisations do not pay a membership fee, but all our members contribute invaluable support by participation in our core activities and professional and technical time commitment to research, plan and execute our supply chain programmes.
Services and Training
Additionally, we generate income from selling some of our resources and services, such as our ethical trade training courses.