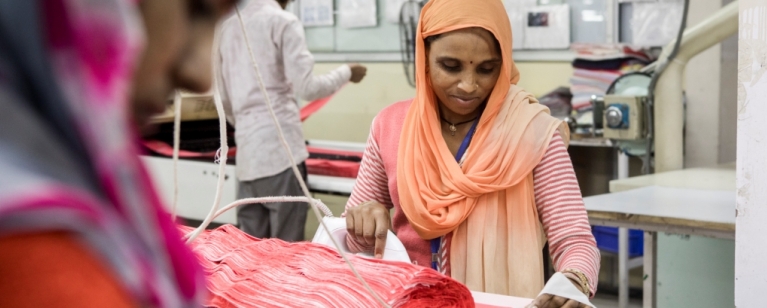 Our member companies, trade unions and voluntary organisations work together to tackle the many complex questions about what steps companies should take to trade ethically, and how to make a positive difference to workers' lives.
We define good practice in ethical trade
All corporate members of ETI agree to adopt the ETI Base Code of labour practice, which is based on the standards of the International Labour Organisation (ILO). We work out the most effective steps companies can take to implement the Base Code in their supply chains. We learn by doing, and by sharing our experience. Our projects and working groups develop and try out new ideas, often piloting these approaches on the ground in sourcing countries. By taking part in these groups as well as in roundtable discussions, our members collectively establish good practice in ethical trade. We then develop training and resources to capture this learning, providing practical tools to help companies to put their ethical trade policies into effect.
We help workers to help themselves
Codes of labour practice can, and should, help create space for workers to bargain with management through trade unions. In several countries around the world we are supporting initiatives that raise workers' awareness of their rights and helping create work cultures where workers can confidently negotiate with management about the issues that concern them. We also broker resolutions where there are major breaches of trade union rights by companies that supply our members.
We build strategic alliances that make a difference
Finding effective and sustainable solutions to workers' issues requires joint action between companies, suppliers, trade unions, NGOs and governments. We build alliances in key sourcing countries and internationally, to address problems that occur not only in individual workplaces, but also affect entire countries and industries.
We persuade and influence key players
Retailers and brands are responsible for using their buying power to influence their suppliers' employment practices. Governments, employers, trade unions, consumers and the media also have a distinct and vital role. We raise awareness of how everyone can play a part in protecting workers' rights and work closely with governments and international labour agencies to influence policy and legislation.
We drive improvements in member companies' performance
In today's global economy, all companies have issues in their supply chains. By joining ETI, a company is acknowledging these issues and making a commitment to tackling them. Our member companies report biennially on their efforts and the results they are achieving at farm or factory level.
We expect them to improve their ethical trade performance over time, and have a robust disciplinary procedure for companies that fail to make sufficient progress or to honour their membership obligations.
There are limits to what companies can achieve by working alone. ETI members work in partnership to find solutions to the problems that occur in individual workplaces, but that also affect entire countries and industries.
Peter McAllister
Director, Ethical Trading Initiative