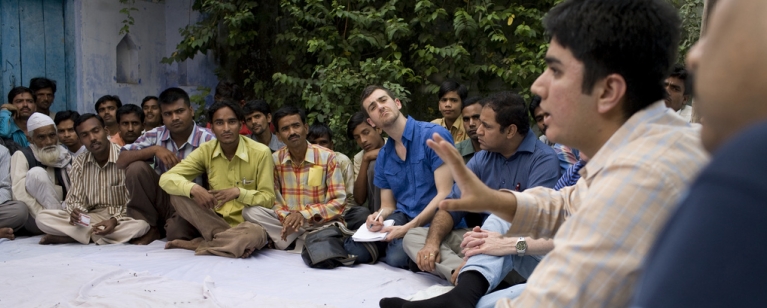 ETI was created in 1998 by a small group of visionaries who believed in the power of collective action to make a difference to the lives of workers in companies' supply chains.
In the mid 1990s, several well-orchestrated trade union and NGO campaigns and media exposes highlighted the exploitation of people making clothes, shoes and other products for major global brands and retailers. In response, the companies started to adopt codes of labour practice governing the working conditions of the people in their supply chains.
Codes lacked credibility
But codes were widely criticised for lacking credibility. Often they were developed unilaterally, so seen as attempts by companies to dictate the agenda of workers' rights. Some did not recognise all the labour standards developed by the International Labour Organisation (ILO). And although companies started to invest in 'monitoring' programmes, aimed at checking supplier workplaces for compliance with their codes, these were criticised as piecemeal and lacking credibility, as they were usually paid for by the companies.
In 1997, a group of companies, trade unions and NGOs began a discussion about how codes could be made effective. They identified the need for a body that would establish consistent standards and guidance for ethical trade, which would combine the authority and expertise of the trade union and campaign movement with the practical know-how and buying leverage of big business.
A radical new approach to protecting workers' rights
In 1998, a group of UK companies, NGOs and trade union organisations, with the backing of the then Secretary of State for International Development Clare Short, launched a radical approach to protecting workers' rights in global supply chains. Their aim was to build an alliance of organisations that would work together to define how major companies should implement their codes of labour practice in a credible way - and most importantly, in a way that has maximum impact on workers.
The companies that joined ETI in 1998 were ASDA, Premier Brands, The Body Shop, Littlewoods and Sainsbury's. From that handful of pioneers, our membership now comprises over 90 companies, collectively reaching nearly ten million workers across the globe.
View a timeline of ETI's development since 1998.