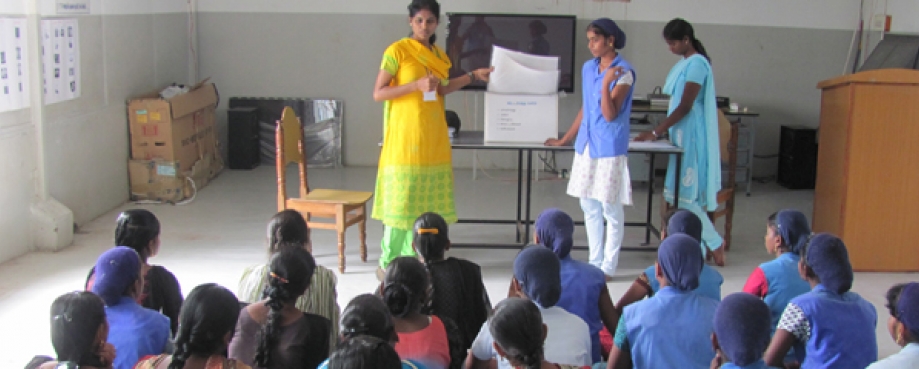 Trust and confidence; these two words are so important to our work within Tamil Nadu's garment and textiles sector. Tamil Nadu, southern India, holds a noteworthy place in the world's history of garment and textiles production. Cotton has been spun, woven and dyed in the Indus Valley since the 5th millennium BC.
Today, the sector has the potential to help lift rural women out of poverty and provide them with a means to earn and control their own income. But good employment practices do not exist within all parts of this sector. Many of the workers are young women from the Dalit group, who are at the lowest tier of Indian society and vulnerable to abuse and exploitation from unscrupulous employers. We're working with our members and stakeholders to catalyse positive change in this sector through activities that empower young women workers, strengthen industrial relations, build community awareness and support legislative reform.
Engaging with mills and garment factories
Our Worker Peer Group project forms an important part of our work, engaging local mills and garment factories who value their reputations as employers and are keen to play a leadership role. We're working with the HERProject to deliver educational modules and leadership skill-building sessions to workers within these mills and garment factories. We start with modules on healthcare, focusing on a healthy diet, regular health check-ups and good hygiene practices within the workplace. Crucially, we're also training 'peer educators' – young women who will play a leadership role and deliver this same training to their colleagues. Our broader aim is to raise awareness of workers' rights and foster open communication between workers and managers.
Building trust with the local industry has been a delicate process. But one year into this project, we now have strong working relationships with six mills and two garment factories, and the opportunity to positively impact 3,000 young women's lives.
Perspectives from our local team
Our local team, based Coimbatore, are crucial to this work. Gayathri Jeganathan (pictured wearing the yellow salwar kameez) is our Worker Peer Group Coordinator. She oversees the project, liaising with the mills, our local delivery partner PSG and workers. Gayathri started her career as a medical and psychiatric social worker, and has more than 12 years experience in the healthcare sector. She introduces the Worker Peer Group project locally as Nalam – the Tamil word for 'wellbeing'.
Early on, Gayathri identified an issue that was having a detrimental impact on workers. India operates an Employees State Insurance Scheme (ESI), a social protection scheme that provides full medical care for workers and their dependents. Employers and employees contribute to this scheme, as does the government. Workers must be registered through a local healthcare centre in order to access the free products and prescriptions they are entitled to (deworming tablets, iron and folic supplements and free sanitary pads). While the young women were registered with ESI, many had not registered through a local healthcare centre. This meant they were paying for products they should be receiving for free, putting unnecessary pressure on their income. Gayathri has been working with mill and factory management to make sure these young women are registered with a local healthcare centre, and can access their healthcare entitlements.
Voices from the field
Even in these early stages of our Worker Peer Group project (or Nalam), we're seeing signs of positive impact. Our local team has been instrumental in building strong relationships with textile mills and garment factories. Young women workers are starting to enjoy access to free healthcare products they are entitled to, and the peer educators are growing in confidence and developing leadership skills. But don't just take our word for it.
Here is what the young women workers are telling us:
"I spent 250-300 rupees per month on my medicines, but getting free medicines means I can save that money for my other expenses."
"Pregnancy and childcare is important to all women. I learned this here and all other women need to get a chance to learn like this. I have told my pregnant older sister and friends about the regular hospital check-ups with iron and folic supplementary."
"I have benefited through this programme. I am sharing with my friends, family members, relatives and neighbours about healthy eating behaviour, personal hygiene and the importance of hand washing."
"I am very happy to work as a peer educator of the Nalam programme. I am preparing myself before taking any session with the group members and I am very comfortable to teach others with your motivated words."
Mill management are also seeing positive results:
"We are happy about working with ETI and comfortable while working with ETI staff. Workers are happy about ETI's continuous engagement and expecting the same for upcoming period."
"The Worker Peer Group project is creating a strong bridge between the management and workers."
"We have added Worker Peer Group modules to our induction training schedule. The newcomers are really happy about management's efforts in taking care of their health. Newcomers have voluntarily expressed their interest in becoming a peer educator. It's attracting newcomers to choose this workplace to work. This is the first step to winning confidence among newcomers."