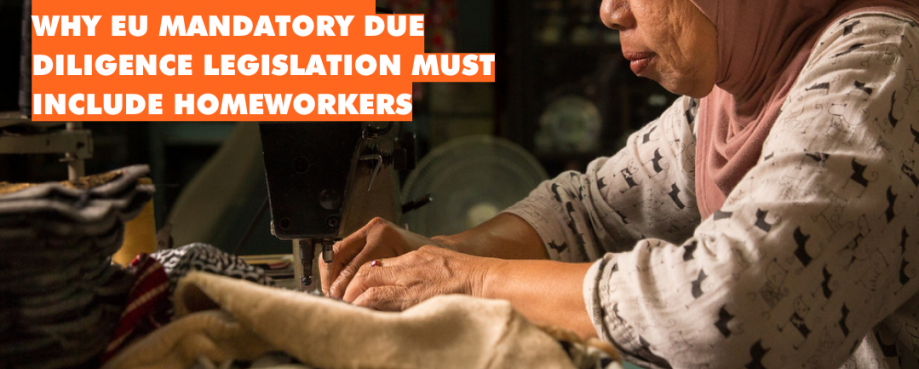 Join us for a side session at the OECD Forum on Due Diligence in the Garment and Footwear Sector next week.
Date and time: 25 February  2022 at 11:00 GMT | 12:00 CET| 16:30 IST | 06:00 EST
Languages: English with French and Spanish interpretation available.
About the side session
Subcontracting is ubiquitous in garment supply chains.  Almost 90% of workers in garment supply chains in India work in workshops and from their homes. These millions of invisible, mainly female supply chain workers, are excluded from labour law protections and their human rights are routinely violated.
The proposed EU legislation and mandatory corporate due diligence presents an opportunity for transformative change across the garment industry.
Join us for a 90-minute panel discussion that makes the case for homeworkers to be included in EU legislation and corporate due diligence. Panelists, including homeworkers and their representatives, organisers and researchers from across Asia and around the world, will present:
What does due diligence look like in homeworker supply chains: best practice by leading brands;
The demands that homeworker organisations are making of EU policy makers for inclusion in the proposed EU Mandatory Human Rights Due Diligence Directive; and
Explore the Hidden Homeworkers toolkit, to assist brands in improving transparency and working conditions within homeworker supply chains, to prevent human rights violations.
Panelists include:
Register here
HWW's participation in this event is an activity of the Hidden Homeworkers project, a consortium of NGOs supporting homeworkers and other women workers in precarious employment, producing for global brands in the apparel, footwear and homeware sectors. The project is led by Traidcraft Exchange working in partnership with HomeNet South Asia and Homeworkers Worldwide, and with local civil society partners in five cluster locations in India, Pakistan and Nepal, co-funded by the European Union.