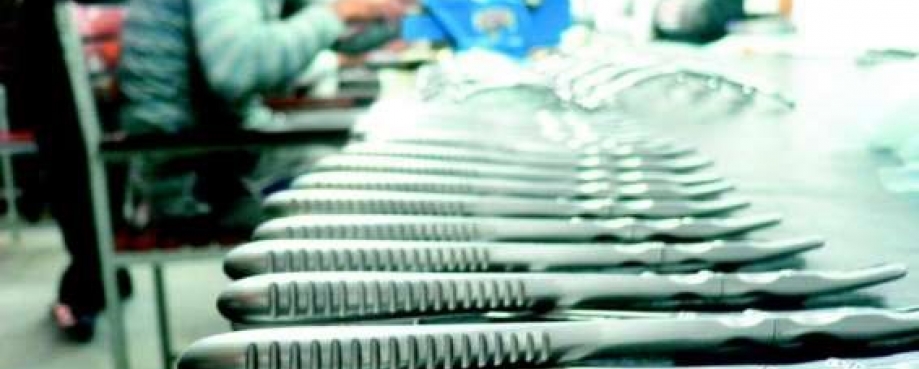 International buyers, including NHS Supply Chain, are being urged to act now to avert an explosion in child labour and worker exploitation in the surgical instruments supply chain. Pakistan, where most high-quality instruments are produced, predict job losses of up to 18.5 million due to Covid-19 and an increase in child labour as more households fall into extreme poverty.   
Poor purchasing practices by international buyers, including NHS Supply Chain, are partly responsible
Job losses and deaths due to Covid-19 risk an explosion in child labour, abuse and exploitation of workers
Urgent call for buyers to work with the government of Pakistan, the surgical manufacturing industry, civil society organisations and trade unions to develop industry-wide standard to eliminate exploitation and abuse
Poor labour practices and child labour have been known to persist in the surgical instruments sector in Pakistan for many years. But until now, little attention has been paid to the role of poor purchasing practices and lack of due diligence by international public buyers in contributing to this problem.  Today, the Ethical Trading Initiative and the Pakistan Institute of Labour Education and Research publish a joint report highlighting the root causes of the problem, and call on all the stakeholders in the supply chain to play their part in eliminating the exploitation and abuse of workers.
Surgical instrument manufacture is the key SME export sector in Pakistan. It supplies high-quality specialised surgical instruments to many countries around the world.  The UK is thought to import 80% of its single-use and reusable surgical instruments from Pakistan. But an insistence on the lowest possible prices by some international buyers is forcing factory owners to subcontract to the informal sector, where child labour is known to be rife, as the only way to cover their costs.
Some European public buyers that commissioned this study have established higher standards. They are willing to pay more and provide commercial incentives to their suppliers for more ethical practices . But they are sadly rare, and other public health buyers continue to undermine their efforts.  
Cindy Berman, commissioning editor of the report, comments: "Covid-19 has meant that families whose were already in highly precarious situations now find themselves in the most desperate circumstances. Businesses are struggling to get back on their feet. They are under fierce competition to secure orders at the lowest prices. Since they can't compromise on product quality, they will look to reduce labour costs. Poor and desperate families struggling to put bread on the table are likely to accept any jobs at almost any cost - including hazardous work with very low pay and long hours.  It is highly likely that children, whose schooling was already disrupted by the lockdown, will not return and will have to work to help feed their families.
"Even before the Pandemic, new legislation and regulations in Europe and Australia required due diligence to be included in procurement and contracting procedures. But many buyers have continued to drive down prices and continue to use outdated tick-box systems in the name of 'best value' for the taxpayer." Cindy Berman 
Cindy Berman concludes: "While such practices were unacceptable before Covid-19 hit us, now, as the human suffering in Pakistan grows worse by the day, they are beyond the pale.  This wilful negligence must stop now.
"Buyers must end this race to the bottom on price, agree common minimum standards for working conditions, and accept that this will have cost implications. By building supply chain transparency and higher labour standards into tenders, factories that act responsibly can be rewarded, rather than penalised, and the scourge of child labour eradicated once and for all. The government needs to increase social protection for the poorest, improve access and quality of schooling, and monitor compliance with its own labour standards".
Professor Mahmood Bhutta, BMA advisor on ethical trade, said:
"The BMA has longstanding concerns about labour and human rights abuses within the international supply chain of medical goods, including surgical instruments manufactured in Pakistan.
"In the midst of the COVID-19 pandemic, the NHS has relied on international supply chains more than ever to meet demand. But human rights and the safety of workers should never be compromised – whether staff are producing PPE, surgical instruments or other consumables.
"Doctors are primarily concerned with the health and wellbeing of all people, and many will be appalled to think that workers have suffered while producing items they need to do their jobs.
"Purchasing bodies, including NHS Supply Chain have previously  made commitments to ethical procurement, but evidently what they are doing is simply not working. We need meaningful change including worker empowerment, realistic pricing, transparency and accountability."
The report is calling for buyers to work with the Government of Pakistan to agree a common standard that meets their own and Pakistan's legal requirements, and develop a transparent, accountable and fair system for trade with a view to eliminating the exploitation and abuse of workers.
The next stage of the process will be the development of a global model of good practice in the form of a Roadmap. The report outlines the key priorities for inclusion in this Roadmap and is calling on all stakeholders to sign up to it, and invest the capacity and resources required to ensure it succeeds in eradicating child labour and worker exploitation.
*Figures from Pakistan's Ministry of Planning
File(s)
Labour standards in Pakistan's surgical instruments sector
Understanding the root causes of poor labour standards in the Sialkot region where high volumes of surgical instruments are produced, along with the roles and responsibilities of all of the key stakeholders in the global value chain.
Read more