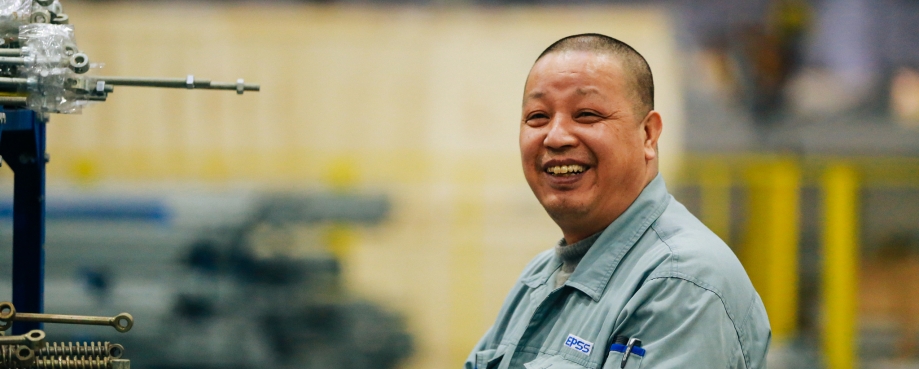 Eshan Chan reflects on the ILO and ETI's first year of jointly implementing SCORE Training in Chinese SMEs.
It's been one year since ETI joined forces with the ILO to deliver SCORE Training to 17 Chinese factories which supply products to eight ETI member brands.
SCORE Training helps small and medium-sized enterprises (SMEs) sustain their participation in global supply chains by enhancing worker-manager cooperation.
It creates safer, more efficient and more productive workplaces that are better able to meet the increasingly high standards demanded by international companies.
Modules successfully delivered
Since March 2017, Module 1 on Workplace Cooperation and Module 2 on Quality Management have been rolled out, benefitting over 9,000 employees.
Not only that, SCORE trainers identify key areas for improvement in factories.
Workers and managers in workplace Enterprise Improvement Teams (EIT) then actively engage in driving change. And success stories are being shared.
Importantly, factory owners tell us they have witnessed increased productivity, a reduction in defects and improved workplace cooperation.
SCORE Training milestones
Here are some of the year's most noteworthy milestones:
MARCH – Launch event takes place in Guangzhou: The ILO/ETI partnership was officially launched in the presence of  the ILO SCORE team, ETI company and consortium group members, participating factories and six SCORE Training service providers. Read more about the launch here.
JUNE – 70 delegates attend a joint Workplace Cooperation workshop: Instead of running individual on-site training sessions, all factory managers, worker representatives and in-country brand members were invited to attend training together in Shanghai and Shenzhen respectively. This not only allowed effective peer-to-peer learning but also fostered the growth of a supportive SCORE Training community.
JULY – 90 workers are surveyed: The ILO commissioned ICO Consulting to conduct worker surveys in four SCORE factories. All the interviewed workers believe that the SCORE Training will have a positive impact, especially in improving conditions around health and safety, working hours and wages – and to the workplace environment.
AUGUST – SCORE Training sharing sessions: In an ETI member meeting, Steve Wickham (Head of Procurement and Compliance at Matrix) quoted some encouraging feedback from the HR team of a supplier, Longshine factory, which said that: "Only one month after the training, our workshop has already changed and has shown great improvement. Workers have changed from passive implementation to active execution."
OCTOBER – Mid-term supplier learning forums:  50 SCORE Training participants, including workers, managers, trainers and brand representatives gathered in Shanghai and Guangzhou to share their half-year progress. Sun-step Shoes Co. Ltd., a factory nominated by New Look, said that absenteeism had dropped from 4.34% in June to 3.67% in September, and the resignation rate had also decreased by 0.4% from June to September. They were hopeful that this is the start of a downward trend.
NOVEMBER – Case studies compiled: The case studies built on the supplier learning forums and consolidated learning from the training module on workplace cooperation. My earlier blog on improved manager/worker cooperation highlighted some of the tools being used to encourage increased efficiency, whilst a case study featuring White Stuff supplier factory, Hangzhou Huasheng, illustrated the benefits of improved worker-manager cooperation.
JANUARY (2018) – Expansion to more factories: Seeing the positive results achieved throughout 2017, more ETI members enquired about providing SCORE Training to their own suppliers. Watch this space!
New factories being recruited
To keep up momentum and maximize the impact of SCORE Training, we are now in the process of recruiting new factories to join this transformative journey.
As ETI's China Representative, Yun Gao said: "It has been our delight to work closely together with ILO and many committed brands and factories in the past year.
"We heard real life testimonies from factory owners on the positive and sustainable changes brought about by SCORE Training, and we hope to strengthen our cooperation with all stakeholders this year to ensure a successful and impactful project implementation.
Michael Elkin of the ILO confirmed Yun's thoughts.
"Our partnership with ETI represents an opportunity to simultaneously encourage the creation of more and better jobs, whilst ensuring products and services arrive as a result of sustainable and ethical practice," he said.
Michael continued: "In 2017 we focused on workplace cooperation. This year, we will look at developing quality management. And we look forward to implementing SCORE Training in more Chinese SMEs."
To find out more about ILO and ETI SCORE Training contact Eshan Chan.
The ETI-ILO SCORE project is being run between February 2017 and February 2019 with funding from Germany's Federal Ministry for Economic Cooperation and Development (BMZ) via its develoPPP.de programme. DevelopPPP helps German and other European companies conduct business activities in a responsible manner in line with the expectations of the Sustainable Development Goals. In the context of the SCORE initiative, ILO and ETI are cooperating with SEQUA, one of DevelopPPP's designated partners charged with implementing the programme.