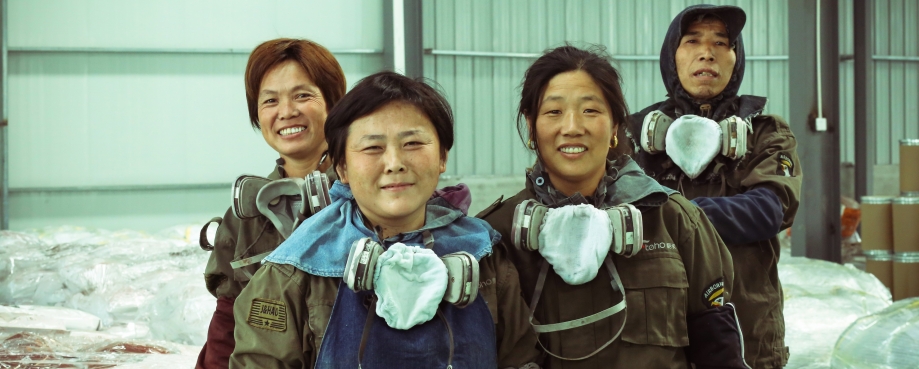 The ILO and ETI are bringing SCORE training to SMEs supplying international brands in Guangdong and Shanghai.
We've teamed up with the ILO Office for China and Mongolia to improve the productivity, competitiveness and sustainability of Small and Medium Enterprises (SMEs) in Guangzhou City, Guangdong Province and Shanghai. 
Developed as part of ILO's Sustaining Competitive and Responsible Enterprises or "SCORE" programme, the current training supports business development service providers to carry out a variety of training workshops. It also provides factory consulting services for participating SMEs and will continue to do so over the next two years of the project.
SCORE training programme
SCORE training focuses on developing cooperative working relations and results in shared benefits for workers, SMEs and international buyers. It covers:
Workplace cooperation.
Quality management.
Clean production.
Human resource management.
and Occupational safety and health.
Each section includes two-days of classroom training for managers and workers followed by on-site consultations with industry experts that help to put the training into action in the workplace.Uniquely, this current initiative marks the next stage of the SCORE project; SCORE training is delivered independently through SCORE Certified Trainers in global supply chains.
So far, 17 factories have registered for the programme. They are receiving training, coaching and consultation services specifically tailored to help them improve their social performance while maintaining business competitiveness. 
 "The SCORE Project will cooperate with ETI to develop a viable and dynamic market place for business development training services that are designed to improve the productivity and working conditions for SMEs in the long run."

Michael Elkin, Chief Technical Advisor of the ILO SCORE programme (global)
 
Improving productivity and working conditions
With its mix of practical training and in-factory consulting services, SCORE training has a proven track record in other parts of China and seven other countries. 
It helps SMEs sustain their participation in global supply chains by supporting them as they develop their own solutions to meeting the challenge of the increasingly high standards demanded by international companies.
"SCORE Training provides constructive expertise to factories and addresses those issues that cannot be resolved through an auditing-only approach. It helps establish bipartite cooperation, which includes worker participation when seeking improvement solutions. And it places emphasis on establishing sustainable management systems which will continue even after SCORE ends.

"ETI members believe in taking responsibility for enhancing the working conditions of the people who make their products, and member companies are committed to ethical trade and expect their suppliers to work towards this goal too." 

Yun Gao, China Representative, ETI
SMEs in international supply chains
SMEs make up 60% of China's national industrial output and create nearly 80% of jobs. Improved SME competitiveness can, therefore, contribute to economic and social development and poverty reduction.
However, SMEs tend to have much lower levels of compliance with national labour laws. There is also a greater likelihood of strained industrial relations and inadequate safety and health protection for workers. Such problems are common and reflected in sometimes poor worker-management communication, often limited compliance with labour standards, and issues around excessive working hours and in meeting legal wage rates and benefits. This can lead to lower productivity.
Meanwhile, SMEs are expected to successfully conduct business in a highly competitive global market place. Yet with lower productivity, they struggle to stay in business as they face difficult price competition and high expectations from their customers to offer better working conditions.
That's why SCORE Training is so important. It helps to create a win/win situation.
Fostering development partnerships
ETI was one of the first initiatives to define good practice in ethical trade and our Base Code of good labour practice is based on ILO standards and is adopted by all our corporate members. Members participating in this project and co-sponsoring SCORE training for suppliers include Boden, Inditex, Matrix, Mothercare, New Look, Orsay, Regatta and White Stuff.
But, this ILO/ETI initiative would not have been possible without co-funding from the German government via the develoPPP.de programme run by Germany's Federal Ministry for Economic Cooperation and Development (BMZ).
DevelopPPP helps German and European companies conduct business activities in a responsible manner in line with the expectations of the Sustainable Development Goals.
In the context of the SCORE initiative, ILO and ETI are also cooperating with SEQUA, one of DevlopPPP's designated public partners.
Since December 2000, SEQUA has been one of the executing organisations implementing the BMZ's DeveloPPP.de programme. They receive proposals from companies, provide advice and support, decide the eligibility of a project for co-financing on the basis of BMZ-defined evaluation criteria, determine the amount of public contribution and audit and supervise the implementation of the initiative.
An initial version of this blog appeared on the ILO's website on 20 July 2017.