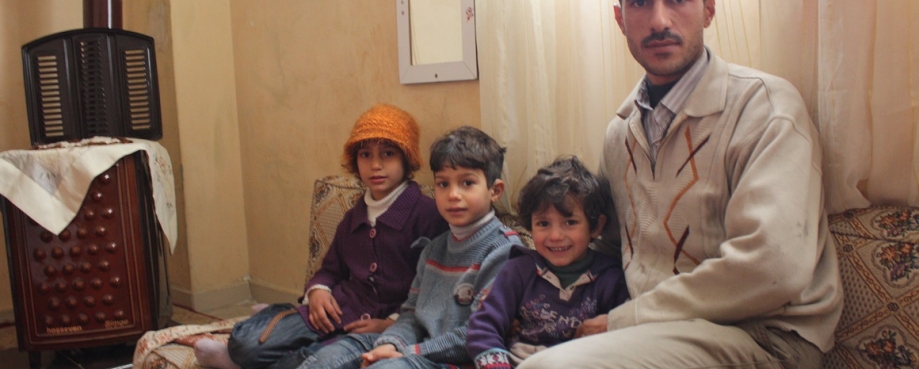 On Tuesday 29 November, we formally launched our Turkish Platform in Istanbul. With co-funding from the UK's Magna Carta Fund and international brands, we'll be working with Turkish companies, unions and NGOs to improve conditions for Syrian refugees and their Turkish counterparts working in Turkey's garment trade. In this blog, Dr Emre Eren Korkmaz takes a step back and acknowledges Turkey's own efforts to help people fleeing war and destruction.
It isn't difficult to find Syrian refugees working in desperate conditions in Turkey. You just take a 10-minute drive from Atatürk Airport.
But, if we want to be fair, it's important not to ignore Turkish citizens working in desperate conditions alongside their Syrian counterparts. In the same workplaces. In the same informal economy.
When we start to do this, it leads us to a debate about the informal economy and what we mean by "decent" work. It also means that we don't just limit ourselves to discussing work permits for refugees.
In the picture at the top of the page, Waddah, who fled Syria with his family in 2011, sits with his three children. He works irregularly as a car mechanic, with no fixed salary, and worries how the family will pay the rent. "Lack of regular work is the hardest thing and the low salary," says Waddah. "Rent is very expensive."  ©European Union/ECHO/Caroline Gluck 
Additionally, it's easy to talk about the decades-long problems that haunt Turkish industry. And they certainly exist, as I have written in previous blogs.
Then, if we want to extend the fairness argument, it's important not to ignore global economic models.
When we start to do this, it leads us to discuss the supply chain management practices of transnational corporations. That means that we can't just limit ourselves to analysing the impact of Turkey's informal sector.
Furthermore, we may want to acknowledge the long list of problems facing Syrian refugees in Turkey.
Extending the being fair premise even further, we must subsequently bear in mind that Turkey has been hosting the world's largest refugee population for years.
When we start to do this, it leads to debates around comparing Turkey to other countries. And that means we must discuss international geopolitical realities as well.
The Turkish consensus on refugees
When I talk about "Turkey", I don't just mean the government. I'm including political opponents, business interests and ordinary citizens. In fact, everyone.
Because it's necessary to acknowledge that there is wide national consensus on, and support for, the government's open-door policy to Syrian refugees fleeing war zones.
It's also necessary to acknowledge that central and local authorities, together with local communities, have been working hard to provide services for refugees.
Despite Turkey having a high unemployment rate and serious economic problems, and despite Turkey's long borders with war zones in both Iraq and Syria, there has been no wide political movement demanding the deportation of refugees.
Even recent migration legislation has been passed by parliament with all-party support.
That doesn't mean that there haven't been reactions towards refugees. But, these reactions generally focus on practices such as informal working or informal trading.
When we recognise this, the solution is clear; not to deport refugees but to provide legal conditions of employment and trade.
Turkey's migration legislation
Turkey's migration legislation is a good example of democratic participation; not only by oppositional parties but also with academics, NGOs and international organisations contributing.
The Directorate General of Migration Management openly called on academics and NGOs to share their thoughts. This is unusual and encouraging.
Of course, many advocates are dissatisfied with progress made to date. And I would probably count myself as one of them. But this doesn't negate the efforts of people – often with limited budgets and under conditions of political volatility – who are working hard to help refugees.
And it's important to recognise that all such developments have occurred under a framework of global politics that is extremely anti-immigrant.
Other countries' reactions to refugees fleeing conflict
We observe far-right parties on the rise in France, the Netherlands, Sweden, and Austria. And their main proposal to all problems is to deport migrants and refugees.
We all watched the Calais Jungle.
Meanwhile, every week, hundreds of refugees lose their lives in the Mediterranean.
The UK left the European Union and one of the main reasons for the "leave" vote was immigration.
The USA elected Donald Trump based in part on his promise to deport Mexicans and Muslims.
There have been ongoing efforts by the Hungarian government to stop and victimise refugees on their way to Germany, while other central European countries have said they will not be welcome.
So far, only the German government has had a relatively positive approach to Syrian refugees, seeking to integrate them into the German industrial workforce to the benefit of Germany as a whole.
Fair and just working relationships
It is just Greece and Turkey – which both face economic and political challenges – which aim to provide wide-ranging services and opportunities for such huge numbers of refugees.
As such they need international support. But currently, despite welcome efforts such as the UK's Magna Carta funding, what's being given by international donors as a whole is insufficient.
Given this, it's even more necessary to acknowledge that Turkey's population has welcomed and is living and positively working with, millions of Syrian refugees.
This means that there must be a collaborative approach to job creation and the fair and just management of industrial relations for both Turks and Syrians.
For, when all is said and done, in Turkey there is no such concept as "jobs that locals will not willingly do".
Consequently, any positive steps that are taken to help Syrian refugees will also positively benefit the livelihoods of local Turkish people.
Find out more about ETI's work with Syrian refugees and Turkish workers in Turkey's garment sector.