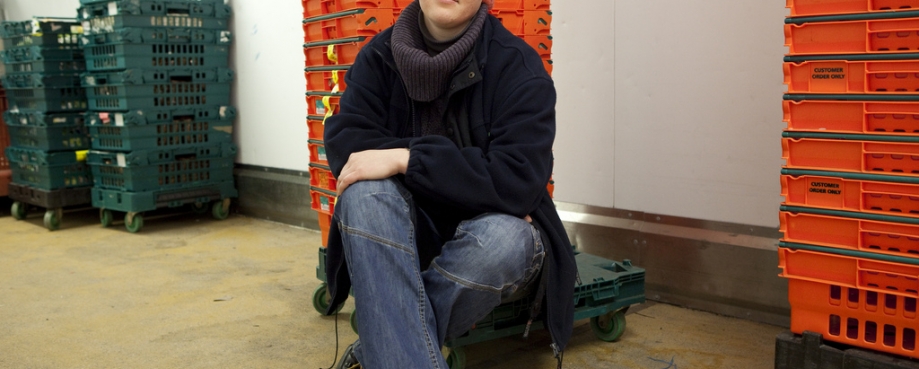 "It was very difficult to leave Latvia. I had no idea how to find a job and where I could live."
Like many others in her native Latvia, Linda's salary as a psychology teacher in a secondary tool wasn't enough for her to live on. So she left.
"It was very difficult to leave Latvia, particularly as my mother was very unhappy at my decision. When I came to England I had no idea how I was going to find a job and where I would live.
Soon after her arrival in Kent, Linda found work through an agency. Six months later she found a full-time job at a large salad supplier.
You have to wear a lot of layers to keep warm
"One of the main problems working here is the temperature. Because we are preparing fresh food, everything has to be kept at 5 degrees centigrade. You have to wear a lot of layers to keep warm.
"My first job here over 6 years ago was on the night shift, chopping salad leaves. I didn't mind working at night, but the work itself is quite hard as it's very repetitive.
At least we were allowed to take short breaks with a longer break at lunch, as working in the cold made your hands get really stiff."
"The factory is a very different business now - they have introduced job rotation and more flexible breaks."
Linda now works as a 'line server', which means she sets up the machines that prepare each product.
"People are very nice and friendly, they take their time to help you and there have never been any real language problems. Of course I would rather be back in Latvia and doing a better job, but I do enjoy what I do here."
Tackling the abuse of migrant workers worldwide
An estimated 95 million people around the world live away from their place of birth. Many of them leave their homeland to find work with the hope of saving money to send home to their families.
But the life of a migrant worker is often a harsh and lonely one. Cut off from their loved ones, often unaware of local languages, law and cultural norms, many end up being exploited by recruitment agencies and employers and trapped in debt.
Retailers and brands can do plenty to start tackling the issues of migrant workers in their supply chains. Their starting point must be to map where migrant workers are likely be employed in their supply chains, and then to work with suppliers to establish systems to protect their rights.
But the abuse of migrant workers across the globe is a systemic problem which requires systemic solutions.
We are exploring opportunities for driving forward collaborative work on this issue. For example, we are in dialogue with the Institute for Human Rights and Business, BSR and the Fair Labor Association to explore how companies can work collectively and in collaboration with government and civil society to identify solutions in their own supply chains, and to influence global policy.