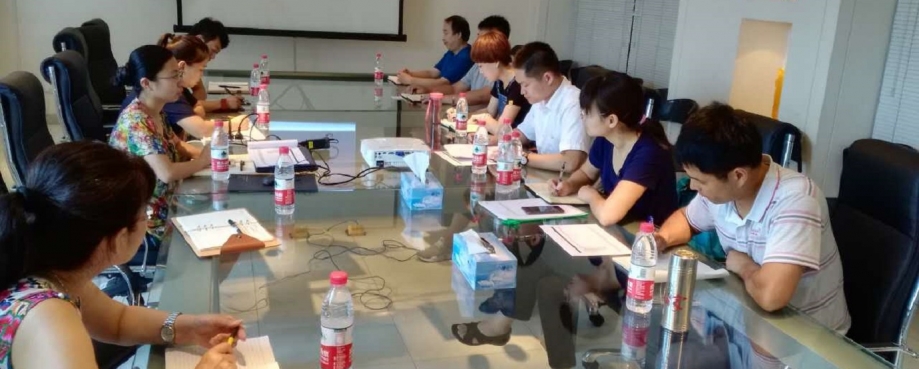 Huasheng Garments Co Ltd., a factory in China's Zhejing Province, has a fresh look, thanks to jointly implemented ILO and ETI SCORE Training. Employees now enjoy a cleaner working environment, higher morale and more harmonious working relationships.
An earlier version of this blog first appeared on the ILO's webpages on 19 February 2018 
As almost 300 employees formed a line through the Huasheng factory compound, Li Juanying, Vice General Manager, prepared to hand out gifts to each worker.
It was the company's 16th anniversary and this event had become a tradition.
In 2017, however, the celebration was a little different.
"In the past, only a few people in management made the decision on how to celebrate."

Li Juanying
Thanks to the establishment of a new Enterprise Improvement Team, both workers and management were involved in planning the festivities.
"It should always have been like this," Li said.
White Stuff sponsored participation
Huasheng management was first introduced to SCORE Training when one of their buyers, British brand and ETI member White Stuff, offered to sponsor their participation in the training project.
"When we were told the project could help us improve our management, everybody – including our president – thought we should do it."

Li Juanying
As an ILO partner, ETI supports the promotion and implementation of SCORE Training amongst its members as a means of encouraging better working conditions.
The knock-on effects included improved productivity and enhanced capabilities around compliance.
Improved work environment
Just three months into the project, the company and its workers were already reporting benefits (as indicated in this earlier ETI blog).
They were seeing a neater and tidier working environment, improved communication between managers and workers, substantially improved productivity, decreasing numbers of defective products and a more motivated and engaged workforce.
The 2017 anniversary celebrations were a microcosm of these improvements.
"We had a special Enterprise Improvement Team meeting to discuss what presents the employees wanted," Li said. "In the end, we decided to let the employees vote."
This not only demonstrated that management value the opinion of their workers, but also relieved the pressure on managers to get the celebrations right.
Workers App group
Workers can now address problems collectively via an instant messaging app group.
And less than six months after completing the first Module on Workplace Cooperation, 11 Enterprise Improvement Projects – each contributed by an employee – have been implemented.
"We give financial rewards to the workers whose suggestions are adopted," Li said.
Amongst other suggestions, a cleaner who suggested cutting power in the workshop after-hours in order to curb energy wastage, received a reward.
Importantly, a survey at Huasheng revealed that more than 80% of employees are satisfied with the company, nearly 5% higher than before SCORE Training.
To find out more about ILO and ETI SCORE Training contact Eshan Chan.
The ETI-ILO SCORE project is running until February 2019 with funding from Germany's Federal Ministry for Economic Cooperation and Development (BMZ) via its develoPPP.de programme. DevelopPPP helps German and other European companies conduct business activities in a responsible manner in line with the expectations of the Sustainable Development Goals. In the context of the SCORE initiative, ILO and ETI are cooperating with SEQUA, one of DevelopPPP's designated partners charged with implementing the programme.