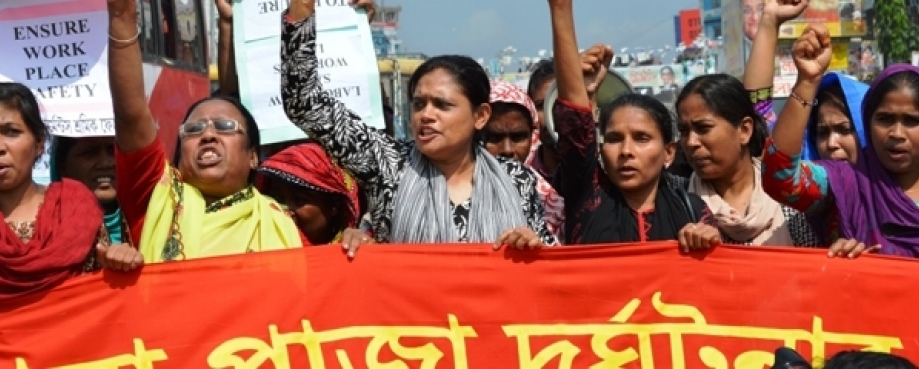 This Friday 24 April, we must stop and remember. This date marks the two year anniversary of a horrific tragedy – the collapse of Bangladesh's Rana Plaza that took the lives of more than 1,100 workers and injured thousands more. Our thoughts are with all those who suffered loss as a result of this terrible industrial accident.
This anniversary offers a chance for victims to move on, but this is only possible if they have been fully compensated. We commend those brands and retailers that have paid compensation in line with the internationally-recognised Rana Plaza Donors Trust Fund. But we urgently call on those that have not met their responsibilities to step up and do so. It is unacceptable that many people are still waiting for the compensation they are due, two years on.
If there is a glimmer of light to emerge from this tragedy, it's that it catalysed an urgent and collective response from the international community on improving factory safety. Two international agreements, the Accord and the Alliance, are now backed by more than 200 global brands and retailers. To date, more than 1,860 factories producing garments for Accord and Alliance signatories have received structural, fire and electrical inspections. A further 668 have been inspected under the ILO-supported National Initiative, taking the total to more than 2,500. Corrective action plans are produced following every inspection and both initiatives report solid progress on addressing identified issues. There is still a long way to go, but Bangladeshi garment workers work in safer factories than they did two years ago.
Other positive developments deserve recognition. The Bangladesh Labour Act was revised in July 2013, bringing in a number of changes including a simpler process for trade union registration. There are now 437 trade unions in Bangladesh's garment sector, more than three times the 132 in existence at the end of 2012. The Act also mandates the formation of health and safety committees in every factory that employs more than 50 workers. However, trade unions in Bangladesh still face significant challenges to organise and represent workers, and international brands have a role to play in helping create the right enabling environment.  
Our call to all stakeholders is this – keep workers at the heart of every conversation, every initiative. Their voices must be heard in all quarters, their solutions incorporated into decisions at the highest levels. This is not possible unless there is real dialogue between workers and employers, and robust processes in place for addressing grievances. That is why ETI is working with our Norwegian and Danish counterparts on a pilot project that promotes social dialogue within the sector, supported by the British, Danish and Norwegian governments.
Bangladesh's garment sector and government have the opportunity to create an industry that is as valuable to its economy as it is to its people; a thriving industry that provides all the conditions of decent work, including freedom of association. But they will need to do more to make sure this opportunity is realised. International partners stand ready to provide support, where there is the right action both locally and globally.